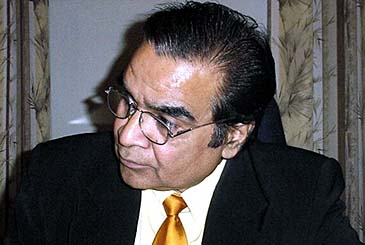 Prof. Dr Rama Kant, head of the surgery dept, KGMU, India
2005 International Awardee of World Health Organization (WHO), Head of the Surgery Department at King George's Medical University, and former Chief Medical Superintendent of Gandhi Memorial and Associated Hospitals Prof. (Dr.) Rama Kant gave an interview to The Seoul Times. His book in English and Hindi (Head Injury Care Manual) was released today by Honorable Vice Chancellor, to mark the 52nd Foundation Day of Surgery Department, organized by Lucknow College of Surgeons and UP Chapter of Association of Surgeons of India.The following are the questions and answers with Prof. Rama Kant.
Q1: What is Head Injury and what is its incidence globally?
A1:
Nearly 2 percent of population is living with head injury. Remember world famous quote by Hippocrates "NO HEAD INJURY IS TOO TRIVIAL TO BE IGNORED , NOR IS SO SERIOUS THAT LIFE MAY BE DESPAIRED OF." Head injury is a term all of us are afraid of listening, it gives us a sense of panic and makes all of us feel insecure. Head injury is an injury in which the impact is directly or indirectly on the head leading to a visible or invisible injury over the scalp, bones covering your brain, inside the brain or one of its coverings, causing transient or permanent neurological dysfunction.It is a relatively high-prevalence injury, being 10 times more common than spinal cord injury. It may result in cuts and bruises on the skin of your patient's head or may fracture any of his skull bones with resultant damage to the underlying brain. There could be bleeding in different parts of the brain and blood may get clotted there. Sometimes this bleeding could be severe enough and may start compressing the brain. The brain is a tender and delicate organ, enclosed inside the shell of bones and even a small amount of bleeding can lead to tremendous increase in pressure inside and can compress the brain. There could be fracture of the bones which can get depressed inside the cavity thus leading to direct pressure on the brain, these injuries are those that are best detected by a CT scan of your patient's head. A few of these critical types of injuries may need an urgent operation by a neurosurgeon. Another form of injury occurs which is not visible on a CT scan. It occurs due to changes at the brain cell level. It occurs due to swelling of brain cells and will not need any operation. This kind of injury in our words is called as "Diffuse Axonal injury." It is treated by medicines, which decreases the swelling of brain cells. Remember right here that there is not much medical treatment to such patients, so do not panic that medicines given to a serious patient are few in number.
The incidence is highest in people in the prime of their lives, coinciding with important events such as completing their education, developing their careers and establishing their families, and thus at a time when they are more likely to have financial problems, i.e. head injuries occur most often among people aged 15 to 30 years. Young men are more likely as women to suffer a head injury (male: female ratio, 3–4: 1). Much of this sex difference is thought to be related to risk-taking behavior and is therefore potentially preventable.Two other age groups are at high risk of head injury: the elderly and infants. The elderly are likely to injure themselves in falls; infants and children may be dropped from an adult's arms, stumble down stairs, or fall from highchairs or changing tables. Abused children may also suffer from head injuries. Too often, children are injured in automobile accidents because they were not protected with safety seats or seat belts. Children struck by moving vehicles can also receive head injuries.
Q2: What are the common modes of sustaining head injury?
A2:
The common modes of sustaining head injury are: 1. Road traffic accidents most commonly encountered by two wheeler drivers and cyclists,who do not put on helmets.
2. Fall from height leading to an impact on the head.
3. Fall of heavy object on head such as collapse of roof.
4. In cases of assault, hit by a lathi or some other metallic heavy object
Q3:What is the treatment protocol for those who survive?
A3:
After receiving treatment in the hospital, the head-injury patients may be allowed to go home to complete the recovery process. Outpatient therapy may be provided at a rehabilitation center or in a hospital with a rehabilitation program. People with more severe injuries, however, will live at a rehabilitation center for some time in order to participate in a more intensive program of physical and psychological therapy. These patients may make periodic visits home. In India however these centers are not so well developed.Many people who have had a head injury are sad or depressed. Helping the patient cope with these and other effects of head injury is one goal of long-term therapy.As mentioned above, a number of specialists may be called upon to help rehabilitate the head-injury patient. Psychologists can help patients to understand the consequences of their injury, cope with marital and sexual difficulties for assistance when they need it.
Services offered to he patient include instruction in basic living skills such as bathing, dressing cooking and reading.Although some patients remain combative, most people progress to a condition of greater control. Whatever the patient's disability, any denial of the problem by the family can subject the patient to more frustration and put pressure on the person to reassume responsibilities prematurely.Even when a patient recovers, the rehabilitation process can be terrifying to relatives. Distressing effects of personality change and impaired intellectual function — no matter how temporary — can be overwhelming. One research study in Scotland found that an injured person's mental handicap tends to break up a family far more than does a physical handicap.For more information, please contact PROF RAMA KANT at ramakantkgmc@rediffmail.com