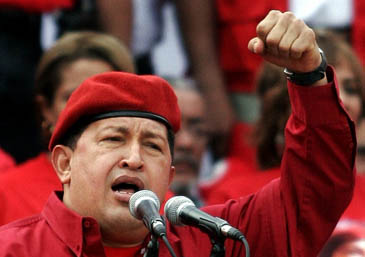 President Hugo Chávez of Venezuela
Cuban leader Fidel Castro is fighting for his life, Hugo Chavez, the president of Venezuela, has said.
"He's back in Sierra Maestra and locked in a battle for his life," Chavez said in a reference to Castro's legendary guerrilla war that toppled Cuban ruler Fulgencio Batista in 1959 and ushered in his "Cuban Revolution."
"There are those who want Fidel to die ... but I spoke to him a few days ago ... We trust he will recover completely," he told the Rio de Janeiro state legislature.
There has been mounting speculation over the condition of Castro, who has not been seen in public since becoming ill in late July.
Last week, a US intelligence chief said Castro was terminally ill and might have only days to live.
Chavez said: "I don't know when he's going to die. I hope he lives another 80 years, I hope he lives another 100 years, but Fidel Castro is one of those men who will never die.""He's like Che Guevara, the immortal Che," Venezuela's president said to the applause of about 500 people, in reference to the legendary guerrilla leader and Castro's right-hand man who was killed in Bolivia in 1967.
Power transferred
After intestinal surgery, Castro transferred power temporarily to his 75-year-old brother Raul, who is defence minister, and the Cuban government has since kept his health a state secret. Chavez was in Rio de Janeiro to attend a two-day summit of the Mercosur trade bloc, of which Venezuela is a member along with Argentina, Brazil, Uruguay and Paraguay.Spanish newspaper El Pais earlier quoted sources at Madrid's Gregorio Maranon hospital as saying Castro was gravely ill following an intestinal infection and three failed operations.It also said the treatment Castro had been given had triggered serious complications.
A Spanish doctor who examined Castro last month said his health was improving and dismissed media reports as "alarmist.""According to my information, there is even some progressive improvement in Castro's health," doctor Jose Luis Garcia Sabrido told CCN television.
Sabrido said the Cuban leader did not have cancer, as had been rumoured, and was making a steady recovery.
He declined to be more specific, citing medical confidentiality.(Agencies)