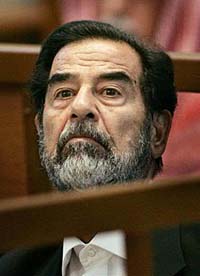 Saddam Hussein, the late Iraqi leader in the court
On Saddam execution
Saddam was executed because of crime which was committed against civilians by his regime in the past. But the issue is USA government itself justify saddam crimes in the past moreover they provide all kind of help including chemical weapons to atomic technology. There are chronology of certain statements and events which show the motive of USA in past and in present. "As with all sovereign nations, we respect Iraq's independence, sovereignty and territorial integrity."Donald Rumsfeld, 1983 "This is a regime that is responsible for the deaths of hundreds of thousands of people."— Donald Rumsfeld, March 21, 2003.
Chemical weapon and biological weapon plot
In 1985, the U.S. Centers for Disease Control sent samples of an Israeli strain of West Nile virus to a microbiologist at Basra University in Iraq. The U.S. would also send over "various toxins and bacteria," including botulins and E. coli.
Killing of Kurd
In 1984, the State Department arranged for the sale of 45 Bell 214ST helicopters to Iraq. Four years later The Los Angeles Times reported that "American-built helicopters" were used to gas Kurdish civilians. In March 1988 up to 6,800 Kurds were gassed to death in Halabja by Hussein's troops.
Invasion of Kuwait
Just before invasion of Kuwait. Speaking for President Bush, Glaspie said, "we have no opinion on the Arab-Arab conflicts, like your border disagreement with Kuwait"
When USA need saddam they made him hero and provide everything. It's clear Saddam Hussein was used in the past by their master to achieve certain goal. According to new plan they not need Saddam anymore. Another view is that, for certain superpower this world like a chess board toppling the regime, instigation of war are common tactics which adopt by them for capturing strategic location, occupying natural resources, or running their weapon industry they have to do this things. The core issue is why Iraqis paying price for this from Iraq Iran war to operation desert storm and at present operation Iraqi freedom. The another side is what about the killing of Iraqi civilians who will punish for this crime, these questions still remained unanswered. Millions of Iraqi lost their life in last 30 years. The new pawn will be rise in Iraq soon which ultimately serve to their master. Tahir Khan
India
Date: January 2007.