Australian Fashion Show
A wide variety of unique Aussie fashion brands will be showcased in Seoul for the first time on Jan. 25-26, 2007, for the occasion of the 2007 Australia Day, which falls on Jan. 26, 2007.As part of the first round of the two day special event, Australian Ambassador to Seoul Peter Rowe will host the reception on Jan. 25 at the Grand Hyatt Hotel in Seoul, to celebrate the national day under the theme "Many Faces of Australia."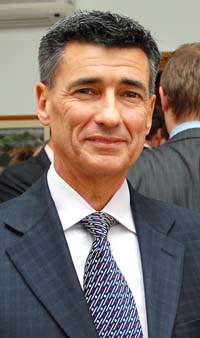 Australian Ambassador to Seoul Peter Rowe
About 400 plus guests from a wide spectrum of Korean society, including government, the business community and diplomatic corps, are invited to join the function. Guests will be treated with gala cultural events including Aussie cultural performances, arts, fashion leisure shows, food and beverages, cosmetics, and wild flower exhibitions.A total of 14 Australian fashion brands, including Bora, Amar, Willow, Yeojin Bae, Alice McCall, and Insight, will also be introduced for the first time in Korea.Australia Day is observed every year on January 26 to commemorate the landing of the First British Fleet in Sydney Cove back in 1788.On Jan. 26, 2007, the second round of the Aussie fashion show will be held at The Solon of the Seoul Park Hyatt in southern Seoul.This unique fashion event will offer Korea a chance to get acquainted with authentic Australian brands and identity. The second day of the event will be held from 10 a.m. to 5 p.m. on Jan. 26 with a press conference.Other big name Australian fashion brands include Seduce, Tsubi , Something, Kirrily Johnston, Material Boy, Frankenstein Project, and Chronicles of Never as well as luxury fashion accessories such as the Red Queen, Catherine Manuell Design, and Coveture.For further inquiries contact the Australian Embassy in Seoul at (02) 398-2808..