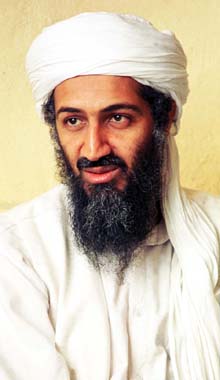 Osama Bin Laden
An in-depth survey of public opinion in Iran reveals that most Iranians want their country to have the capacity to enrich uranium for nuclear energy, but a majority also agrees that Iran should comply with the Nuclear Non-Proliferation Treaty which forbids Iran from developing nuclear weapons. A parallel poll in the United States shows that a majority of Americans are ready to accept a deal allowing Iran to engage in limited enrichment if it also agrees to give UN inspectors full access to ensure Iran is not developing nuclear weapons.The concurrent surveys of public opinion in Iran and the United States were conducted by WorldPublicOpinion.org in partnership with Search for Common Ground. Steven Kull, who directed the surveys, comments, "The polls show that majorities in both countries are deeply suspicious of each other, but nonetheless agree on a wide range of issues." Iranians and Americans support international non-proliferation rules as well as a stronger United Nations and reject Osama bin Laden. Majorities or pluralities favor a variety of steps to improve U.S.-Iranian relations and neither side believes conflict between Islam and the West is inevitable.The poll of the Iranian public was unprecedented in scope. The questionnaire included 134 substantive questions on a wide range of international issues, administered in face-to-face interviews in rural and as well as urban areas. Both the Iranian and U.S. surveys were probability-based national samples of 1,000 respondents or more.
Nuclear Non-Proliferation
An overwhelming 84 percent of Iranians say it is very important for Iran to have the capacity to enrich uranium, despite the fact that the UN Security Council has called for Iran to cease uranium enrichment. Presented a list of incentives that might persuade Iran to give up enriching uranium, a majority or plurality rejects them all as not significant. However, two-thirds of Iranians (66%) endorse Iran's participation in the Nuclear Non-Proliferation Treaty even when reminded that it prohibits Iran from developing nuclear weapons. Only 15 percent want Iran to withdraw from the treaty. U.S. respondents were asked if they would support an agreement allowing Iran to enrich uranium to the very low levels necessary to produce nuclear power but not the high levels required to produce nuclear weapons. In return, Iran would be obligated to afford U.N. inspectors full access to ensure that these enrichment levels were not exceeded. Fifty-five percent believe such a deal would be a good idea, including 53 percent of Republicans and 62 percent of Democrats. Thirty-eight percent say this would be a bad idea.
Islam and the West
Asked more broadly about relations between Islamic countries and the West, both publics reject the idea that conflict is inevitable. Iranians and Americans were asked to choose between two statements: "Islamic and Western religious and social traditions are incompatible with each other" and "most people in the West and the Islamic world have similar needs and wants, so it is possible to find common ground." Only one in four Iranians (24%) and more than one in three Americans (36%) believe that the cultures are incompatible. Majorities of Iranians (54%) and Americans (56%) instead agree that there is common ground. Although Iran has faced considerable pressure from the UN Security Council on nuclear issues, the Iranian public still expresses strong support for the United Nations. Seventy percent of Iranians (compared with 66% of Americans) believe the United Nations should become "significantly more powerful in world affairs." Fifty-four percent think that the International Atomic Energy Agency (IAEA) — the UN organization charged with enforcing the NPT — is having a mostly positive influence in the world (10% view it negatively).
Attitudes toward Each Other, Bin Laden, Terrorism
Iranians and Americans have generally unfriendly feelings toward each other. Most Iranians have negative opinions of the United States (76%) and the current US government (93%) while their attitudes toward the American people are divided (45% favorable, 49% unfavorable). Most Americans also have unfavorable views of Iran. More than three-fourths (78%) see the Iranian government negatively while more than half (59%) feel the same way about the Iranian people. Nonetheless, both publics are interested in improving U.S-Iranian relations. Large majorities of Americans and majorities or pluralities of Iranians endorse a variety of ways to strengthen ties, including increased trade (Iranians 52%, Americans 65%), direct talks between the two governments on issues of mutual concern (Iranians 48%, Americans 79%), greater access for each other's journalists (Iranians 51%, Americans 68%), and more cultural, educational, and sporting exchanges (Iranians 46%, Americans 72%). Iranians and Americans express concern about international terrorism. Seven in ten Iranians view international terrorism as an important threat to their country's vital interests, including 56 percent who see it as a critical threat. Only 12 percent call it "not important." More than nine in ten Americans see international terrorism as an important threat, including 68 percent who see it as critical.Osama bin Laden is disliked by large majorities in both countries. Three out of four Iranians (74%) view bin Laden unfavorably, (68% very unfavorable). Only 10 percent see the al Qaeda leader in a favorable light. Americans, unsurprisingly, are almost unanimously negative toward bin Laden. Ninety-four percent have an unfavorable opinion (89% very). Larger majorities of Iranians than Americans reject terrorist attacks against civilians, though both publics are quite opposed. Asked whether "bombing and other types of attacks intentionally aimed at civilians" can be justified often, sometimes, rarely or never, 80 percent of Iranians select never. Forty-six percent of Americans say such attacks can never be justified and 27 percent say they rarely can. A modest majority of Iranians makes an exception for some Palestinian attacks against Israeli civilians, however. Fifty-three percent say they are "sometimes justified" (41% never). Americans reject both Israeli attacks on Palestinian civilians (71%) and Palestinian attacks on Israeli civilians (80%). The polling in Iran was fielded by an independent Iranian agency from October 31 – December 6, 2006. In the United States, Knowledge Networks executed the WPO polls during late November and early December, 2006 using its nationwide panel, which is randomly selected from the entire adult population and subsequently provided with internet access, if needed. For information about this methodology, go to www.knowledgenetworks.com/ganp. The study was conducted in partnership with Search for Common Ground with support from the Ford Foundation, the Rockefeller Brothers Fund, the United States Institute of Peace, the Carnegie Corporation (US polling only), and the Open Society Institute.
The above article is from World Public Opinion.