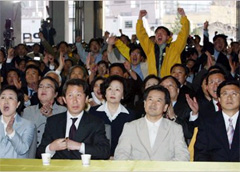 The pro-government Uri Party members were jubilant as it won parliamentary election. Courtesy Chosun
Tired of political corruption and angered by unruly lawmakers who impeached liberal President Roh, South Koreans chose reform over stability in legislative election held on April 15, 2004.The ruling but minority Uri Party won the South Korea's 17th parliamentary elections, more than tripling the number of its parliamentary seats from its current 49.The pro-government Uri Party clinched a majority of 152 seats out of the total 243 constituencies, becoming the largest party in the 299-member National Assembly. Uri Party also gained additional 23 out of 56 seats allocated under the proportional representation system.The largest and main opposition Grand National Party (GNP) took 121 seats while two other oppositions parties New Millenium Democratic Party (MDP) and United Liberal Democrats (ULP) garnered a meager nine , four seats, respectively.The three opposition parties joined hands in impeaching reform-minded President Roh Moo-Hyun on March 12, 2004 in a powerful tug-of-war with the beleaguered president.The liberal-minded President Roh has been under heavy attack from National Assembly controlled by conservative GNP since his election Dec. 19, 2003.The progressive Democratic Labor Party (DLP) succeeded in advancing into National Assembly with 10 seats secured. The DLP, which currently has no seat in the Assembly, will emerge as the second largest opposition party from this election.President Roh, who was impeached by National Assembly on March 12, 2004, is expected to resume his presidency as the ruling Uri Party secured more than half of the parliamentary seats.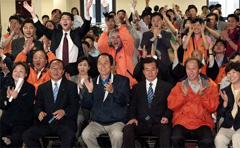 Members of the progressive Democratic Labor Party were shouting in jubilation. Courtesy Chosun
The voter turnout was recorded at 60.6 of the 35.6 million eligible voters cast their ballot. The rate is slightly higher than previous one held four years ago. Voting rates by reform-minded younger generations particularly in their 20s and 30s are even higher than those in 2000.Aside from Uri Party's victory the progressive Democratic Labor Party also emerged victorious out of this legislative election. It was first in 44 years for a progressive party to gain seats in National Assembly.Women also became victorious as the rate of women lawmakers will reach 10 percent for the first time in the history of South Korea's legislative body. 10 woman candidates were elected in this election and 20 more will join them to be allocated from proportional representation.Faced with strong resistance from people most of the major players in impeaching President Roh failed to be reelected in this election. Lots of new faces were elected particularly on the Uri Party ticket.Analysts pointed out that Uri Party's winning is a political victory for President Roh Moo-Hyun who is awaiting the ruling on his impeachment by Constitutional Court.They also interpreted the outcome of this election as people's choice for more liberal parliament for closer ties with North Korea and more independence from the influence of the United States.