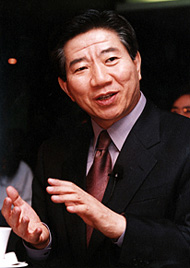 President Roh Moo Hyun
In a sharp political reaction against the impeachment of President Roh Moo Hyun, South Korean voters tripled the size of his parliamentary delegation on Thursday, ensuring liberal control of the legislature. In a rout of conservatives who voted for impeachment a month ago, the pro-Roh Uri Party won 152 seats, a slim majority of the 299-seat, one-chamber National Assembly. The conservative Grand National Party lost its majority, falling to 121 seats, and the Millennium Democratic Party, once the second-largest party, won only 9 seats, according to news agency reports with 99 percent of the vote counted. A new left-wing party, the Democratic Labor Party, came in third, winning 10 seats, and smaller parties won 7 seats.The pro-Roh vote sent a clear message to the nation's Constitutional Court to rule against the National Assembly's vote to impeach Mr. Roh. Uri Party officials called on lawmakers to overturn the impeachment vote at its next session, and the acting president, Prime Minister Goh Kun, said Friday in a televised statement that the "impeachment situation" should be brought to a close.But Yonhap, the semiofficial Korean news agency, reported that the Constitutional Court said Friday that its deliberations on the impeachment would not be affected by the election results.In addition to placing the National Assembly in the hands of the liberal-left, Thursday's vote means that for the first time in recent years a president's supporters will control the National Assembly. Mr. Roh has four more years in his term if the Constitutional Court overturns his impeachment, and the lawmakers elected Thursday will serve four-year terms."This is the first shift of power in the National Assembly in 43 years," Chung Eui Yong, the Uri Party's foreign relations spokesman, said Thursday. While the names of the parties have changed, he said, conservatives have dominated South Korea's National Assembly since 1961. "This means a new beginning for Korean politics."With this new alignment, political analysts are talking here of a new Roh presidency."This is the second round to the presidential election," said Yoon Seung Yee, a political science professor at Kyungsan University, referring to the December 2002 presidential vote, which Mr. Roh won narrowly. "President Roh will get more power, especially in relation to the National Assembly. But there are still strong voices of the conservatives. It can't be a one-sided game."Conservatives warned that Mr. Roh would now embark on a radical, labor-friendly agenda."We expected Uri to lead," Chun Yu Ok, the Grand National Party's spokeswoman told reporters after the victory was clear. "But with this many seats, combined with the unique character of Roh, we're afraid it will be like a high-speed racing car without brakes." His defenders argue that cooperation between the National Assembly and the president will allow South Korea to fix flaws in the market economy, pushing for more transparency for the nation's chaebols, or conglomerates, and a restructuring of credit card debt, which afflicts millions of consumers here.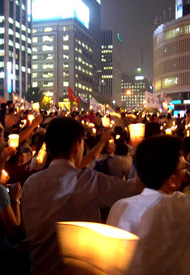 Hundreds of thousands of South Koreans are staging a candle-light protest against President Roh's impeachment.
Mr. Roh was inaugurated in February 2003, and his first year was marked by acrimony between conservatives and liberals, a split that reflected generational shifts as well as ideological ones. Mr. Roh, a 57-year-old, self-taught human rights lawyer, was seen as the standard bearer for young South Koreans, a group that voted overwhelmingly for him. Conservatives have faulted Mr. Roh for his style as much as his politics. They winced at his informal language and complained when he openly asked for advice or expressed self-doubt. In a hierarchical Confucian society, this man with an easy grin was seen as a rule breaker. A conservative coalition impeached Mr. Roh on what South Korean voters apparently saw as a technicality: possibly violating election law by making public comments in favor of the Uri Party. Thursday's vote showed that the conservatives misread public opinion."The impeachment swayed the results," said Park Chan Wook, a political science professor at Seoul National University. "The Uri Party will really control the National Assembly. This outcome will have a significant impact on the decision of the Constitutional Court."Anger over the impeachment was the dominant campaign topic, overshadowing debate about North Korea's nuclear bomb program, South Korean troops in Iraq, high unemployment or the loss of manufacturing jobs and investment to China.Corruption was also a major issue, with several politicians being indicted recently on charges of violating campaign financing laws. The vote was closely watched in Washington. Bush administration officials have privately said Mr. Roh is soft on North Korea, a nation Washington accuses of manufacturing nuclear weapons.On Thursday night, as the polls were closing, Vice President Dick Cheney arrived here on the last leg of his tour of Northeast Asia. Mr. Cheney was not scheduled to meet with Mr. Roh, who has largely been in seclusion at the presidential compound. Instead, he is to meet with Prime Minister Goh.In his public comments, Mr. Cheney is expected to praise South Korea for sending 600 military engineers and medics to Iraq and promising to send 3,000 more troops in the coming months.Speaking at Fudan University in Shanghai on Thursday before his arrival in Seoul, Mr. Cheney covered most of the same themes he raised in Beijing, issues like Taiwan, North Korea, trade, democracy and the threat of unconventional weapons. He went out of his way, however, to emphasize the basically positive tone of relations between the United States and China.China has urged the United States to help ensure that Taiwan, which Beijing considers a renegade province, does not more toward outright independence, and has recently stepped up calls on Washington to reduce its sale of arms to Taiwan."We support the principle of one China," Mr. Cheney told the students. "If any changes are to occur with regard to the circumstances in the straits it should be through negotiations. We oppose unilateral efforts on either side to try to alter the current set of circumstances."
The above article is from The New York Times.