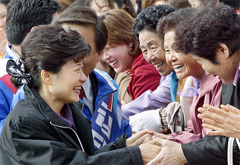 Park Geun-Hye greeted by seniors
Grand National Party (GNP) was expected to almost crumble in April 15, 2004 parliamentary election as it was condemned by most people to be "the main culprit" for President Roh's impeachment. Early polls showed that the conservative party would face disastrous defeat with seats even lower than half of its rival Uri Party in the general election.Quite contrary to everyone's expectation, the nation's largest party managed to remain as the second largest party with 121 seats. Early projections revealed that even 100 seats would be a miracle for GNP. Behind this unexpected outcome were performances of Park Geun-Hye (PGH), leader of GNP, the main opposition party.So-called "PGH effects" was the major forces which saved GNP from near collapse in the general elections. GNP was branded as corruption-ridden conservative party which impeached reform-minded President Roh Moo-Hyun against the will of most people. Up to 80 percent of people objected to the impeachment, polls once showed.Chosen as GNP's new leader barely several weeks before the general elections her soft image and her ties with former President Park Chung-Hee helped the electorate in both Gyeongsang provinces and other conservatives glue themselves behind her. She is the oldest daughter of the late dictator who ruled the nation for almost three decades.In the minds of many older generations she remains as the young "first lady" who played her mother's role after her mother was shot to death by a North Korean sympathizer in 1974. President Park also was assassinated by his own man, Kim Jae-Gyu, chief of Korean CIA in 1979.Irrespective of political inclination many people admired her mother while her father Park Chung-Hee was condemned as dictator by others both home and abroad. The former First Lady Ryuk Young-Soo was called "mother of the nation."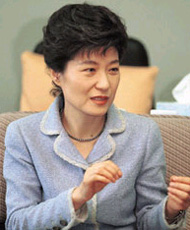 Analysts say that Park boosted GNP's popularity by refraining from attack on the rival party and instead putting emphasis on economy. Actually, when Uri Party Chairman Chung Dong-Young made a "lethal" sip of tongue Park stopped short of making a political issue out of it.Chung was faced with mounting criticism when he made the controversial remark "older generations do not have to vote but stay home." The soaring Uri Party's popularity plummeted among senior voters just days before the elections, eventually losing lots of elderly votes, particularly in the largely conservative Gyeongsang provinces, the strongholds of GNP and former President Park.GNP candidates literally swept the parliamentary elections in the populous Gyeongsang provinces including Pusan and Daegue, the nation's second and third largest city, respectively. In these provinces Uri Party candidates were elected in only three out of 60 constituencies. GNP garnered the rest 57 seats in the area.Her critics say that Park is the owner of Busan Ilbo, largest daily in Busan, which gave her favorable coverage during electioneering. Days before the general election, some 100 reporters belonging to its labor union came up with criticism that Park gets favorable coverage from the newspaper. The reporters clamored for objective and fair coverage from its management.They also point out that Park is the chairperson of the Jongsoo Scholarship Foundation set up in 1961 by her father for needy students, which owns the Children's Grand Park. She is also large shareholder of Yongnam University and MBC, a local TV station; legacies late strongman left to his bereaved daughter. Her assets are currently estimated at over 100 billion won.