Global Views
Year of the Woman
Special Contribution
By Rebecca Elizabeth Johnson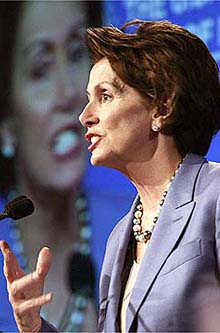 Rep. Nancy Pelosi, the first female speaker of the House
This year has been hailed the "Year of the Golden Pig" in Korea. But maybe it should be the "Year of the Woman" for the rest of the world.It is only the first month of 2007 and already we have seen an historic achievement, as Nancy Pelosi became the first female leader of the United States' House of Representatives. For scores of women and young girls across America, this is a major turning point. Pelosi has broken through the glass-ceiling of the one of the world's most powerful institutions.Maybe this signifies something deeper about the world we live in today. A world where more women see themselves as heads of state and bring changes to how governments interact, how countries sustain relationships, and how broken relationships are fixed.The countless wars, nuclear threats, terrorist attacks and fears have all had one thing in common. Men.Men have been behind the scenes. A man and his ego. A man and his greed. A man and his desire for power. A man and his testosterone way of thinking with his hands; with his weapons; with his fire arms. Not with his head.It is often said that Men are from Mars and Women are from Venus. Not true, for we are all from earth and live on earth together. But for centuries you would not have known it.Slowly there have been advances with women taking leading roles. The UK had Margaret Thatcher for over a decade, Germany now has Angela Merkel, France could soon have Segolene Royal, and now the USA has Nancy Pelosi. Next year we might even have Hilary Clinton in the White House.How different would life be then?What these women would bring would be the art of negotiation; the ability to listen; sympathy but determination; an instinctive love for human nature; an intuition to protect and at the same time remain peaceful.As world leaders have shown us over the past few years, there is now a trend to turn to violence, to react with guns, and to fixate on destruction. It seems that men have forgotten who and what they are leading. They have forgotten about the citizens that they are supposed to protect. Their countrymen and -women have become numbers and statistics, not faces and individual personalities. Perhaps the world is ready for men to take time out in order to spend time with their children, with the next generation they brought into this world but seem so easily prepared to jeopardise, to extinguish, and to lose to terrorism and nuclear threat.They seem to forget that for every war they start, for every bomb they detonate, and for every threat they make, it is their very own children at whom they point the gun.A woman would not forget. A woman would put people first, not power.Pelosi has made a historic leap. Now she needs to show that as easily as woman can break the ceiling, she can fix the brick-work.

Related Articles
The Queen
Foreign Lands
On Soccer
"Beauty Is Only Skin Deep"
Teaching English in South Korea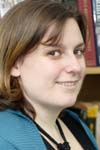 Ms. Rebecca Elizabeth Johnson, who serves as special contributor, is operating as an educator of English and freelance journalist in South Korea. She holds a post grad diploma in newspaper journalism from Harlow College, Essex, UK. She also studied American studies, world history, astrology at Keele University, and at Ball State University, Indiana, USA. Her hobbies includes playing the saxophone.