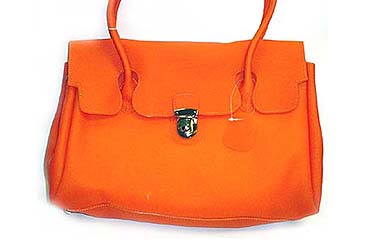 A Hermes handbag
NEW YORK, Feb. 12, 2007 (Reuters) — A false door at the back of a cramped New York City store swings open to reveal a secret room lined with fake Prada, Gucci and Fendi bags and wallets."It's very cloak-and-dagger," said a British tourist, who declined to give her name and who was lured to the store by a smooth salesman prowling Canal Street in New York's Chinatown.Fake designer bags are part of a $500 billion global trade in counterfeit goods, and U.S. authorities say some of that money funds terrorism. In the year between October 2005 and September 2006 the Department of Homeland Security made 14,000 counterfeit goods seizures worth $155 million, almost double the previous year.In New York alone the trade was worth $80 billion and costs the city $1 billion a year in lost sales tax revenue."It's virtually all profit and it isn't funding anything good. It is a threat to democracy and a threat to the rule of law," New York Police Commissioner Raymond Kelly told a conference on counterfeiting on Feb. 1.Kelly said the group accused of the 2004 Madrid train bombings, which killed 191 people, used proceeds from the sale of fake CDs. U.S. authorities have said a group sells counterfeit goods including fake Viagra to support Hezbollah. But while a U.S. crackdown on counterfeit goods has pushed fakes into back roooms, in Asia sales are more blatant with markets from Jakarta and Kuala Lumpur to Bangkok and Beijing filled with fake brands including Prada, Burberry and Louis Vuitton.
China Blamed
The United States says China is the No. 1 offender when it comes to counterfeit goods, with others including South Korea, Pakistan and India. The issue has become a major trade disputeIn Beijing, fake designer bags bearing a slight variation on the real names — such as Gochi and Dolge & Gabanna — are openly displayed at markets, while better quality fake goods, that can cost more than $100, are sold in secret stores, the location of which are passed on by word of mouth. "These are very good quality," said a young market vendor in the Chinese capital, who declined to give her name. "If you buy more than ten, I'll give you a big discount."China says it is committed to protecting intellectual copyright, but asks for understanding from the international community because it cannot eradicate the problem overnight.Premier Wen Jiabao told Reuters last September that China needed more time to deal with the problem and admitted that China had only woken up to the problem in recent years.
"South Korean Handbags the Best"
While China recieves most of the global criticism about counterfeit goods, market vendors throughout Asia seem to agree the best fake handbags are manufactured in South Korea.Like in New York, some stores in Seoul have taken to displaying bags with generic logos that are then substituted for a designer logo when the bag is sold."We do not deal with Chinese products. For fake bags, South Korean products are the best. We export these products to Japan," said a merchant, who declined to be named, at one of the oldest markets in downtown Seoul called Namdaemoon.At street level, the bags openly displayed at Namdaemoon are clearly fakes, even to a person who knows little about luxury goods, and the prices are cheap. A knock-off Hermes bag costing around $45, much less than the normal price tag of up to several thousand dollars.The so-called "Class A" fakes are hidden in secret locations and not widely available. These bags are displayed with caution and can cost several hundred dollars.Valerie Salembier, publisher of women's magazine Harper's Bazaar, said it was important for consumers to know what their money is funding. "Fakes are not fashionable," she said.But the British tourist in New York just shrugs her shoulders when asked where she thinks the $60 she has just spent on a fake Gucci actually goes. "In their pockets, I guess," she said, referring to the owner of the store."The real thing is so overpriced, why spend thousands of dollars when you can get one for much, much less," she said. (Additional reporting by Ben Blanchard in Beijing and Jang Sera in Seoul)
The above article is from Reuters.