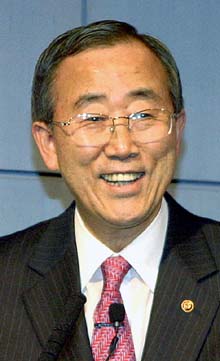 Mr. Ban Ki-Moon was elected on Oct. 13, 2006 as Secretary General of the United Nations while he was serving as South Korea's foreign minister. Mr. Ban will officially be inaugurated as UN secretary general on Jan. 1, 2007.
U.N. Secretary General Ban Ki-moon appears to have been successful in dispelling accusations that he bypassed procedures and consultations, the New York Times reported on Feb.19, 2007. Unlike two weeks ago, ambassadors from 192 U.N. member states left a Friday evening meeting assured that Ban will respect the process of consultation, review and justification on the changes he seeks in reforming the U.N., according to the paper.Ban, who took office on Jan. 1 this year, was questioned about his leadership when he came across as treating ambassadors as members of his staff. the paper said. At a meeting then, the secretary general tried to gain rapid approval for his restructuring proposals.Ban was also criticized for some of his appointments that, according to some, put people with insufficient experience in senior posts."The effect was to thrust Mr. Ban into the middle of the power contest at the United Nations, with the General Assembly on one side, and the 15-member Security Council and the secretary general's office on the other," the paper said."The Assembly, a legislative body where poorer nations often exercise their capacity to stand up to the great powers, is particularly sensitive to feelings of being taken for granted, and that was the feeling that swept the hall two weeks ago."
Ban modified or gave more review time on his two major proposals — dividing the peacekeeping department into two and restructuring the disarmament department to bring it more under his office's control."There is no more rebellion, everybody is happy today, everybody says very nice things," Argentina's Amb. Cesar Mayoral said after Friday's meeting."After the initial criticism, he (Ban) started intensive consultations, which seems to have led to broad political support from the General Assembly," Austrian Amb. Gerhard Pfanzelter said.In his opening remarks at the meeting, Ban assured the envoys that he does not and has not intended to bypass normal processes."I have taken account of your concerns and revised my proposals," he said.