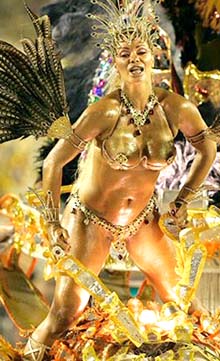 A dancer performs on top of a 'Porto da Pedra' float during Carnival parade in Rio de Janeiro, Monday, Feb. 19, 2007. Photo Courtesy of AP
Rio de Janeiro — Rio de Janeiro's main Carnival celebrations ended early Tuesday morning with enthusiasm and relief at the relative absence of violence, though street parties expected to continue throughout the week kept police on alert. 'This is unique. And in my box and in the hotel everything was peaceful too,' French movie star Vincent Cassell said in the Brazilian metropolis, referring to reports of violence in the run-up to the main event. The world-famous two nights of parades in Rio's Sambodromo ended shortly before 7 am (1000 GMT) Tuesday, though smaller street shows and parties are set to continue until Sunday. An uptick in crime leading up to the festivities, with some attacks having a huge impact on public opinion, overshadowed the 'greatest party in the world' even before it began. Some letters to newspaper editors requested a Carnival without public displays of joy. Several 'escolas de samba' (schools of samba) protested in their shows against violence and impunity. There was no complete police report of incidents on the days of Carnival. However, media reported that tourists from Ireland, Canada and China were victims of thieves. About 33,000 police agents are set to remain on special patrol duty until Wednesday. Celebrities were spared by criminals. Beyond Cassell, US music producer Quincy Jones and Hollywood star Rachel Weisz were drawn to Rio by the fantastic costumes, allegoric floats, large-scale productions and the hot samba rhythms. In total, 700,000 Brazilian and foreign tourists had been expected to visit Rio for the Carnival, according to city authorities. Some 180,000 people gathered on the stands of the Sambodromo over the two nights of shows. Most did not notice two incidents. A composer from the school of samba Imperio was arrested on murder charges on the first day of shows, according to media reports from Tuesday. Another participant in the parades had a heart attack.
The heat, with night-time temperatures higher than 30 degrees Celsius, caused scores to faint during and after the parade. The schools of samba, based in Rio's poor neighbourhoods, spent around 2.6 million dollars each in the preparations for their shows. A jury is expected to announce the winning school on Wednesday. However, Rio's Carnival does not end with the parades. Despite criticism from the Catholic Church - which would like to see celebrations over by Ash Wednesday - street shows will continue throughout the week.
People of every race, class, nationality and age dance and sing loudly in an unbridled fashion around allegoric and musical floats, with the slogan 'Ninguem ?de Ninguem' (everybody is free). Women are expected to allow themselves to be kissed by unknown men, and the Health Ministry handed out 25 million free condoms across Brazil to counter the spread of AIDS.