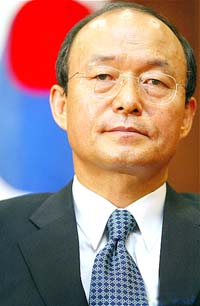 Minister Song Min-Soon of South Korea's Ministry of Foreign Affairs and Trade.
Foreign Minister Song Min-soon will embark on a trip to Washington and Moscow this week to discuss early steps for North Korea's denuclearization as agreed on at the recent multilateral nuclear talks, officials here said on Feb. 26, 2007.Song's three-day trip to the United States, which starts Thursday, coincides with a visit by North Korea's top nuclear envoy, Kim Kye-gwan. Kim will arrive in the U.S. on the same day to hold working-level talks on his country's pledge to disarm. A flurry of diplomatic efforts are underway to start carrying out the Feb. 13 agreement, in which North Korea agreed to take initial steps to disable its nuclear weapons program in return for energy aid and other incentives. The aid will be offered by the other participants in the six-party talks — South Korea, the U.S., China, Japan and Russia. For its part, Pyongyang has invited Mohamed ElBaradei, head of the International Atomic Energy Agency, to visit the North for the first time since it kicked the agency's officials out of the country in late 2002, triggering the second North Korean nuclear crisis. The first North Korean nuclear crisis was in 1994. Song's itinerary begins with a Thursday meeting with his U.S. counterpart, Condoleezza Rice, officials said. "The foremost issue will be the North Korean nuclear problem. To have the early steps implemented quickly and smoothly is the most pressing issue, so the main discussion will be how Seoul and Washington can cooperate," a foreign ministry official said. Seoul's chief nuclear negotiator, Chun Young-woo, will accompany Song to the U.S. There is also a possibility that Chun may meet his North Korean counterpart in New York, since Kim will be holding working-level talks with U.S. nuclear envoy Christopher Hill there during that time, another official said. "They will be in the same place at the same time, so we can't rule out the possibility they could run into each other, but there's no formal agreement to meet," the official said. Song is also scheduled to meet with Stephen Hadley, the U.S. assistant to the president for national security affairs, and Henry Paulson, U.S. treasury secretary. He will also give a speech at a non-government forum in Washington. The minister will then head to Moscow next Monday to meet with his Russian counterpart, Sergey Lavrov, in his first trip to Russia since he took office last month. During his two-day stay there, he will likely discuss early steps to implement the North Korean nuclear disarmament, bilateral cooperation in space technology and energy resources.
The above article is from Korea. Net.