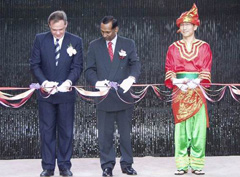 Amb. Santhananaban (center), Sven Isberg, Grand Hilton's general manager, are cutting tapes.
Malaysian Food Festival opened at Grand Hilton Hotel on April 20, 2004 for a 10-day run. Attending the opening ceremony of the function organized jointly by Malaysia Tourism Promotion Board and Malaysia Airlines were Amb. Dato' M. Santhananaban of Malaysia, and members of local travel industry community and media representatives.In his opening address of the festival, Amb. Santhananaban said that Malaysian food is somewhat unique because it has a cosmopolitan eclectic content and cuisine includes food of at least these great regions, namely China, the Indian subcontinent and the Malay Ar Chipelago."The unique characteristic of Malaysian food is its great variety and the blending of different ingredients, culinary experiences and a great passion for food amongst Malaysians," he explained.
The Grand Hilton Hotel invited two Malaysian chefs to its buffet restaurant to host a festival of food, art and dance from April 20 to April 30. Expert chefs Mohamad Tarmizi Bin Hasbi and Tazali Bin Morni will give diners a chance to sample the diverse culinary culture of Malaysia, which is a melting pot of foods from all around Asia, Sven Isberg, general manager of Grand Hilton, told the Seoul Times.The Malaysian Food Festival will also include demonstrations of Batik painting, an art where fabric is printed and dyed using wax to create patterns. There will also be traditional Malaysian dance performances to capture the dynamic atmosphere of the tropical nation. For more information, call MTPB Seoul 779-4422 or Grand Hilton 2287-8271.