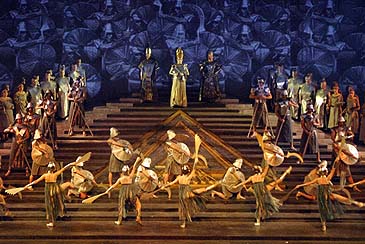 Aida Monumental Opera on Fire
ABU DHABI — Emirates Palace, in association with the Abu Dhabi Tourism Authority (ADTA), announced the Middle East premiere of AIDA Monumental Opera on Fire, a massive theatrical production featuring a 300 - member crew, state-of-the-art set technology, and a spectacular show of unique fire images and stunning special effects. The breathtaking musical event will take place live and open air on the 29th March 2007 at the West Park of the iconic luxury property.The Franz Abraham production features the music of Giuseppe Verdi, one of the most influential composers in the history of Italian opera, under the direction of Joseph Rochlitz, who has created numerous opera productions with renowned opera director Hugo de Ana. In addition, he has worked with well-known film directors like Ridley Scott and Jim Jarmusch.Dubbed the 'opera of all operas', AIDA tells the history of the Egyptian general Radames, who falls in love with the slaved Ethiopian princess Aida, although he is already promised to Amneris, the daughter of the Pharaoh. An interplay of passionate love and political constraints determines the tragic course of history. "This marks another cultural milestone for Emirates Palace and Abu Dhabi. The timeless subject of AIDA is given a fresh, contemporary treatment with spectacular set designs and special effects. We would like to thank the Abu Dhabi Tourism Authority for their assistance in bringing this exceptional cultural programme to Abu Dhabi, which we are sure will be received warmly by residents of the city and the nearby emirates," said Noel Massoud, General Manager, Emirates Palace.AIDA began its world tour in Mexico last year, and is scheduled to perform in 20 other countries including Brazil, Argentina, Mexico, Spain, Belgium, France, Denmark, Finland, Hungary and Germany, to name a few. More than 500,000 spectators all over the world are expected to watch the breathtaking opera. Mubarak Al Muhairi, Director General of the Abu Dhabi Tourism Authority, congratulated Emirates Palace for successfully bringing this large scale global production to Abu Dhabi. "We fully support any cultural undertakings that will help position Abu Dhabi as the region's cultural and entertainment capital. We are fortunate that Emirates Palace has the facilities and expertise to host such complex productions."Massoud said "AIDA Monumental Opera on fire will be staged open air at the lavish surroundings of our West Park garden, which is big enough to accommodate 4,000 people, and it provides just the right setting and atmosphere for a spectacular show of this kind to unfold," he added.Joining Emirates Palace and the Abu Dhabi Tourism Authority are the following main sponsors Al Dar, Etihad Airways, and First Gulf Bank.
Built in the style of a majestic Arabian Castle rising from the desert sands, Emirates Palace is situated on a 1.3 km stretch of private beach and surrounded by hectares of manicured lawns. Emirates Palace is operated by Kempinski as part of their prestigious portfolio, which comprises distinctively individual properties in Europe, Africa, the Middle East, South America and Asia.Emirates Palace comprises 394 luxury rooms and suites and a variety of fine dining options. The resort's leisure facilities include two intricately landscaped swimming pools and two state of the art fitness centres. Emirates Palace houses the most luxurious and technologically advanced meeting facilities in the region which include an auditorium with 1,100 seats, a main ballroom that can accommodate up to 2500 guests, over 40 meeting rooms, a Media Centre and a Business Centre. Emirates Palace, since its inception, has quickly established an enviable reputation in the industry, capping its inaugural year with three prestigious awards — Best New Hotel of the Year, Best Tourism Project, and Best in Convention / Conference Hotel - at the MENA Travel Awards 2006, considered the most prestigious and highly coveted industry recognition programme in the region.