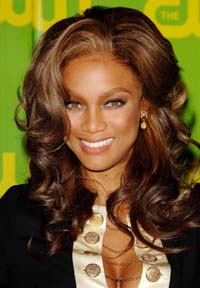 Super Model Tyra Banks
Pop quiz: Name the seven previous winners of "America's Next Top Model."Tell you what, name even one.Most viewers no doubt can't, myself humbly included. Yet "Top Model" is back for its eighth go-round at 7 p.m. Wednesday on WGN Channel 9. And why not? Tyra Banks' competition may not actually produce a global sensation of a cover girl or the face of a generation, but as a cat fight involving barely clad women, it's pure genius as reality TV.Even a curmudgeonly TV critic has to admit, "Top Model" has a surreal, try-anything quality that sets it apart in the normally trashy reality genre. Wednesday's two-hour premiere starts off with this season's aspirants going through "Top Model Boot Camp.""You girls are not ready to meet Tyra," says one would-be drill instructor, so he sends them off to change into tank tops, camouflage Capri pants and high-heel boots and puts them through their paces until our hostess with the mostest shows up.
"I love the smell of hairspray and makeup in the morning," Banks says. "It smells like victory."Later on, the 13 finalists will try to match style with politics, as each is arbitrarily assigned some political stance and must adapt her runway presentation to suit it.Now that's just plain bizarre. But then again, it's not unlike how we actually choose our president, is it?Of course, it all comes down to the actual contestants, and the Chicago area appears to have a couple of top entries. Jaslene is a repeat performer who previously failed to make the finalists, but she's back and makes the cut this time, displaying just enough control over her abundant attitude to charm Banks without actually honking her off. Even better, though, is Sarah, a 20-year-old Lake Zurich photographer who establishes herself as a threat right off by being the only model to know who Richard Avedon was.Talk about scoring big on a pop quiz.Otherwise, a few separate themselves from the pack. Jessica gets herself in a game of the dozens with Banks in showing off her Englewood, Calif., attitude. Renee instantly alienates all other women when she reveals a flat tummy in spite of having given birth just seven months before. And Russian import Natasha endears herself to the competition by saying she doesn't want to hear them complaining about intestinal gas."I'm tired of you telling me bad stuff about yourself," she says.Then, as if to address concerns about models starving themselves thin - not to mention Banks' own recent media firestorm over her weight - there are not one but two plus-size models, Diana and Whitney.Not that "Top Model" goes entirely politically correct. It still delights in the more bubble-headed behavior of the contestants, as when one says she likes Audrey Hepburn, especially that one movie "Dinner ...," no wait "Lunch ...," better make that "Breakfast at Tiffany's."Still, harsh as Banks and her "glam squad captains" Jay Manuel and J. Alexander can be, this isn't "American Idol," out to humiliate its contestants as much as celebrate them. Yes, it's devoted to surface elegance and cosmetic beauty, but it also displays a respect for the fashion industry not unlike Heidi Klum's "Project Runway."So, one last question, what's the best reality TV competition? No, it's not "Top Model," which can't stand up alongside "Runway" or "The Amazing Race" or "Survivor," but it sure isn't the worst reality show out there either.• Ted Cox (tcox@dailyherald.com) writes Tuesday and Thursday in Suburban Living, Friday in sports and Friday in Time out!
The above article is from Chicago Daily Herald.