Serbian print art exhibition "Different Aspects of Figuration"
Scores of Serbian print art items are being shown in Seoul with the efforts of a top Serbian envoy serving in Seoul. Serbian Ambassador to Seoul Zoran Veljic organized an art exhibition of Serbia's contemporary printmaking in a Seoul gallery on March 7, 2007.The top Serbian envoy hosted a reception for the opening of the art exhibition at the Samsung Raemian Gallery in Unni-dong, Jongno-gu in central Seoul at 5 p.m. on the day. The exhibition, opened on the day, will run until March 16, 2007.A total of 38 works of print art are shown under the title of "Different Aspects of Figuration." The items are from 12 Serbian artists belonging to the association of "Graficki kolektiv."About half hundred high-profile guests were invited to the opening ceremony for the exhibition. Many foreign ambassadors serving in Seoul also visited the gallery.Among the top foreign diplomats were Guatemalan Amb. Rafael A. Salazar, Sudanese Amb. Mohamed Salah Eldin Abbas, Swedish Amb. Lars Vargo, South African Amb. Fanus Schoeman, Moroccan Amb. Ahmed Bourzaim, and Archbishop Emil Paul Tscherrig of Holy See Embassy in Seoul.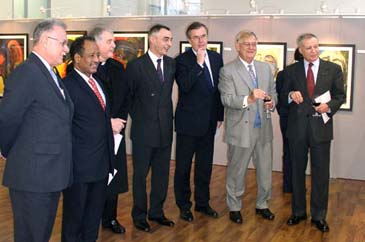 Serbian Ambassador to Seoul Zoran Veljic (center) poses with other foreign ambassadors at Serbian art exhibition in Seoul.
Among the local participants were Prof. Kim Ji-Hyang of Hankuk University of Foreign Studies and her students.This exhibition is one of the annual events the Serbian Embassy in Seoul hosts to promote Serbian art among the Korean people, according to the embassy source.The source said that "Balkanika," consisting of 12 young and talented musicians oriented towards ethno music, will be invited from Serbia to South Korea's Cheoyong Cultural Festival to be held in Ulsan in September this year. With traditional instruments the group "Balkanika" performs music inspired by the folklore of the Balkans.For details or inquiries about the exhibition call the Serbian Embassy in Seoul at 797-5109 or the gallery at 765-3304.