Marking a decade of freedom and democracy South African Embassy is staging a series of cultural events including South Africa's unique fashion show, concert, traditional percussion music and dances, and food festival. The theme of the celebration is "a people united for a better South Africa and a better world." In a press luncheon meeting thrown by its ambassador, His Excellency Sydney B. Kubheka and his wife in Grand Hyatt Seoul on April 26, 2004, Amb. Kubheka said that its Seoul Embassy is hosting the cultural events officially dubbed "South African Celebration of Freedom through Culture and Fashion" to observe the great stride of its people in earning freedom and democracy from the yokes of apartheid of racial segregation and social conflicts.Some 500 local and foreign guests will be invited to the gala event "Celebration of South Africa's 10th Anniversary of Freedom Day," at the hotel's Grand Ballroom on April 27, South Africa's Freedom Day, its national holiday. Embassy officials said all the quests and invitees are requested to wear formal suit and carry invitations. Reservations can be arranged by calling 02-791-0034 or 02-791-0035.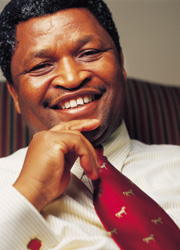 Amb. Sydney B. Kubheka
Welcoming cocktail reception will begin at 6:30 p.m. and last until 7:00 p.m. in the hotel's Regency Room, to be followed immediately by the banquet in the hotel's Grand Ballroom. Mr. and Mrs. ambassador are hosting the hour-long gala dinner. The dinner will be accompanied by special performances by Zulu dancers and drummers called UMOJA. The strong beat of drum and powerful dances of the traditional percussion troupe will entertain the guests with its seven members in a traditional garment and makeup. Concerts will start at 8 p.m. and last until 9:30 p.m. Performers include such celebrity entertainers as Thapelo Mofokeng and Phinda Mtya. Regarded by many as South Africa's most eminent jazz and blues musician, Thapelo Mofokeng has brushed shoulders with Bill Cosby and Sammy Davis for the past three decades. Mtya is well-known South African singer who played as monkey character Rafiki in the animation blockbuster "The Lion King."Of particular interest is South Africa's unique fashion show to be staged after the dinner party by MEROPA Heritage, a South Africa's fashion management company.In the press meeting Director Judy Henshall, co-owner of the fashion group, said that South African models will present unique combination of fashion show between Africa's tradition and its modern technology under the title of "the Culture through Couture." Henshall is also president of Bongani Creations, sister company of MEOPA Heritage.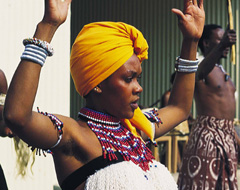 She added that tribal costumes made by MEROPA designers with beautiful hand-woven fabrics for traditional wedding will also be shown by South African models assisted by local models of Model Line agency.A total of 78 garments will be introduced to local people, representing each culture of South Africa's nine different tribes including Zulu, Ndebele, Tsonga, and Xhosa. Its Constitution provides for 11 official languages including Afrikaans, English, and isiZulu."We are bring our living cultures to the people of Korea." said Henshall "We are putting our beautiful traditional arts into modern garments and show them to Korean people."Hensahll said that the fashion gala will symbolize its the unique beauty of the country with a dynamic fusion of Africa, European, and Asian influences. The whole process will be aired live by a local fashion television Dongah TV."Koreans are lovely people, very hospitable, they make us feel at home." said Claire Sabbagha, one of the models accompanying Henshall. "Also Korean models working with us are very professional." Sabbagha was crowned as Miss South Africa's first princess in 2002. Other models include Babalwa Mueno and Dianne Mura, South Africa's top cat walkers.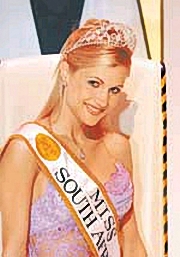 Claire Sabbagha
Inspired by its central theme of Africa's heritage, the MEROPA's fashion shows were highly acclaimed in world's major events including the one at 2003 Washington Chamber of Commerce Emerging Innovations Show, 2002 MEROPA Show in Birmingham, Alabama, one at African Union Summit and the World Summit on Sustainable Development in South Africa.Separate from the main event on April 27, 2004, "South Africa's Food and Wine" has already been underway at Grand Hyatt since April 15, 2004 as parts of its Freedom Day cultural events. For the cuisine feast two highly qualified authentic chefs — Mark Eardley and Tazma Dlomo Mkwena — from Hyatt Hotel-Johannesburg had to be flown in Seoul.The weeklong cuisine festival will culminate in the evening banquet on April 27, 2004. One of the most well-known wine countries in the world, South Africa's wine making history harks back to over three centuries. The "Land of Gold Platinum and Diamonds" is gearing up for hosting 2010 World Cup Game as the chances of its holding are getting higher and higher. If successful, South African will become the first African nation to hold the global soccer event.