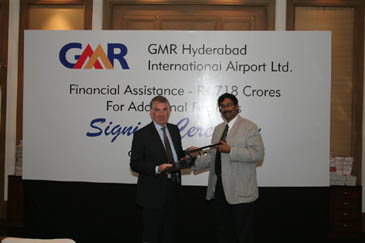 ADCB will participate in the construction of GMR Hyderabad airport as the single largest lender to the project.
ABU DHABI -In a landmark deal, Abu Dhabi Commercial Bank (ADCB) has participated in financing of an airport in Hyderabad, India. The GMR Hyderabad International Airport is a green-field airport being developed as a Public Private Partnership structure by the GMR group in consortium with Malaysian Airport Holding Berhad, the Government of India and the State Government of Andhra Pradesh. The airport project, which is in advance stages of development, has gone for expansion of the facilities to cater to the increasing traffic expected in the city of Hyderabad. The 30 year concession structure for the airport project called for longer term debt and with long term debt facilities of USD 125 million, ADCB became the single largest lender to the project. This has set yet another benchmark in long tenor loans offered by ADCB through the External Commercial Borrowing (ECB) route for projects in India. The expansion project achieved financial close on March 9, 2007. GMR Hyderabad International Airport Ltd (GHIAL), the project company developing the new airport at Shamshabad (near Hyderabad), raised USD 162 million from ADCB and two domestic banks in India for creating additional facilities at the airport, fuel tanks and a business hotel. Extra amenities would include more parking bays, rapid taxiways, additional office space for airlines, extra cargo space, additional car parking for passengers and public , extra immigration counters, self-check-in kiosks, bus gate lounges and additional security equipment.The company had initially planned to handle 7 million passengers but decided to augment capacity to 12 million passengers per annum in view of the tremendous growth in air traffic in Hyderabad in the last few years. As a result, the total project cost has gone up to USD 557 million from the earlier estimated figure of USD 395 million, which has been approved by GHIAL's Board of Directors. The company will start repaying the dollar debt after two years of starting operations; the new loans will be repaid over 14 years.Work on the new airport is progressing at a good pace and the airport is expected to complete as per schedule in March 2008.Mr Saeed Al Hajeri, Chairman ADCB, commented that the transaction is an important step in the continued efforts of the bank to diversify into strategically important markets like India and in the area of infrastructure.Mr. T. Srinagesh, COO, GHIAL, said: "We are extremely happy to have Abu Dhabi Commercial Bank on board for funding of additional facilities at the new airport. The money would be used to achieve our business goal of continuously meeting the demands of services for increased passenger growth." He added that the work is progressing at a rapid pace and the airport would take-off as per schedule in March 2008. Mr. Ervin Knox, CEO ADCB, said that this represents the execution of a focused diversification strategy of building key relationships with cross border borrowers in the infrastructure space. The transaction represents financing of essential infrastructure which is operated on a privatized basis in India, one of the largest and fastest growing economies in the world.
Abu Dhabi Commercial Bank - ADCB is a diversified full service bank. Other than banking services that span corporate, retail and commercial banking ADCB is active in the areas of treasury derivatives, infrastructure finance, private banking and wealth management.Since 1985 ADCB has reported successive years of record profits and consistent growth. Our approach is driven by the ability to create value for our customers by leveraging our skills and expertise. Amongst UAE banks, ADCB has the second largest deposit base with total assets as at 31/12/2006 of AED 81.1 billion and net profit of AED 2.147 Billion in 2006.
The strong franchise, supported by a network of 39 branches in UAE and 2 branches in India is reflected in the recent rating of Aa3, which is the highest awarded to a bank instrument in the Middle East.The Government of Abu Dhabi, through Abu Dhabi Investment Council (ADIC), holds 65% of the capital while the rest is held by various UAE Institutions and Nationals. ADCB's market capitalization as of 31/12/2006 was AED 22.8 Billion (US$6.2 Billion)