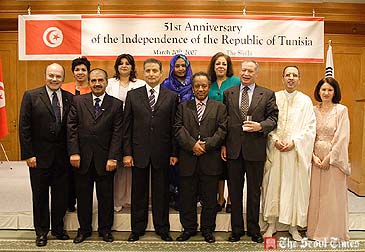 Amb. Baati (second from right) poses with other guests.
Tunisian Ambassador to Seoul Moncef Baati hosted a reception on March 20, 2007 at Hotel Shilla's Emerald Room in order to celebrate his country's 51st anniversary of its independence. More than 300 guests from all areas of society including government officials, business community, journalists and members of Seoul's foreign community like foreign diplomats accredited to Seoul, attended the function.Among them were Korean Minister of Gender Equality and Family Jang Ha-jin, French Ambassador to Korea Philippe Thiebaud, Malaysian Amb. M. Santhananaban, Kazakhstan Amb. Dulat Bakishev, Lee Sang-jin, area manager of Emirates Airline and Kim Kyoung-hae, president of Communications Korea.Diplomatic ties between the Republic of Korea and Tunisia have a longstanding tradition. First established in 1969, political, economic, scientific, cultural and academic cooperation between the two countries witnessed a significant development with the signing of numerous agreements in the different areas.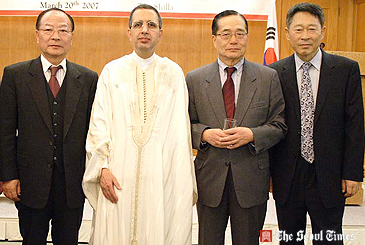 From left to right: Mr. Park Young-Ho, vice president of The Seoul Times; Mr. Moncef Baati,Tunisian Ambassador to Seoul; Mr. Yun Ik-Han, chairman of The Seoul Times; Mr. Kim Kyong-Hae, president of Communications Korea.
Right after gaining its independence in 1956 Tunisia started to invest in human resources and education in order to develop a skilled workforce. This is one of the reasons Tunisia was recently ranked the most competitive country in Africa and the Arab world. "In this particular field I have made many looks to Korea with big admiration," the ambassador said in his opening speech.Exchange between the two countries found its recent peak when Deputy Prime Minister and Minister of Science and Technology Kim Woo-Sik, visited Tunisia to co-chair the first Technological and Scientific Joint Commission last November. "This visit constitutes a turning point in the cooperation between the two countries in the areas of science and technology," the ambassador explained.The ambassador emphasized in his speech the great progress the diplomatic relations between the two countries made in the last 40 years. He based this development on the similarities between Korea and Tunisia, in front of all in means of spreading and promoting prosperity for their people and peace worldwide."Wishing further progress and prosperity for our two people I hope for fruitful and lasting cooperation between our two frankly countries," he finished his speech.