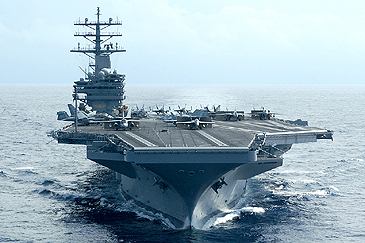 The aircraft carrier USS Ronald Reagan
BUSAN, South Korea — The aircraft carrier USS Ronald Reagan pulled into port in Busan on Thursday in preparation for the upcoming Reception Staging Onward Movement and Integration/Foal Eagle exercises."We're looking forward to Foal Eagle," said Capt. Terry Kraft, the Reagan's commanding officer. "It's an opportunity for us to work with our [South Korean] navy counterparts."Kraft declined to discuss specifics of the exercises, which begin Sunday and last through April 1, but said his crew would participate in a variety of missions that would exercise the ship's full range of capabilities.Those capabilities were partially explained by Carrier Strike Group 7 Commander Rear Adm. Charles Martoglio during a media tour Wednesday."By operating from international sea and airspace, naval forces are flexible and can get to places quickly," Martoglio said. "And once we get there we can conduct a wide variety of missions."Tactical action officer Lt. Marvin Park said the ship's air component, consisting of F/A-18E/F Super Hornets, F/A-18 Hornets, E-2C Hawkeyes, EA-6B Prowlers, C-2A Greyhounds and SH-60 Seahawk Helicopters, would provide much of the air power in the Foal Eagle exercise.Commander, Naval Forces Korea spokeswoman Lt. j.g Jessica Gandy later said the Reagan's role this year would be similar to that of the USS Abraham Lincoln during last year's Foal Eagle.According to a Navy news release from last year, the USS Abraham Lincoln supported theater security and promoted cooperation and engagement with the South Korean military.
Commissioned July 12, 2003, the USS Ronald Reagan is the newest Nimitz-class aircraft carrier in the U.S. Navy. Based in San Diego, it is powered by two nuclear reactors, is manned by more than 5,000 sailors and carries more than 70 combat aircraft.The Reagan will remain in Busan through Sunday, allowing many of its sailors to enjoy the local culture over the weekend.According to Kraft, more than 200 sailors from the ship will spend the weekend engaging in community relations projects.RSOI is a regularly scheduled, annual joint/combined command-post exercise used by Combined Forces
Command, South Korea and U.S. forces commanders to train and evaluate their capability to receive forces from bases outside the country.Foal Eagle is a theaterwide joint/combined field training exercise focused on rear area security and stability operations, onward movement of equipment and select training events.
USS Ronald Reagan (CVN-76) by Wikipedia
USS Ronald Reagan (CVN-76), the ninth Nimitz-class supercarrier, was the first ship of the United States Navy to be named for President Ronald Reagan.Traditionally, very few ships of the United States Navy were named after a person who was alive at the time of the christening, but recently the number began increasing rapidly; the list includes Carl Vinson (CVN-70), Hyman G. Rickover (SSN-709), Arleigh Burke (DDG-51), John C. Stennis (CVN-74), Bob Hope (T-AKR-300), Ronald Reagan (CVN-76), Nitze (DDG-94), Jimmy Carter (SSN-23), and George H. W. Bush (CVN-77). Unlike most of the other men honored by inclusion in this group, Reagan was not associated with the United States Navy apart from his term as Commander in Chief.The contract to build Ronald Reagan was awarded to Northrop Grumman Newport News and Dry Dock Company in Newport News, Virginia on Dec. 8, 1994 and her keel was laid down on Febr. 12, 1998. She was launched on March 10, 2001, sponsored by Ronald Reagan's wife Nancy, and commissioned on July 12, 2003, with Captain J. W. Goodwin in command. At the commissioning ceremony, Mrs. Reagan gave the ship's crew the traditional first order as an active unit of the Navy: "Man the ship and bring her to life."President Reagan died eleven months later. At the end of the graveside services, the ship's commanding officer at that time, Navy Captain James Symonds, presented the flag that draped the former president's casket to Mrs. Reagan at her request. This was also the flag that had flown over Capitol Hill on January 20, 1981, when the president was inaugurated. Captain Symonds also presented Mrs. Reagan the flag that had been flying over the Ronald Reagan when the former president died.Ronald Reagan displaces approximately 95,000 tons of water fully loaded and has a top speed of over 30 knots, powered by two nuclear reactors driving four screws, and can sail for 20 years before refueling. She is nearly as long as the Empire State Building is tall at 1,092 feet (333 m) and is 134 feet (41 m) wide at the beam and has a flight deck 252 feet (77 m) wide. The flight deck covers over 4.5 acres (18,000 m²). She carries more than 5,500 sailors and over 80 aircraft.During her transfer from the Atlantic to the Pacific, she transited the Straits of Magellan. Her homeport is San Diego, California.On July 6, 2006 the Ronald Reagan returned to her homeport of San Diego from her maiden deployment where she conducted operations in support of the continuing war on terror.USS Ronald Reagan (CVN 76) and the Reagan Carrier Strike Group (CSG) departed North Island in San Diego on Jan. 27, 2007 on a previously unscheduled surge deployment to the Western Pacific fulfilling the role of the forward deployed carrier Kitty Hawk while it undergoes $28.5 million of maintenance in Japan.