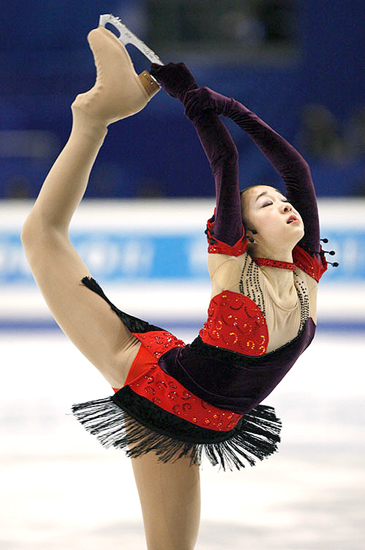 South Korea's figure skating star Kim Yu-Na performs
Day Four
The 2007 World Figure Skating Championships continued in Tokyo, Japan, with the Ladies Short Program and the Free Dance. The Toyko Metropolitan Gymnasium was once again sold out.
Ladies, Short Program
The 45 entries in the Ladies event were divided into two groups for the Short Program. The first half skated in the morning and the second in the evening. The Free Dance took place in between. South Korea's figure skating star Kim Yu-Na captured the lead with Japan's Miki Ando and Carolina Kostner of Italy following in second and third. All three set a new personal best for themselves. Kim put out a dazzling performance to "Tango de Roxanne" from the "Moulin Rouge" soundtrack, hitting a big triple flip-triple toeloop combination, a triple Lutz, a high double Axel and beautiful spins, earning a level four for the combination spin and the layback spin. The 16-year-old had just one shaky moment in her spiral sequence but completed it well and got another level four for it. The 2006 World Junior Champion posted a new personal best of 71.95 points, setting a new record and beating the former record set by Sasha Cohen's Short Program score of 71.12 points from Skate Canada 2003. Kim's element score was 41.49 and the program component score was 30.46. She beat her previous personal best of 65.22 points clearly. When the marks came up, the skater hardly could believe it. "I was surprised with such a high score, but I don't know what will happen tomorrow. I made a small mistake on the spiral sequence, but I'm happy that I had a good score," Kim said. She also was asked about her back injury that affected her preparation for Worlds. "When I arrived in Japan I still had pain, but little by little my practice improved. Today during the performance I felt no pain, so I was feeling better and was able to skate in a very confident manner," she explained.Ando nailed a triple Lutz-triple loop, a triple flip, a double Axel and got a level four for her spiral sequence and the flying sit spin but only a level two for the layback. The 2004 World Junior Champion was awarded 67.98 points (38.67/29.32) and slightly improved her previous personal best. "This World Championship is in my home country, Japan, and I did my best performance in front of the Japanese audience, so I'm very happy. Of course, I was very nervous, but I was able to perform well, so I hope to have a good momentum going into tomorrow's free program," Ando told the post-event press conference. Kostner's routine to "Canon" by Pachebel included a triple flip-triple toeloop combination, a triple Lutz, a double Axel as well as a level-four combination spin and flying camel spin as well as a level-three straight line sequence. The European Champion picked up 67.15 points (38.38/28.77), surpassing her previous personal best of 60.82 points. "It was good for me to skate clean and I want to keep this feeling for tomorrow. Today I was a lot more nervous (than at the European championships), just because of the environment and atmosphere. I knew everybody here is strong and well prepared, and I had lost two months of my preparation (due to her injury in the fall). It's just good now to do a good competition here. That was important to me," the 20-year-old Italian said. Reigning World Champion Kimmie Meissner (USA) is currently standing in fourth place. She landed a triple Lutz-triple toeloop combination, a triple flip and a double Axel in her program, but received only a level one for her layback spin (64.67 points/personal best). Mao Asada (JPN) completed a triple Lutz but then crumbled under the pressure, popping the second jump end of her planned triple flip-triple loop combination into a single. She finished fifth at 61.32 points. Emily Hughes (USA) placed sixth. Her routine included a triple flip-double toeloop combination, a triple Lutz and strong spins (60.88 points).
Ice Dancing, Free Dance
The Ice Dancing event concluded with an exciting Free Dance. Albena Denkova/Maxim Staviski of Bulgaria danced off with the gold medal, their second consecutive title. Canada's Marie-France Dubreuil/ Patrice Lauzon earned the silver medal, and Tanith Belbin/Benjamin Agosto (USA) captured the bronze. It was an exact repetition of last year's podium at the World Championships. Denkova/Staviski delivered an emotional and powerful performance to a modern arrangement of Wolfgang Amadeus Mozart's requiem and "O Verona" from the "Romeo and Juliet" soundtrack. The theme of their program was "Seven Deadly Sins." The Grand Prix Final Champions completed excellent twizzles, difficult footwork and innovative lifts, receiving a level four for all elements but the spin that was graded a level three. Denkova/Staviski scored 102.09 points (53.22/48.87) and accumulated a total of 201.61 points. Dubreuil/Lauzon's romantic program to "At Last" by Etta James was highlighted by their spectacular lifts and effortless looking yet difficult steps. The Canadians were awarded a level four for all lifts, the twizzles and the circular footwork and collected 100.96 points (52.54/48.42) for this performance, which added up to a total of 200.46 points.Performing to the "Amelie" soundtrack, Belbin/Agosto had opted for a playful routine with a melancholic touch. They produced level-four step sequences and interesting lifts including a curve lift with him skating in a spread eagle while she bent backwards and a serpentine lift with changes of position, but Belbin stumbled on the opening set of twizzles. The Americans also received a one point deduction for an extended lift. The Olympic silver medalists got 96.41 points (50.61/46.80) and were ranked fourth in the Free Dance, but overall held on to third place at 195.43 points. Isabelle Delobel/Olivier Schoenfelder gave a strong performance of their innovative "Bonnie and Clyde" routine and finished third in the Free Dance. They moved up from fifth to fourth and missed the bronze medal by just 0.24 points (195.19 total score). Oksana Domnina/Maxim Shabalin (RUS) skated their powerful "Polovetsian Dances" also very well but both their step sequences and the spin were graded a level three only and they slipped from fourth to fifth (193.44). The 2006 World Junior Champions Tessa Virtue/Scott Moir (CAN) and the 2006 World Junior bronze medalists Meryl Davis/Charlie White (USA) had an impressive debut at the World Championships by coming in sixth and seventh. "It is wonderful us to be here and to have won the second gold medal. I never thought this is possible. We've fought for it since the beginning of the season. We were strong in practices here, we fought every moment. Last year, I didn't understand what happened and that we were first. We had a great response back home in Bulgaria. This year I understand each step I make on the ice. I understand that I fight for it. I feel happier than last year," Denkova revealed. The couple had said earlier that they intend to retire from competition but now didn't want to announce immediate retirement. "I want to have a rest. But she's the president. She decides. I'm just a skater," Staviski grinned, referring to the fact that his partner was elected president of the Bulgarian Skating Federation last fall. "We kind of had the gold medal in the corner of our mind and we trained and tried to be the best we can be," Dubreuil said. "Last year the Worlds were in Canada. It added to the pressure. After the accident in Torino (at the Olympic Games) my body was not 100 percent and to get back on that ice after Torino; it was overwhelming and was very hard to skate. When it was all finished, it was like a big dream. We were so happy to be on the world podium for the first time. This year we wanted to be on the podium again. We skated this competition very well with no pain and much less stress. I think I'll remember more what happened this year than last,, she continued. "Obviously we would have liked to have done a better job here today, but we're very happy to put an end to what feels like a two-year season, because one year led into another," Belbin commented. "Unfortunately it's very much in our track record to be low in the compulsories, pull up in the OD and hang on to it in the free dance. That seems to be our routine that we follow, but today I just didn't attack the program with enough confidence, and that's where mistakes happen. I think the rollercoaster is finally at a stop, and we're really looking forward to having a nice summer to train and finally get our basic skating to another level. I really expect more from us in the future, and I think that we can really step it up from this point forward," she added. For full results please see: www.isu.org. The competition at the ISU World Figure Skating Championships 2007 concludes Saturday with the Ladies Free Skating. For further information please contact:Devra Pitt-Getaz, ISU Media Coordinator ISU World Figure Skating Championships +81 3 3423 4230 Tamio Suzuki, Press Chief
email: pitt@isu.ch +81 3 342 342 23(press room)