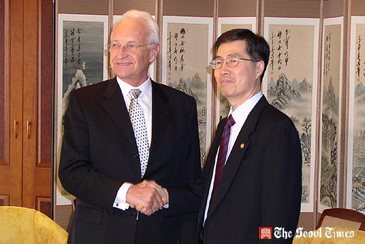 German Governor Edmund Stoiber shaking hands with Korean Prime Minister Kwon Oh-Kyu.
On his three day visit to S. Korea the governor of the German federal state of Bavaria, Edmund Stoiber, joined a commemorative ceremony, hosted by the German embassy and the Delegation of the European Commission to Korea. The ceremony was held on the occasion of the 50th anniversary of the Treaties of Rome. Prior, he met with Korean Prime Minister Kwon Oh-Kyu, who also took part in the festivities. Stoiber arrived in Seoul on Sunday, March 25, 2007. S. Korea is his first stop on his voyage to four Asian countries. He was accompanied by 21 executives of Bavaria-based companies, trying to find ways to enhance economic ties between the two countries. Earlier that day, the governor visited Sogang University in Seoul, where a mutual treaty between the university and Friedrich-Alexander University in Erlangen-Nuernberg, Germany was signed. He was furthermore granted the title of honorary doctorate of the Korean university.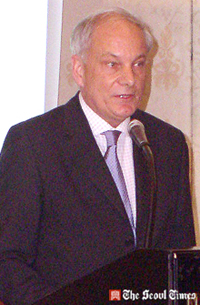 German Ambassador to Korea Norbert Baas
The ceremony, which was held in Millenium Hilton Seoul Hotel, was attended by around 400 high profile guests from politics, economy and society. Speeches were made by the Bavarian governor, the Korean prime minister, German Ambassador to Seoul Norbert Baas and European Ambassador Brian McDonald. The festivity was co-hosted by the German Embassy and the Delegation of the European Commission to Korea.In his speech, the German governor emphasized on the many accomplishments the European Union has achieved since its establishment. He pointed out the significance of the European way of cooperation between countries, which have been divided by war, a not so long time ago."Here in northeastern Asia as well, the EU is seen as a role model for better cooperation. It has worked in Europe because there was the will to reconciliation and a coming to terms with the past," Edmund Stoiber addressed to the public.The Treaty of Rome was signed by France, West Germany, Italy, Belgium, the Netherlands and Luxembourg on March 25, 1957, in order to establish the European Economic Community (EEC). The six original founding nations have stayed, while 21 other countries joined during the following decades. Korea is among the most important trading partners of the European Union in Asia. On the other side Europe, as Korea's second largest trade partner and its largest investor, is a very important partner in trade, investment, and economic cooperation to the Asian country."Our successes are increasingly mutually inter-dependent on each other. We take great interest in efforts in this region, to promote regional community building, in particular those by the Republic of Korea," Brian McDonald told the audience in his speech.