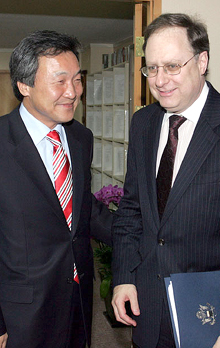 Dr. Sohn Hak-Kyu (áÝùÍФ) meets with US Amb. Alexander Vershbow (right) in Dr. Sohn's office in Seoul on March 27, 2007 at Vershbow's invitation.
Former Gov. Sohn Hak-Kyu (áÝùÍФ) of Gyeonggi Province is becoming a world of mouth of major foreign ambassadors serving in Seoul as Sohn emerges as one of the most favorite candidates for the president.Top foreign envoys now pay more attention to Dr. Sohn as his popularity increases after his recent defection from the conservative Grand National Party (GNP).On March 26, 2007 Chinese Ambassador to Seoul Ning Fukui (һݷÎÚ) invited Dr. Sohn for a dinner at his residence in Seoul. The contents of their talks were not reveled.On the following day US Ambassador Alexander Vershbow also had a talk with Dr. Sohn in Dr. Sohn's office in Seoul. Their meeting was made possible at the invitation of the US envoy.Ambassadors from such countries as United Kingdom, Australia, and Singapore expressed their wish to meet with Dr. Sohn, according to Dr. Sohn's aide.In a meeting with local journalists on March 27, 2007, Dr. Sohn showed his vision of the third political force, dubbing it "Advanced Peace Alliance."Dr. Sohn made it very clear that he will distance himself from the ruling camp, even though political analysts say he might join forces with the ruling camp.Other experts say that there is no chance that Sohn will join a certain faction of the ruling camp. Meanwhile, famous novelist Hwang Sok-Yong said that Dr. Sohn defected from GNP at his urging.In a meeting with his literary fans at Kyobo Book Center in Seoul he said that Dr. Sohn's political orientation is far different from GNP. He also said that Dr. Sohn could serve as a kindling wood for the development of the nation.Another famous literary figure Kim Ji-Ha also expressed his support for Dr. Sohn. Poet Kim is the symbol of conscience. Kim long served as a leader of pro-democracy movement under the 1970-80 dictatorships of South Korea.In a surprise move on March 19, 2007, Dr. Sohn distanced himself from the largest opposition party with just nine months ahead of the 17th presidential election.Dr. Sohn is found out to be the most popular presidential candidate among the educated Koreans including journalists in polls.With the defection of ex-Gov. Sohn from GNP, the political spectrum of the already conservative GNP is now even more conservative, for Dr. Sohn was the leader of the "relatively liberal" or reformist factions of the largest opposition party.With his defection, the ruling Uri Party can expect three-way presidential race split into three forces of the conservative GNP, the middle of the roaders led by Sohn, and liberal forces led by pro-Roh Moo-Hyun forces and the socialist Democratic Labor Party.Earlier on March 19, 2007 in a press conference held at the Kim Koo Museum and Library in Hyochang-dong, Seoul, Dr. Sohn said "I decided to leave GNP to create a new path for the nation."Kim Koo is one of the most famous independence fighters, who served as president of the interim Korean government in exile in Shanghai during Japanese occupation of the Korean Peninsula from 1910 to 1945. Kim Koo is the symbolic figure who Korean people respect the most amongst independence fighters.In his speech Sohn blamed both the conservative GNP and liberal Uri Party for "being hackneyed old-liners and crippled leftists" respectively.He expressed his wish to join hands with civic groups to form new political forces.On March 15, 2007 in a political gathering held at Korea Chamber of Commerce and Industry building in Seoul, Sohn said "It is absolutely necessary for the new political order to emerge at this time of the era" in his congratulatory speech.In the meeting a third political force named as "Advance Korea" was officially launched. The force was composed of personalities who fought against dictatorship of 1980s, experts of various sectors of society, and cultural figures.Other independent political groups are gearing up for joining Dr. Sohn's force and among them are a group of liberal-minded college professors.On June 26, 2006 Dr. Sohn celebrated the publishing of his autobiography "Sohn Hak-Kyu & His Fellow Workers: ¼ÕÇÐ±Ô¿Í Âï»õ, µü»õµé" at the 63 Building in Yoido, Seoul. The title of the book in Korean is "Sohn Hak-Kyu and Zzicksae, Ddacksae-dul." The gathering drew some 3,000 guests literally all sectors of South Korean society, political, business, social, and cultural areas.As he said in his book, Dr. Sohn made 21 overseas trips in search of foreign investment. Through four years of his governorship Dr. Sohn successfully drew an estimated 14.1 billion US dollars of foreign investment. A total of 114 foreign companies are now operating in Gyeonggi Province surrounding Seoul City, thanks to the former governor.One of Dr. Sohn's major achievements as governor includes creating some 80,000 jobs for his constituents within the province."I fought against dictatorship when democracy was needed," said Gov. Sohn. "I fought for the creation of jobs as a governor." He said that he would plunge into the sea of the people and shed sweat as a leader for the entire nation.Dr. Sohn also embarked on a 100-day campaign immediately after he retired from the governorship on June 30, 2006. Dr. Sohn went through all the hardships and difficulties himself as he wanted to experience the true lives of the working class people.
Personal History of Dr. Sohn Hak-Kyu
Name: Sohn Hak-Kyu
Date of Birth: 1947. 11. 22.
Birthplace: Siheung, Gyeonggi Province
Educational Background 1959 ~ 1965: Gyeonggi Jr. & Sr. High School.
1965 ~ 1973: Political Science/College of Liberal Art & Science, Seoul National University.
1981 ~ 1988: Oxford University, England (Doctor of Political Science). Professional Experience 1986 ~ 1987: President, Korea Christian Society Issue Research Institute. 1988 ~ 1990: Professor, Dept. of Politics & Diplomacy, Inha University . 1990 ~ 1993: Professor, Dept. of Politics & Diplomacy, Seogang University. 1991 : Director, Korea International Dept. of Political Science Committee. 1992 ~ 1993: Chief of Social Science Research Institutes, Seogang University. 1993 ~ 1996: Elected to the 14th National Assembly.1994.12 ~ 1995.2: Vice-Spokesman of Democratic Liberal Party. 1995. 2 ~ 1995. 8: Chairman of International Organization Committee, Democratic Liberal Party. 1995. 8 ~ 1996. 5: Spokesman of Democratic Liberal party, New Korea Party. 1996. 5 ~ 1996. 11: Chairman of Policy Arbitration Committee, New Korea Party. 1996. 11 ~ 1997. 8: Minister of Health & Welfare. 1997. 12 ~ 1998. 2: Secretary-Chief to the President of New Korea Party. 1996. 5: Elected to 15th National Assembly (Re-Elected).1999. 1 ~ 1999. 8: Guest Professor of George Washington University, U.S.A 2000. 5 ~ 2002. 5: Elected to the 16th National Assembly (3rd election). 2002. 6 ~ 2006. 6: Elected Governor of Gyeonggi Province.