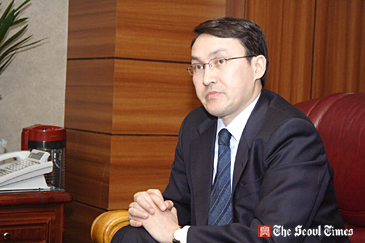 Amb. Dulat Bakishev of Kazakhstan in interview with The Seoul Times at its office in Yeoksam-dong on March 27, 2007
"We enjoy Korean food, we attend Korean theater, watch Korean movies, and so on," said top Kazakhstan envoy to Seoul in an interview with The Seoul Times. "Korean Wave also reached my country."Amb. Dulat Bakishev of Kazakhstan explained that with a current population of 100,000 ethnic Koreans living in Kazakhstan and the first Koreans arriving at the end of the 19th century, Korean culture is a part of every day live.On March 27, 2007 Amb. Bakishev paid a visit to the office of The Seoul Times in Yeoksam-dong, Gangnam-gu, Seoul for the interview, meeting with The Seoul Times officials including Chairman Kim Hyun-Jung of HyunKang and Chairman Park Joon-Bong of Korea Remodeling Association.In the interview he shared some of his thoughts concerning bilateral relations and cooperation between the two countries. He also exchanged information about the cultural particularities of his country, and the promising economical situation.Kazakhstan is a huge nation located in the center of Eurasia. It's 27 times as large as South Korea, with an overall population equal to that of Seoul. After being a Soviet Republic for 55 years it gained its independence in 1991.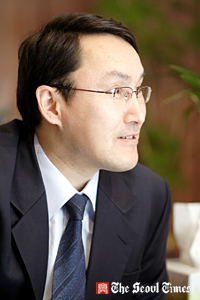 Amb. Dulat Bakishev of Kazakhstan
During the conversation the ambassador talked of his country with pride of its economic success. Despite major problems in the beginning it succeeded in developing very fast."The first five to six years were very difficult, because our economy had many problems," he explained. "We were transforming a socialistic communistic society into a democratic system."But now the country's economy is in a steady growth, which reached 9-10 percent per year for the last eight years."Many people think this is because of the high oil prices," he stressed "But it's also due to reforms that have been made during the first years of our independence."He also mentioned that Kazakhstan has not only a fast growing economy but also substantial natural resources and that it's in a leading position in many areas including oil and uranium.
Speaking of economic ties between Korea and Kazakhstan, he emphasized on investments and technology as a good way of cooperation. Korean chaebols also play a big role in Kazakhstan's economy.
"For example LG has an electronic assembly plant in Almaty and they're selling good quality products for reasonable prices," Mr. Bakishev went on. "Samsung TV and Hyundai cars are also very popular among the Kazakh people."Being the youngest ambassador of Kazakhstan ever, Dulat Bakishev arrived in Seoul on June 5, 2006. Previously serving eight years in South Korea as a diplomat, his career took him to the United Nations in New York and to numerous positions in Kazakhstan's Foreign Ministry.The following is the full text of the interview with the ambassador.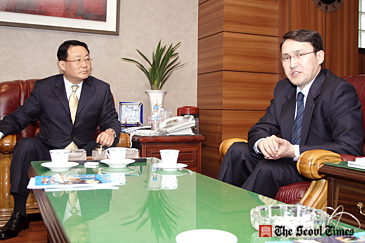 Amb. Dulat Bakishev of Kazakhstan talks with Chairman Kim Hyun-Jung (left) on March 27, 2007.
Q1: Soon after the Soviet demise, South Korea established diplomatic ties with Kazakhstan. Can you give a quick review of how the relations between the two countries have developed during this time?
A1:
Diplomatic relations between Kazakhstan and the Republic of Korea were established on January 28, 1992. President Nursultan Nazarbayev visited Korea twice, in 1995 and 2003. President Roh Moo Hyun paid a return state visit to Kazakhstan in September of 2004. Bilateral exchanges on various levels and spheres are being arranged regularly to discuss various issues of mutual concern.
Q2: What have you done since you arrived here in Seoul as the ambassador? For the remainder of your tenure what are the most important things you would like to achieve?
A2:
I can not take credit for doing something because diplomatic efforts usually require a collective work and cooperation between various institutions from both sides. Last year Prime Minister Han Myung Sook paid a successful visit to Kazakhstan. We had visits on other levels and supported each other within the frameworks of international organizations and multilateral forums. Starting from March 2007 the number of flights between Almaty and Incheon have doubled due to rising bilateral exchanges. Concerning my priorities, I would like to emphasize the importance of linking Korean modern technologies and expertise with Kazakhstan 's abundant natural recourses and overall economic potential for mutual benefit.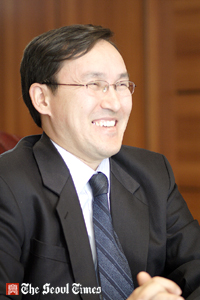 Amb. Dulat Bakishev of Kazakhstan
Q3: One of the main advantages of Kazakhstan is its vast mineral resources. The country further more offers a huge economical potential. How much is the volume of the two countries' in energy development and trade?
A3:
Since Kazakhstan blessed with rich natural resources we are playing constructive role in this are. It is well recognized that liberal policies of my government are conducive to foreign investments. Last year alone the volume of FDI comprised $10.6 billion. I would like to underscore that Korean companies are relatively new players in Kazakhstani energy sector. But despite this fact, Korean firms are active and have secured 7 projects so far. One more perspective project is being negotiated. Since many energy projects are now at early stage of development it is not easy to give exact numbers.
Q4: S. Korean investors are having stakes in more than 300 Kazakhstan-based companies. How important are Korean investments to your country? What are your plans to attract more investments from Korea?
A4:
Kazakhstan's recent economic successes is in great extent related to its openness and ability to attract foreign direct investments. In other words, foreign companies, including Korean firms, have played important role in development of our economy and society. For many Korean businesses Kazakhstan became a good basis for their expansion. Many Kazakh companies are also engaged in investment activities not only in Kazakhstan, but also abroad. Meanwhile, we need more foreign investments, not less. But, I think at this stage we are more interested in quality of investments. The Government's top priority is to strengthen the country's overall competitiveness. It means that attention will be paid to the needs of those companies that can bring technologies and knowledge. Our Embassy is now in contact with Korean businesses with specific expertise. We usually consult them and assist in studying our market, meeting local officials and businesses. Our diplomats regularly participate in economic seminars and conferences in Seoul and other cities.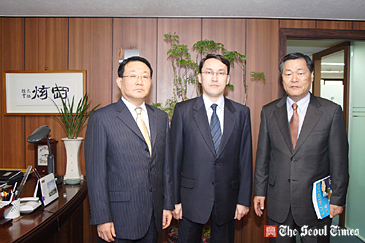 From left to right: HyunKang Chairman Kim Hyun-Jung, Ambassador Dulat Bakishev of Kazakhstan and Chairman Park Joon-Bong of Korea Remodeling Association
Q5: Recently, the Education Minister of South Korea Kim Shin-Il visited your country in order to boost educational exchange. What is the present state of people's exchanges, and cultural exchanges between the two countries? Do you have any plans to introduce more Kazakh culture to Korean people, or vice versa?
A5:
Issues of interaction in the spheres of education and culture are very important aspects of bilateral cooperation. Furthermore, there are many cultural similarities. For example, Kazakh and Korean languages belong to Altai-Ural group. Currently there are around 50 students from Kazakhstan in Korean universities and the same number of Korean students has chosen Kazakhstan to continue their education. One of the issues during the above- mentioned high-level visit was the ways of expanding educational exchanges. The Korean side will expand its support of Korean studies in Kazakhstan as well. In 2006 the Department of Kazakhstan Studies was opened in Kangam University Youngin in cooperation with Kazakh National State University . It means that graduates of Kangnam University will soon play an active role in developing bilateral relations. Kazakh language is being taught also in Hanguk University of Foreign Languages. As regard to the embassy's plans, in the second half of this year we are going to organize a big event with participation of Kazakh orchestra and opera singers. We also expect sizable delegation of Kazakhstani Koreans.
Q6: Currently, there are 100,000 ethnic Koreans living in the Republic of Kazakhstan. What role do they play in the Kazakh society? What Korean influences can be found in today's Kazakh culture?
A6:
Local Korean community is well integrated into our society and play a positive role. Cultural products from South Korea can be found in every corner of modern Kazakhstan. For example, Korean dramas are shown regularly on TV, Korean electronic goods became household names and Taekwondo is very popular among young people.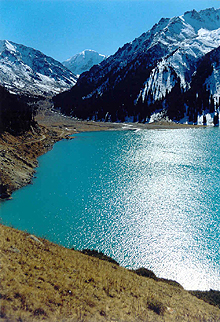 Almaty Lake in Kazakhstan
Q7: Last week, former Gov. Sohn Hak-kyu of Gyeonggi Province bolted from the conservative Grand National Party (GNP), entailing huge criticism by President Roh Moo-Hyun. What are your views on this topic?
A7:
It is important for me to understand internal processes here. But I would prefer to refrain from making public comments on these developments, since these are issues of internal politics of Korea.
Q8: Since your arrival in Korea, what have been the most impressive encounters you made and what difficulties have there been? Have you made any cultural mistakes?
A8:
Diplomats always try to avoid mistakes, although mistakes occur inevitably in the learning process. In this context, first, I would like to say that Korea is not a new country for me. I have been here before, for around ten years, and many things look quite natural to me. But, I remember clearly, that when I arrived here for the first time, I was impressed by the dynamism of Korea and pragmatism of its people.
Q9: Now, let me ask about your family. Have they adapted well to living in Korea? Could you give me detailed explanation about your family members? What do you do with them over the weekends on holidays?
A9:
I'm staying here with my wife and two kids: daughter and son. We love Korea and miss it when we are abroad. Usually we spend weekends in Seoul. This city can offer many things for residents and tourists. We usually go hiking, because Seoul has many beautiful mountains.
Bilateral Ties between Kazakhstan and S. Korea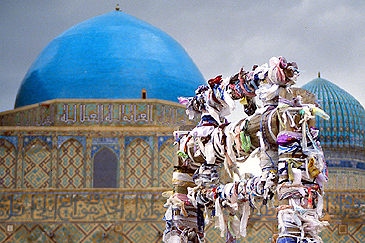 Ahmet Yesevi Maouseleum
South Korea has been a role model for economic development for the Republic of Kazakhstan since the Central Asian country established diplomatic relations with South Korea on Jan. 28, 1992. It took over 20 years for South Korea to develop its economy but Kazakhstan achieved its economic development with the past five years.The bilateral ties have been developed since. South Korean President Roh Moo-Hyun visited Kazakhstan and had summit with President Nursultan Nazarbayev of Kazakhstan on Sept. 19, 2004. The two leaders agreed on various cooperation projects for particularly petroleum and mineral resources.Recently bilateral trade volume surpassed 500,000,000 US dollars and Korean investment into Kazakhstan reached 2 billion US dollars. South Korea has emerged as the 6th largest investor for Kazakhstan in the world.A total of 500 South Korean companies are presently in operation in Kazakhstan. They include such electronic companies as LG, Samsung and Daewoo, Korea National Oil Corporation, SK, and Asiana Airlines.Cell phones of Samsung and LG are more popular among local Kazakhs than the ones of Nokia or Motorola. Major Almaty streets and airport areas are plastered with LG and Samsung advertisements. Downtown Zhibek Zholy Street is even called "LG Street" by the locals.Korea National Oil Corporation and SK are competing with Western companies for exploring oil in the Central Asian nation.In recent years such constructions companies as Daewoo Engineering & Construction Co. Dong-Il Highvill, Woolim Construction, and Sungwon Corporation are involved in various constructions projects in Kazakhstan.Dong-Il and Woolim are involved in the construction of apartment complexes.Presently, there are about 100,000 ethnic Koreans living in Kazakhstan. They are the descendents of first-generation Koreans who were forced by the Soviet leader Joseph Stalin to relocate to this Central Asian nation from the Soviet area just north of Korean Peninsula in 1937.They have been very instrumental in the development of Kazakhstan's economy, which has grown at the rate of nearly 10 percent per year since the year 2000. The Koreans are playing a pivotal role in preserving Korean culture and language among the CIS (Commonwealth of Independent States) countries.South Korean has been helping Kazakhstan with millions of dollars annually. Seoul government has been sending highly-skilled experts and Peace Corpse members to Kazakhstan where as it has invited industrial trainees from the Central Asian nation.