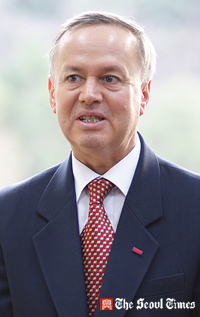 Romanian Ambassador to Seoul Valeriu Arteni
Between 5th to 8th of April 2007, the Embassy of Romania participated with a booth at the "Daegu Expo Tour Fair," presenting some of the most interesting offers for leisure and health tourism.Official of Gyeongsangbuk-do and Daegu City Hall, businessmen and public visited the Romanian booth during these days and asked for more information.The event was a good occasion to appreciate one more time the efforts to build a lasting partnership between Romanian and Korean institutions, now when Romania, became a full European Union member, an organization with which Korea is developing a very substantial co-operation. Through this promotional event both the Romanian Embassy and Expo Tour Daegu Fair focused on the creating a cultural background which may lead to a significant increase in the development of cooperative relations between Romania and Korea in the tourism field.
On the 4th of April 2007, the Embassy of Romania and "Kwang Won Trading Co Ltd" organized at Seoul Station the launching day of the project "Promoting Romania" sponsored by KORAIL-KTX. Within this special event a ceremony of tape cutting was attended by the representatives of KORAIL, KTX and the Ambassador of Romania, H.E. Valeriu Arteni. Organizers offered an interesting program of Romanian music and folk dances brilliantly performed by the students of Hankuk University, Department of Romanian Language, a documentary film entitled "Romania. Come to see an entire world," information and promotional materials. The Ambassador of Romania presented for the KTX customers an interesting incursion in the culture, history and economic development of Romania and "Kwang Won Trading Co Ltd" offered a wine tasting of the Romanian wines. This project is a good opportunity for the Korean public to be acquainted with the Romanian culture through quality wines which are already making inroads into Korean market, thanks to concerted efforts done by the Korean importers and the Romanian Embassy.The event was appreciated by the Embassy of Romania as a milestone of the Korean Companies KORAIL and KTX efforts to promote Romanian culture and civilization as well as Romania's long tradition in wine making.The organizers will continue, during the April month, every Tuesday and Wednesday, to offer to the business class passengers on KTX Romanian wines tasting and information about Romania.