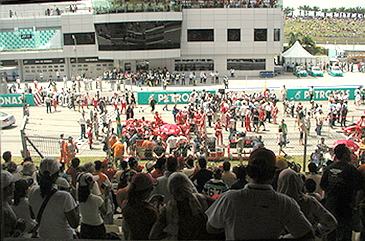 Malaysian Grand Prix Formula 1
KUALA LUMPUR—The year 2007 is a very special year for Malaysia and also a memorable year for visitors to the country, which is now presenting various gala events on the occasion of Visit Malaysia Year 2007.The year coincides with the 50th anniversary of Malaysia's independence. Until recently, the Grand Prix City of Kuala Lumpur was all geared up to host rounds of celebrations in conjunction with the PETRONAS Malaysian Grand Prix 2007.The organizers, Sepang International Circuit (SIC) and Kuala Lumpur City Hall were working closely on various promotional activities related to the Formula One (F1) race, which is one of many festive events in store to celebrate the Visit Malaysia Year 2007.A total of 300 events and festivals will be presented during the whole year, including cultural shows, eco-tourism programs, music festivals, international firework competition and the Malaysia Open golf championship.The race at Sepang F1 Circuit, some 50km from the shopping and entertainment haven of Kuala Lumpur, is only a 10-minute drive from one of the best airports in the world - the Kuala Lumpur International Airport. The PETRONAS Malaysian Grand Prix is often commended for its fine organization every year.Boosting ultra-modern facilities and a breathtaking architectural design, the circuit's track spreads up to 25 meters with plenty of rooms for overtaking around its 5.543 km snake-like tarmac.Two-time World Champion Fernando Alonso captured Petronas Malaysian Grand Prix Formula One race which got underway beneath the blazing Malaysian sun and temperatures well above 90 degrees on April 8.
The No.1 McLaren driver took the checkered flag 17.5 seconds ahead of his teammate Lewis Hamilton.The victory was Alonso's first of the season, first with McLaren and 16th of his F1 career. His two titles were with Renault.
It was a brilliant start for the two McLaren-Mercedes drivers. Alonso went deep into the first turn to take the lead from pole winner Felipe Massa and Hamilton followed his teammate into second place with a pass of Massa in turn two. Raikkonen was stuck behind Giancarlo Fisichella and losing more time to Alonso.The Malaysian F1 Grand Prix organisers are proud of Malaysian fans who made this year's edition an overwhelming success. They see it as a clear indication that fans in the region want a round of the world championships to remain in Sepang beyond 2010. The Sepang International Circuit (SIC) general manager Datuk Azmi Murad said that they would like to thank all the fans for their overwhelming support. "It was a fantastic race but more importantly, there was a fantastic crowd in Sepang. The message is clear from the fans that the race must continue in Sepang," he said. Azmi, who is also the event director for the Malaysian GP, said that a record 115,794 spectators turned up on Race Day on April 8 compared to 107,322 for the previous year.
"We will make sure the event gets better and better to woo an even bigger crowd in the future,"he went on to say adding that as a major tourism tool for Malaysia, the GP would continue to be a top priority for the SIC and the government. The status of the Malaysian GP came under scrutiny lately following an aggressive bid by Singapore to host a round even though they have yet to secure a go-ahead from the F1 worldwide rights holders, Formula One Management Ltd. Malaysia's current contract to stage a round of the F1 GP expires in 2010. But the SIC, however, had openly declared that they intended to stage it beyond 2010. While expressing his satisfaction over the overall organisation and running of the event, Azmi noted that there were a number of complaints that the SIC would need to tackle. Azmi said that with such a huge crowd, it was inevitable that there would be complaints over certain issue but they would ensure that things are better next year. "This is very important, especially with the 2008 event being the 10th edition of the Malaysian GP," he said. Not to mention holidaymakers, Malaysia is the most suitable place for Korean travelers and retirees and it will present more various events in 2007 on the occasion of Visit Malaysia Year, said an official at Malaysia Tourism Promotion Office in Kuala Lumpur.The country aims to attract 20 million foreign tourists this year and the target number of Korean travelers in 2007 is 250,000.
Under the Malaysia My Second Home program specially designed for retirees or those who are near retirement wishing to have a relaxed life in places with low living costs and fine weather, Malaysia is attracting retirees from all over the world. As of now, about 300 Koreans have already been settled down in Malaysia and more are coming here.Malaysia is also calling on Korean companies to expand their business and invest more in the Southeast Asian country, taking advantage of its strategic geographical location in the region and highly skilled labor force.`The Malaysian economy is expanding at a rapid speed. Its gross domestic product (GDP) grew 5.9 percent last year and is expected to grow by 6 percent this year on strong exports of manufacturing and agricultural goods and a robust financial services sector, according to a Korean embassy official in Kuala Lumpur.The bilateral trade volume between Korea and Malaysia increased 19.3 percent to $13 billion in 2006 over a year earlier, showing growing economic ties between the two countries.Malaysia is at the center of ASEAN, serving as a launching pad for foreign companies that want to advance into Southeast Asian economies and as a distribution center for multinational companies in the region.Thanks to solid infrastructure that facilitates business activities, the costs of business operation in Malaysia are cheaper in the end. Malaysia has pro-business policies, a transparent legal system, political stability, pleasant residential environment, and a trained labor force who can communicate in English, an expatriate Korean businessman here said adding the Malaysian government is making every effort to attract foreign investment and encourages multinational companies to expand their presence in the country.