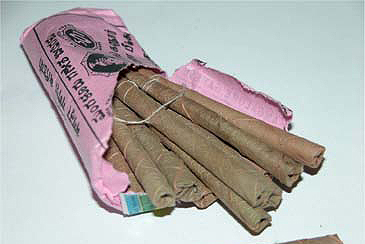 Traditional Indian handmade tobacco
"We will sell no cigarettes from 16 April 2007," said the President of 'Vyapari Vyavasayi Ekopana Samithi' – the leading traders' association in Kerala state of India on 12 April 2007 in a Kozhikode board meeting. The Cigarette and Other Tobacco Products Act 2003 also had a provision of ban on smoking in public places across India. But without quality tobacco cessation and counseling services, how will we ever effectively enforce these bans?
These tobacco control policies came into being after mountainous healthcare and non-smokers' rights' advocacy initiatives and are indeed vital. I don't mean to push the tobacco control efforts decades back. Rather will like to assert that we also have developed a fairly strong understanding of how tobacco corporations have duped young people with deceptive advertising and tobacco promotion and initiated them into tobacco use. So the 'blame' is not entirely on the tobacco users. Also I agree that it is not impossible - yet not so easy - to quit tobacco use. Tobacco cessation has emerged as a speciality of its own, and various disciplines from clinical management of nicotine dependence to faith based healings have conclusively proven to be effective in different settings.
Kerala is the most suicide prone state of India. With no cigarettes being sold after 16 April, and hardly one tobacco cessation clinic in Thiruvananthapuram, what will Kerala smokers do? Switch the form of tobacco they use? Experts say that there is a complex and circular relationship between depression, smoking and medical illness that complicates smoking cessation in those who have a history of depression. Depression-history smokers require a multimodal approach to assist with mood regulation and nicotine withdrawal. Nicotine dependence is associated with increased rates of depression prior to and after taking up smoking as well as increased rates of suicidal ideation.
While nicotine replacement and counselling are effective for smoking cessation, standard smoking cessation strategies may not pay sufficient attention to the needs of smokers with a depression history. Psychological and lifestyle strategies, such as motivational interviewing, relaxation exercises and mood charts, assist in mood regulation over and above the standard smoking cessation treatments for smokers with a depression history, who require more attention to relapse of depression and smoking after quitting.
World Health Organization had taken a leadership with Ministry of Health and Family Welfare of Government of India to establish state-of-the-art Tobacco Cessation Clinics in mainstream hospitals across India about 5 years back. But the number of these clinics is far too low for a population of more than a billion people even today. Moreover with documented studies showing higher tobacco use incidence in medical students than in general population, is of grave concern. The challenge posed by the tobacco epidemic is not easy.
Effective tobacco control doesn't seem to be a reality unless public health and corporate accountability initiatives unite in tandem. As we control tobacco corporations and enforce legislations to regulate tobacco and its promotion, we also must not neglect a vital key to the whole puzzle – tobacco cessation.
With India struggling to even deliver basic healthcare services to a majority of underserved communities, in terms of affordability, accessibility and availability - it is not going to be easy to integrate tobacco cessation services in existing healthcare service network.
It is clear that there is a lot to learn from other healthcare service-delivery initiatives before we go forward rapidly expanding tobacco cessation services in India.
And there is no place for complacency. Rather a sense of urgency has to drive us further – not-to-forget - each tobacco-related death is entirely preventable