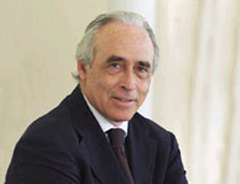 President Saad Kettani
"We want to learn from Korea how we can host and successfully hold 2010 World Cup soccer game. " said Mr. Saad Kettani, president of the Moroccan Bidding Committee for the 2010 FIFA World Cup "Host country of the successful 2002 FIFA World Cup, Korea is a good model to Morocco."In a press conference held on April 21, 2004 at Lotte Hotel downtown Seoul President Kettani stressed the need for global assistance in his country's bid for successful hosting of the world's most important soccer tournament. Moroccan Amb. Jaafar Alj Hakim and his first secretary, Mr. Kamal Arifi, were also present at his press meeting with local journalists.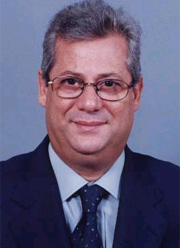 Amb. Jaafar Alj Hakim
Mr. Kettani also met with Mr. Chung Mong-Joon, president of Korea Football Association (AFA). He was looking for some knowhow in Seoul's hosting of the World Cup in his meeting with South Korea's sports big shot. Owner of Hyundai Heavy Industries Co., Chung also is a four-term lawmaker. South Korea is one of the four Asian countries which have voting powers for deciding which country holds the World Cup game. Each country has one vote. As a member of the World Cup's executive committee, Chung serves as vice president of FIFA (Federation of International Football Association). Mr. Kettani told The Seoul Times that among the five countries — Morocco, South Africa, Egypt, Tunisia, and Libya — participating in the May-15 bidding, Morocco and South Africa are strong candidates for the 2010 FIFA World Cup. "Morocco is seeking the honor of hosting the 2010 FIFA World Cup because we are a football-loving country," said Mr. Kettani "Our entire population is enthusiastically mobilized for the wonderful, festive celebration of the world's great sporting event, which will be coming to Africa for the first time."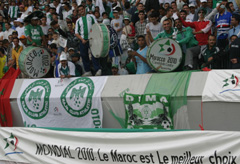 In Morocco every football match is an opportunity to support the country's bid.
Asked about a question "Does Morocco have less authentic color of Africa in comparison with South Africa," Mr. Kettani answered flatly "Morocco can be the best place to hold the World Cup, Morocco is a country of tolerance, hospitality, and harmony of various mixed cultures."He said that Morocco has many positives in place for a successful hosting of 2010 FIFA World Cup — government support, advantages in infrastructure, and an excellent information and telecommunications system."With most people enthusiastic about football, Morocco is one of the most developed football countries to experience the final round of the World Cup," said Mr. Kettani. "Morocco is also one of the world's famous tourism countries, and Morocco can afford to accommodate international tourists effectively."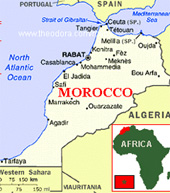 Courtesy Theodora
The hosting country of the 2010 FIFA World Cup will be decided at the FIFA Executive Committee meeting in Zurich, Switzerland on May 15, 2004. European continent has eight votes while African and Asian continents have four, respectively. North and South America have four, each whereas Oceania has only one vote. At the crossroads of the African, Arab, and European civilizations, Morocco is a nation dubbed "the land of hospitality and tolerance where people of various races, colors, and religions have lived together for centuries."As an African version of melting pot, Morocco is a country where "East meets West, and South meets North." In particular, a great oasis at the edge of the Sahara, Marrakech has played its role as the crossroads between East and West for over a thousand years. African, Europeans, Asians, Americans, Christians, Muslims, and Jews have lived peacefully for centuries in this North African country.Morocco is also an emerging modern country with outstanding social infrastructure including transportation. As the portal to Africa from Europe, Morocco receives thousands of visitors from across the Straits of Gibraltar everyday.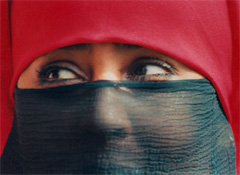 Courtesy Samsara
Each year nearly 3 million travelers pour in Morocco through nation's 12 international airports and the ferry system linking its northern ports with several European ports. European visitors can come to Morocco in their cars and buses through the efficient ferry system. Morocco also boasts a modern railway system and rapidly expanding highway network called "Autoroutes."Recently liberalized Morocco's telecommunications industry is considered by experts as being on a par with such highly industrialized countries as France and Germany. Its state-of-the-art telecommunication network will connect Morocco's eight cities through five Synchronous Digital Hierarchy (SDH) loops in case Morocco hosts the football's most prestigious event.As a leading country for tourism in Africa, Morocco features a number of hotels of world's finest level with its accommodations infrastructure rapidly expanding. Thanks to the "Vision 2010" plan launched by His Majesty the King Mohammed VI in January 2001. Morocco will have over 250,000 beds available in world-class hotels by 2010.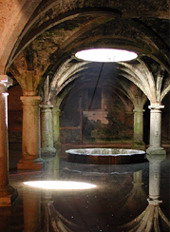 Mosque of El Jadida
Its sports facilities are in superb conditions, as well. On top of three stadiums already in existence three more stadiums are under construction. They all meet FIFA requirements including security and technology. Three new ones will be added to them as soon as Morocco gets selected as the host of 2010 FIFA World Cup. "This is a land where football is more than a pastime, but rather a way of life," Mr. Kettani emphasized. "Morocco will offer FIFA and the entire football family one of the best editions of the FIFA World Cup ever staged."The magnificent shoreline with sandy beaches all along the Atlantic and Mediterranean coasts will satisfy both soccer players and fans alike. The world will be welcomed in Morocco if this attractive North African country gets lucky on May 15, 2004.