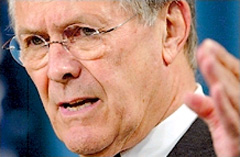 ON DEFENSE: Bush has criticized Donald Rumsfeld for the Pentagon's failure to act on recommendations for Iraqi prisons.
RON EDMONDS/AP
WASHINGTON, May 7, 2004 — As the scandal over American abuse of Iraqi prisoners deepens, the White House is caught in an unusual snapshot of its own: an image of disarray and dysfunction.Normally noted for its efficient corporate-style management, and an ability to stay "on message" and ahead of the curve on bad news, the Bush administration is struggling to contain the fallout from the scandal. The revelation by unnamed senior White House officials, reportedly authorized to make such statements to the media, that President Bush had reprimanded Secretary of Defense Donald Rumsfeld over his handling of the abuse reports represents a rare display of displeasure with an inner Cabinet member — and fuels speculation that Secretary Rumsfeld could lose his job.Bush was reportedly upset that he learned of the extent of the prisoner abuses and saw the incriminating photographs by watching "60 Minutes II" last week, with no advance warning. He is also reported to be upset with Rumsfeld that the Pentagon had not acted on recommendations that Iraqi prison conditions be improved. All eyes will be on Rumsfeld Saturday when he testifies before the Senate Armed Services Committee.Amid a major damage-control effort — as additional photos of abuse have come to light, obtained by The Washington Post — Bush is caught in a political bind, analysts say.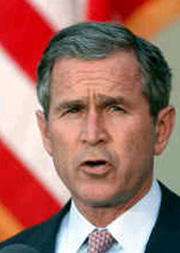 George Bush
"Somebody at the top has to be held accountable for these abuses," says John Mearsheimer, a political scientist at the University of Chicago. "The problem the president faces is it would be difficult for him politically to fire Secretary Rumsfeld, Deputy Secretary Wolfowitz, or even General Myers [chairman of the Joint Chiefs of Staff]." The "great fear is that people at the higher levels will start turning on each other," Dr. Mearsheimer says. "You see evidence of that happening with Colin Powell. The president runs the danger that if he fires Rumsfeld, Rumsfeld might turn on him." Bush's hope, he adds, is that by giving Rumsfeld a slap on the wrist, he will placate the country.Secretary of State Powell, whose skeptical view of the Iraq operation has been long known, went off the reservation a bit Wednesday night, when he raised the specter of the My Lai massacre — which produced the most notorious of the Vietnam War's horrific images — in an interview on "Larry King Live." He said: "In war, these sorts of horrible things happen every now and again, but they're still to be deplored."The White House also sent mixed messages about whether the president should apologize for the abuses, in the spirit of President Truman's "buck stops here" desk sign. In appearances on Arab TV Wednesday, Bush stopped short of a full apology, but Press Secretary Scott McClellan later said the president was sorry for what had happened. National Security Adviser Condoleezza Rice and Deputy Secretary of State Richard Armitage both offered apologies on Arab TV. Rumsfeld offered a semi-apology on US TV Wednesday.But not only does the Bush administration face the need for major damage control abroad, it must address the blow to morale at the Pentagon itself, say former senior military officials."There had to be a permissive culture here that goes all the way up to the top," says retired Adm. Stansfield Turner, former director of central intelligence.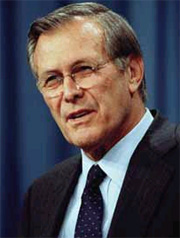 Donald Rumsfeld
"Is a general responsible for a private who does something wrong?" he asks. "Probably not. But in this case, what I'm suggesting is that it was the atmosphere of the command that let this happen, and it was so gross that the assignment of responsibility to a very high level is justified. The president doesn't need to wait for a court martial to do anything."It has become increasingly clear "just how complicit the entire chain of command must have been in acts of daily coercion," says Larry Seaquist, a former Navy warship captain and Pentagon strategist. "Our military apparatus is broken, perhaps worse than it was coming out of Vietnam."Still, Bush would probably be loath to fire top Pentagon brass at an especially delicate moment in the Iraq occupation, less than two months away from planned turnover of control of the nation to Iraqis.Bush is also locked in a close reelection battle, and would not want to fuel talk of disarray by firing top military officials — though the Nov. 2 election is still several political lifetimes away, and a shakeup might actually create a positive sense of new beginning.So far, there is no evidence that the Iraqi abuse scandal has hurt Bush's reelection chances, though polls show a rise in the percentage of Americans who see the nation on the "wrong track" — now 50 percent versus 33 percent who say the US is on the right track. The new Gallup Poll shows 62 percent of Americans dissatisfied with the country's direction. One point of interest will be whether Republican senators call on Rumsfeld to resign.
The above article is from The Christian Science Monitor.