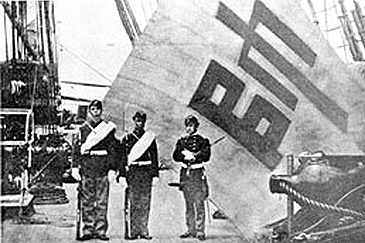 The large Korean battle flag of Gen. Uh Je-yeon is shown aboard the USS Colorado after being captured in battle in May 1871.
Medal of Honor historian Doug Sterner thinks he may have stumbled on a winning gambit in the chilly negotiations between North Korea and the U.S. over the fate of the USS Pueblo, the small Navy intelligence ship that was seized by North Korea in January 1968.It's a large yellow Korean battle flag that has been sitting in the U.S. Naval Academy Museum for more than a century, a war trophy from a little-known clash between U.S. and Korean troops in May 1871. The large yellow flag is one of the few Korean military relics that survived that short conflict, known as the "Weekend War," and Sterner believes that offering its return to South Korea could be the overture that would persuade North Korea to return the USS Pueblo."History has turned on smaller things than a flag," Sterner, from Pueblo, said Friday. "We have a flag that we essentially took illegally from Korea when we encroached on Korean territory and North Korea has the USS Pueblo, a ship they took illegally. Returning their flag would be the right thing to do and (North Korea's) return of the Pueblo would be the right thing to do."Sen. Wayne Allard, R-Colo., liked Sterner's recommendation enough to send a letter to Secretary of State Condoleezza Rice last week, asking her to include the flag offer in ongoing talks with North Korea.Sterner said he discovered the forgotten war with Korea, and the existence of the flag, while doing research on the Medal of Honor and its recipients. In May 1871, a fleet of five U.S. warships anchored off Kanghwa Island, Korea, hoping to establish trade relations with that country. In a misunderstanding over whether Korea's king had granted permission, the U.S. task force moved up a river and came under fire from a fortress on the island. A landing party of more than 600 Marines and Navy troops attacked the fortress and captured it. Inside, the Korean troops under Gen. Uh Je-yeon, fought to the last man.Fifteen of the Marines and sailors were awarded the Medal of Honor after the fighting. In studying about that action, Sterner said he learned that Uh's large battle flag had been captured and taken back to Annapolis as a war trophy."I have a photograph of the flag being displayed aboard the USS Colorado, which was part of the naval task force," Sterner said, noting he was struck by a certain irony that the Korean flag was brought to the U.S. aboard a ship named for Colorado while North Korea holds a ship named for Pueblo. "There seems to be a kind of symmetry here."Sterner has been working in partnership with Tom Duvernay, a Korean history professor at Handong Global University in Pohang, South Korea. Duvernay has been discussing the flag with South Korean officials and how to make it part of negotiations with North Korea over the USS Pueblo.In talking about the flag with the Army Times newspaper, Duvernay said it would be regarded as a national treasure in either South or North Korea and could play an important role in negotiating the return of the USS Pueblo. Kanghwa Island is in South Korea today and its fortress is a popular tourist attraction.North Korea has held the USS Pueblo as a trophy of its long conflict with the U.S. The small ship is tethered on a river near Pyongyang. Over the years, however, North Korea has periodically indicated a willingness to talk about returning the ship, while ignoring the subject at other times."Offering to return Gen. Uh's battleflag could be key to resolving this long struggle," Sterner said.
The above article is from The Pueblo Chieftain.