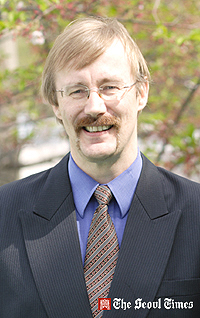 Mr. Morten Henry Westvik, commercial counselor at the Norway Embassy in Seoul
Photo by David Choi, staff reporter
"Norway has a long tradition of shipping and maritime industry, with its well-known Viking ships, and so does South Korea with the world's first iron-clad turtle ship," said a Norwegian diplomat while he was stressing the strong cooperative ties between the two countries in the maritime and offshore sectors in particular. In an interview with The Seoul Times held at Norway Embassy in Seoul on April 23, 2007, Mr. Morten Henry Westvik, commercial counsellor of the embassy underscored the keen interest to further develop the excellent bilateral ties between the two countries. The interview was thrown on the occasion of Norway's Crown Prince Haakon and Princess Mette-Marit's visit to South Korea in May. Mr. Terje Dag Andersen, minister of trade and industry of Norway will accompany the royal family members and other officials from various ministries.In addition, about 100 top Norwegian business executives will arrive in Seoul on May 8, 2007 for their four-day stay. The business delegation will be headed by Ms. Gunn Ovesen, president & CEO of Innovation Norway.While here, they will make a series of business excursions to such industrial sites as Samsung Electronics in Suwon south of Seoul, as well as Hyundai Heavy Industries in Ulsan, North Gyeongsan Province.Their Royal Highnesses will visit the port of Ulsan as well as HHI together with the Minister of Trade and Industry Andersen and representatives from the business delegation. Representatives will also visit Tongyoung City, South Gyeongsang Province. The Norwegian Vice Minister of Fisheries and Coastal Affairs Vidar Ulriksen will join this trip.The royal couple, trade minister, business delegates will attend several business seminars to be held in both Seoul and the port city of Busan, nation's second largest city, on May 9 and May 10, 2007, respectively."The seminars are aimed at providing an opportunity for information exchange, networking and meeting venues for Norwegian and Korean business leaders," said Mr. Westvik. "Hopefully, these seminars will serve as chance to facilitate and develop existing ties as well as to build bridge between Norway and Korea in new business areas."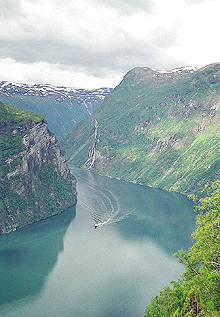 Geirangerfjorden in western Norway
During the seminars titled "Seminar on Korea-Norway Business Cooperation ICT" (information and communication technology) policies, industrial and technological competency of both nations will be seriously dealt with. Cooperation in maritime, offshore and LNG sectors as well as new and renewable sources of energy will also be given major attention during the various seminars in Seoul and Busan."Generally speaking, Korea's ICT industry is made up of 80 percent hardware and 20 percent software and applications whereas software and applications of Norway account for 80 percent and only 20 percent are hardware," Mr Westvik pointed out.Viewed from this perspective, mutually beneficial ties in this ICT field are desirable and encouraged, he explained. "We can forge a win-win situation." He said it was 30 years ago that Norway started facing the challenges of the aging population and South Korea just started having the same challenge. In connection to this the two nations also began to cooperation in the field of ICT solutions an example being telemedicine.In May 2006, South Korea's Hallim University signed a MOU with the National Center for TeleMedicine in Tromsø, Norway for R&D cooperation with the field of telemedicine.According to the commercial counsellor, the first ship was delivered from South Korean to a Norwegian ship-owner in the late 70s. Since then more than 300 ships from South Korean shipyards have been delivered to Norwegian ship-owners. The sale of ships and offshore vessels are on the steady rise.The purchase of ships accounted for about 50 percent of total imports of 1 billion US dollars from Korea to Norway in 2006, said Mr. Westvik."From 2005 to 2006 traditional export to Korea increased by 48 percent," said Mr. Westvik. "Out of Norway's export of 750 million US dollars to South Korea, 62 percent was maritime/offshore related, comprising of shipsgear, maritime products and services.He stressed that for further cooperation in the maritime and offshore industries, Norway's innovation, high technology products and quality products and level of service combined with South Korean shipbuilding industry strong focus on building and developing more advance and technology heavy ships and vessels as a result of the strong challenge from China, will further enhance economic cooperation between the nations.Korea and Norway have a long tradition in fisheries and aquaculture sector. During the royal visit, a seminar in Busan will provide an unique opportunity for academia and industry players from Norway and Korea to explore opportunities aimed at increasing ties particularly within the aquaculture sector. The Minister for the Ministry of Maritime Affairs and Fisheries and Vice Minister Ulriksen from Norway will partake as well during this event.A favorable environment for further developing business ties is already provided. South Korea signed a free trade agreement with EFTA (European Free Trade Association) in December of 2005, which came into force on Sept. 1, 2006. Norway does not belong to EU but to EFTA group comprising of Norway, Switzerland, Luxemburg, and Iceland.Thanks to the EFTA, Norway's seafood export to Korea has increased strongly during the latter parts of 2006. As a good example, Norway 's export of fresh (not frozen) salmon to South Korea rose by the whopping 27 percent from 2005 to 2006. The South Korean tariffs on fresh salmon was lowered to 0 percent from the previous 20 percent, thanks to the EFTA.Currently, 99 percent of all the fresh salmon consumed in South Korea are imported from Norway. The upcoming visit to Seoul by crown prince and princess is expected to further boost bilateral relations at governmental, business and academic level.Both Norway and Korea are committed to reducing emission of harmful gasses and fighting global warming. Therefore both nations are focusing strongly on developing technologies and capabilities in the field new and renewable sources of energy. This is an area which will be given due attention during one of the seminars in Seoul.Mr. Westvik also touched upon the natural beauty of Norway, with its majestic fjords, high mountains, the glaciers, and northern light. National Geographic's travel edition voted the fjords of Norway as the best tourist destination in the world for two years in a row. During the royal visit to Seoul, a new program will be launched to promote Norway as a travel destination among the Korean people, said Mr. Westvik.As hard-workiong diplomat, Mr. Westvik has been serving as commercial counsellor at Norway Embassy in Seoul for three and a half years now. About a half year ago, Mr. Westvik asked for one-year extension.Prior to his joing diplomatic service, Mr. Westvik spent eight years in South East Asian countries in the maritime and offshore sector. He also worked as senior advisor at Sintef Group, Scandinavia's largest independent research foundation for five years. His wife and his one-year-old daughter lives in Norway.