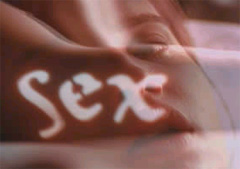 The child-sex tourism industry that caters to pedophiles preying on the world's poorest children is slowly being chipped away at through tougher laws in the United States and new efforts worldwide to pull back the curtain on this underground network. Although trafficking in children has plagued countries such as Cambodia, Thailand, and Costa Rica for decades, in the past year a synergy has developed between the US, NGOs, and the UN to curb the part of the multibillion-dollar sex-tourism industry that targets children.And their efforts are beginning to show results. In the US, pedophiles who regularly traveled abroad for cheap, abundant child sex are being prosecuted. In other countries where poverty and lack of education drive the sex trade, new sobering advertising campaigns will start warning potential offenders of the consequences of buying sex with a child.Wednesday a campaign called the Code of Conduct for the Protection of Children From Sexual Commercial Exploitation in Travel and Tourism, or simply "the code," was launched at the UN.A joint effort by UNICEF, the World Tourism Organization, and ECPAT-USA, a global organization that works to end child prostitution, the "code" is designed to create a more responsible tourism industry, one vigilant against child exploitation. Its signatories commit to helping identify — and more importantly — report potential abusers.Fifty companies have signed on to the code, but so far only one from the US, Carlson Companies Inc., has agreed to participate.On her way to New York Tuesday night for the official launch of the code, Carlson chairman and CEO Marilyn Carlson Nelson said the code would be "a commitment to help raise awareness with employees" at many of the Carlson's properties, which include Regent International Hotels and Radisson Hotels.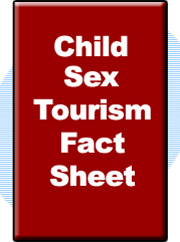 "I do hope others in our industry will follow. I think most thoughtful CEOs these days are considering corporate social responsibility in a new context," Ms. Nelson says. The push for the travel industry to do its part to curb the demand aspect of the global sex trade comes a year after President Bush passed the Protect Act, legislation making it illegal for US citizens to travel abroad and engage in sex with a minor.In his September 2003 UN address, President Bush asked that all countries pass laws against their citizens traveling abroad to engage in the "underground of brutality" of sex trafficking and warn tourists of this "humanitarian crisis. In the US, conviction under the Protect Act could lead to a 30-year prison sentence.Because of the veiled nature of sex tourism, it's impossible to calculate the number of participants. But a survey by ECPAT reports that Americans make up 25 percent of the world's global sex industry, which involves about 2 million children. Americans represent about 80 percent of the sex tourists in Costa Rica, and about 38 percent in Cambodia.Michael Lewis Clark was the first American convicted under the child-sex tourism provision of the Protect Act. He recently pleaded guilty in a Seattle federal district court to two counts of engaging in sex with a minor. Clark was arrested in Phnom Penh, Cambodia, after authorities there learned he was paying young boys as little as $2 for sex. Clark may have molested as many as 50 children during several years of traveling back and fourth to Cambodia, according to the investigation conducted by Immigration and Customs Enforcement (ICE), an arm of the Department of Homeland Security. Four other Americans have also been charged under the act.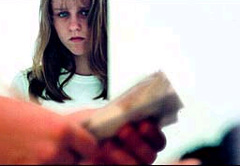 "These are horrendous crimes that are devastating to the victims out there. Clearly having strong laws here will be a deterrent," says Dean Boyd, spokesman for ICE, which has agents stationed in areas where the sex industry regularly draws US customers.In places like Thailand and Cambodia, where sex tourists can easily avoid detection and skirt prosecution by bribing local police, ICE relies on tips from NGOs like World Vision.World Vision recently received a $500,000 State Department grant to develop an ad campaign in Thailand, Costa Rica, and Cambodia. Next month the first billboards will appear along Cambodian roadsides and in airports warning: "Cost of Child Sex Tourism: 30 years in Prison."But although laws and public-awareness campaigns may deter "situational" offenders who act impulsively because they are far from home and feel free of scrutiny, they are unlikely to dissuade the pedophile who has traveled specifically to exploit children, says Arthur Kaye, a clinical psychologist with the Virginia Department of Juvenile Justice who has treated sex offenders and pedophiles. These offenders are traveling for the "excitement" and they are trying to feed an "addiction." They are not easily deterred.Neither "the code" nor the Bush administration's Protect Act is a cure-all, says Karin Landgren, chief of child protection for UNICEF. But, she adds, they are an important beginning.
The above article is from The Christian Science Monitor.