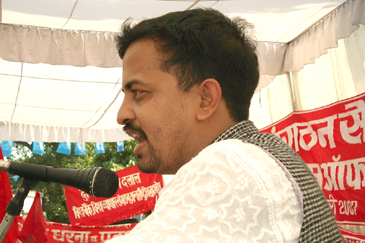 Dr. Lenin Raghuvanshi
The 2007 Gwangju Prize for Human Rights has been jointly given to two Indians this year. Dr Lenin Raghuvanshi from People's Vigilance Committee on Human Rights ( PVCHR ) in Varanasi (UP) and Irom Sharmila from Manipur state. This is the first time that Indians have figured in the recipient list. The past recipients include Nobel Laureate Aung San Suu Kyi, the NLD General Secretary in Myanmar , Xanana Gusmao, President of East Timor; Basil Fernando, Executive Director of Asian Human Rights Commission, Hong Kong; Korean Association of Bereaved Families for Democracy, South Korea ; and Dandeniya Gamage Jayanthi, Monument for The Disappeared, Sri Lanka . The Gwangju Prize for Human Rights Award was established to celebrate the spirit of the 18 May 1980 Gwangju Uprising by recognizing both individuals, groups or institutions globally that have contributed in promoting and advancing human rights, democracy and peace in their work. The prize is awarded by the citizens of Gwangju in the spirit of solidarity and gratitude from those whom they have received help in their struggle for democratization and search for truth. It is hoped that through this award the spirit and message of the May 18 will be immortalized in the hearts and mind of humankind. Dr Lenin Raghuvanshi has put up vehement resistance against the caste system, supported advocacy initiatives of torture victims in 5 northern states and brought hope back to the minds of more than 3,500 bonded child laborers and those suffering human rights infringements prompted by the caste system, especially to the untouchables. The Armed Forces Special Powers Act (AFSPA) enacted in 1958, which is operative at the time of a 'suspected' riot(s) in order to 'maintain public order', allows killing by shooting, entering and search of property, and arbitrary detention, etc., its abuse is currently spawning grave human rights violations in some parts of India. Under the powers of AFSPA, on 2 November 2000 , the Indian military opened fire on its own citizens in the state of Manipur. Since then, Irom Sharmila, a resident of the tragic state, has refused to eat and drink anything in resistance to indiscriminate use of the AFSPA against civilians. The response of the Indian government to her resistance has been repetitively evasive: the government has arrested her on a charge of 'attempted suicide', force-fed her and then freed her under applicable law, but, up until now, has failed to provide any fundamental alternative to the law in question. In October 2006, Sharmila left Manipur for New Delhi , the capital of India, at the peril of her own life, to facilitate the accomplishment of the goal of her 6-year-long struggle, i.e. the abolishment of the AFSPA. However, her daring mission was brought to an abrupt halt when she was arrested by the New Delhi police on her second day in the city. Currently, she is in custody at Ram Manohar Lohia Hospital (RMH). In recognition of their efforts to improve human rights in India , the 2007 Gwangju Prize for Human Rights Selection Committee has selected Lenin Raghuvanshi and Irom Sharmila as co-recipients of the award. This award carries a prize money amounting to US$ 50,000, a gold medal and a certificate, and ceremony will be held in Gwangju City, Republic of Korea to mark the 27 th anniversary of 18 May 1980 Gwangju Uprising.
"Over the years, I have been very involved in and worried about the situation of marginalized children. In 1993, with Swani Agnivesh, I founded the Bachapan Bachao Andolan (Save the Childhood Movement) and in 1996 the People's Vigilance Committee on Human Rights (PVCHR) was born to reeducate children who were forced to work" said Dr Lenin.Lenin Raghuvanshi has become a symbol for millions of Dalits fighting for their dignity in India. His approach to the struggle constantly puts the person at the centre and urges respect for the human dignity of all people belonging to India's lowest castes. The work of Lenin Raghuvanshi marks a shift in the Indian movement for human rights; he is one of a relatively few activists who insist that caste-based discrimination goes against democratic principles. In Varanasi, Uttar Pradesh – one of the most traditionalist, conservative and segregationist regions in India – Lenin, with a few resources but plenty of confidence and determination, has managed within a short time to bring the problems facing marginalized people to national and international attention. In 2004, to give voice to those who are marginalized, the Jan Mitra Gaon' was born, also known as 'People-friendly village.' This is a pilot project in which Lenin adopted three villages and a slum, where plans include reopening an elementary school, abolishing forced labour, making education for girls obligatory and spreading non-traditional education. There is no elementary education in vast rural areas but the PVCHR has opened educational centres for children in 45 villages. "Thanks to the intervention of the PVCHR before international and national fora," says Raghuvanshi, "we have managed to put hunger on the agenda of government priorities."