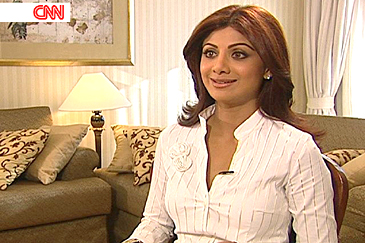 Indian Actress Shilpa Shetty
Indian actress Shilpa Shetty reveals why she is unrepentant about her public kiss with Richard Gere, what she learnt from her time in the Big Brother household, thoughts on her love life, film career and more in this weekend's Talk Asia with Satinder Bindra.Reaction to Gere's prolonged kiss ranged from amusement to outrage, but Shetty is admant that the extreme reactions from some do not reflect her country: "I would describe the 'some' as a lunatic fringe. And that is so not the sensibility of the majority of India."
The award-winning star also explains why she is relaxed at the thought of a potential six year jail sentence in the wake of the controversy before venting her frustration as to why effigies of Gere have been burned: "I don't know if Richard is going to come back to the country, the losers…it's us again as he was only trying to help us out." As to those pursuing the litigations, she asks: "I want to actually ask them what they've done for us, what have they done for this country?"
Shetty also talks about her time in the UK's Big Brother household, where she reached "The lowest point in my life." Despite this, she is convinced that to have walked out "Would be such a loser thing to do, to give up" and that her final victory "Was a huge victory as an Indian to have won something abroad."Satinder also asks Shetty about her success in relationships, quizzing her on boyfriends, what dating her would entail and why she ultimately wants "A happy marriage and whatever it takes to achieve that."For a full transcript of the interview after the first airing and more program information on TALK ASIA visit www.cnn.com/talkasia
Profile: Shilpa Shetty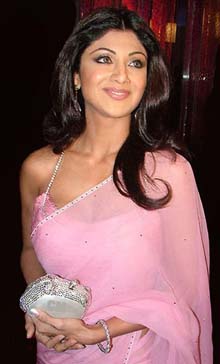 Indian Actress Shilpa Shetty
Shilpa Shetty is one of Bollywood's glamorous actresses who enjoys quite a fan base amongst Indian film viewers.
The 31-year-old does not have the kind of audience pull a top actress such as Aishwarya Rai, Rani Mukherjee or Preity Zinta possesses. But she certainly adds value to a high-profile star cast. Shetty was first noticed in 1993 when she starred in a supporting actress role opposite actor Shah Rukh Khan in the hit film Baazigar (Player). She then went on to play lead roles in hits such as Main Khiladi Tu Anari (Me Player, You Buffoon) and Dhadkan (Heartbeat). Later, she got tremendous recognition for her portrayal of an HIV sufferer in the 2004 film Phir Milenge (Will Meet Again). Inspired by Hollywood hit Philadelphia, it also won her nominations in several Indian film awards, such as the International Indian Film Academy Awards. Her last hit was 2005's Dus (Ten), in which she starred with other top-notch actors such as Sanjay Dutt and Abhishek Bachchan. She has judged various television competitions and has also starred in the BBC World Service Trust's campaign against Aids. Last year, she received hundreds of marriage proposals on the e-mail address she made public to interact with her fans. "I really don't know when I will get married and to be honest, I haven't found the perfect man yet, " she told the BBC at the time. She was romantically linked to actor Akshay Kumar in the past, but since then she has reportedly been single. In 2000, Shetty successfully sued Stardust India magazine after it ran a piece about her relationship with Kumar. She took legal action as she thought it was damaging. When it was revealed she would be taking part in Celebrity Big Brother, there was tremendous curiosity in India. Not just because of the format of the programme and its reputation, but also for the huge amount of money she was paid for her appearance. In India, it is rumoured the actress will pocket $680,456 (£345,145). Shetty stays in Mumbai with her parents and younger sister, Shamita, who is also a Bollywood actress. Her mother, Sunanda Shetty, claims her daughter's trip to the UK to appear in Big Brother is the first time she has ever travelled anywhere without her.
The above article is from BBC.