Arts & Living
Masters of Contemporary Czech Glass June
At Gallery Sklo on June 15-July 29, 2007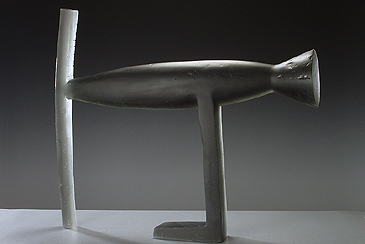 Masters of Contemporary Czech Glass at June 15 to July 29, 2007
Contemporary glass art, which is not yet very familiar in Korea, is an art genre appreciated and loved by many people globally for its visual excellence. In particular, contemporary Czech glass art is leading the international field of fine glass art, as it has transformed traditional European glass-making techniques, which have continually developed since the 13th century, to contemporary art. Glass art in the Czech Republic is significant because it has opened a new genre of fine glass art by interpreting glass art, which had long been understood as craft focusing on functional aspects, as sculpture. Right after World War II, Czech glass art began flourishing, and leading artists of the movement include René Roubíček (b. 1922), Stanislav Libenský (1921-2002), and Pavel Hlava (1924-2003). These pioneers viewed glass art from an innovative perspective and created a new genre of contemporary glass art.Roubíček, in particular, is famous for hot blowing, while Libenský is wellknown for casting. Hlava is a representative artist for both cold-working and free-blowing techniques. Therefore, these artists are main figures in the history of Czech glass art. Furthermore, they established a framework for Czech glass art to develop independently from the movements in the United States or other countries in Europe. Gallery Sklo, the only glass art gallery in Korea, is pleased to introduce the epitome of contemporary glass art by presenting the works by masters of the Czech Republic, homeland of this art form. The selection of internationally renowned artists will amaze you; it is hard for a single gallery to feature artists of this caliber at one time. Participating artists include Ivana Šrámková, Tomáš Hlavička, Dong-Wook Kim, and famous René Roubíček. Ivana Šrámková was a student of Libenský and has carried on his casting technique. Tomáš Hlavička, a colleague, student, and son-in-law of Hlava, presents cold-working-processed glass works as excellent as those of Hlava. Dong-Wook Kim has been working as a professional artist in the Czech Republic for ten years. Masters of Contemporary Czech Glass will invite you to the wonderful world of glass art by the artists who are considered masters of various techniques. This exhibition will be a meaningful opportunity to experience not only Czech glass art, but also world-class fine glass art. Your interest in and support for this exhibition, a rare chance to view valuable artworks, will be greatly appreciated.
Artists' Biography
René Roubíček (b. 1922)
After World War II, Czech glass art continued repeating traditional styles, but René Roubíček began exploring the possibility of glass as sculpture. As a pioneer of contemporary glass art, Roubíček suggested a new direction for glass art and transformed glass art from craft to sculpture, opening a new fine art genre. Roubíček also taught a number of glass artists in the Czech Republic as an educator. The Czech Republic section of the Brussels World Expo in 1958 is wellknown for having introduced a new trend in Czech glass art. What attracted much attention in this event was Roubíček's hand-cast glass art piece, combined with a metal structure outside. In 1959, Roubíček presented Glass: Material, Shape, and Expression, an installation piece that featured more changed shapes and added several glass accessories made by a blowing technique, in Prague. The statement of "Glass: Art of Today" placed on the interior art piece provided a future-oriented message, even though we may not yet have confidence in the truth of these words today. In this way, Roubíček was creating his works as abstract sculpture. Since then, he has always worked with a future-oriented attitude. The artist currently lives in the Czech Republic with his wife, Miluše Roubíčková, who is also a glass artist, and he maintains a successful career despite his age. Roubíček's works belong to numerous mainstream museum collections, including those of the Museum of Decorative Arts in Prague and Slovak National Gallery in Bratislava. Tomáš Hlavička (b. 1950) Tomáš Hlavička initially studied architecture but encountered glass art after becoming a son-in-law of Pavel Hlava, who made Czech glass art popular internationally, and learned Hlava's unique techniques and skills. In the late 1950s, a golden time for Czech glass art, Hlava became famous for showing the potential of glass art, especially through the Milan Triennials in 1957. In particular, he used a cutting technique for effective visualization of the glass, and Hlavička then learned this technique from his father-in-law. Hlavička uses the cold-working technique that repeats cutting and pasting in all his works and is a leading figure for this particular process. He places gold or silver foil between glass layers to depict images from nature, such as grass moving in the wind, waves of water, or fallen leaves. Ivana Šrámková (b. 1960) The two main figures in contemporary Czech glass art are René Roubíček and Stanislav Libenský. Libenský studied the use of glass as a medium for sculpture and mainly incorporated the casting technique. He purposefully used the color effect of various levels of concentration that can be created when light passes through glass. This change of transparency on both sides of a material is only possible with glass. Šrámková entered Libenský's studio in 1981, when the development of Czech glass art had slowed down. At this time, the students in Libenský's studio expected to renew the art movement through unique and meaningful artistic creativity, as the master hoped. As a loved student of Libenský, Šrámková mastered her teacher's special casting technique. According to Šrámková , her recent work, the animal series with simple shapes, symbolizes the combination of past and future, mixing the shapes of robots from science fiction with those of African furniture. Focusing on "what is important," she creates simple shapes without unnecessary components. Šrámková's works have appeared internationally in solo shows in numerous countries, including Japan and the United States, as well as the Czech Republic and European countries. Dong-Wook Kim (b. 1967) Dong-Wook Kim has worked as a successful artist in the Czech Republic for ten years. Concentrating on cold-working-processed glass art, he mainly uses primary colors. Kim achieves visual effects by creating geometrical shapes and using the prism property of glass so that colors from nature are reflected on clear glass when light passes through and is refracted. His works, created by accurate and elaborate touch, are appraised as close to perfection.Contact: Jueun Jung, Curator
Tel. 2236-1582/3 Fax. 2236-1585
Cell. 011-419-0734
Email. joon@gallerysklo.co.kr Masters of Contemporary Czech Glass
Friday, June 15 - Sunday, July 29, 2007

Participating Artists: René Roubíček, Tomáš Hlavička, Ivana Šrámková, and Dong-Wook KimSponsor: Seoul Foundation for Arts and Culture

Related Articles
Night of Czech Tourism Held in Itaewon
Czech Information Center Opens in Seoul
New Czech Envoy, Big Fan of Korean Literature
Czech Amb. Smetanka Soon to Leave Seoul
Czech Brewery Takes on South Korea
Local Filmmaker to Get Czech Silver Medal
Czech-Korean Science Forurm Held in Seoul
Week of Czech Culture, Food, Beer Oct. 8-14
Korea-Czech Friendship Ass'n to Be Launched
Czech Silver Medals to Be Awarded to 3 Locals
Amb. Smetanka Marks Czech Nat'l Day Oct. 28
"Czech Offers Well Priced Skilled Labor"