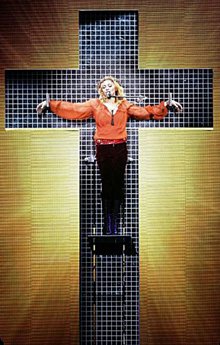 Madonna on Cross performance
What was the Cross all about? Some time ago Madonna had made much news about re-enacting scenes of the crucifixion of Christ, but very few in society understand the true meaning of the Cross. The Cross is not a symbol of martyrdom as many in society think. It has a far deeper meaning.
The penalty for sin had to be paid or otherwise a just and holy God would not be able to forgive sin, and we have all sinned in our thoughts, words, and deeds. None of us can perfectly fulfill the Ten Commandments to earn our salvation. The first commandment alone tells us to love God with all our soul, heart, mind, and strength. Who among us have perfectly fulfilled this commandment?
The penalty for sin is too great for any mere creature to pay. That is why God sent His eternal and only Son Jesus Christ to pay the penalty for sin by taking the punishment for our sins through His suffering and death on the Cross. God's wrath, which we deserve for our sins, fell on Christ Who bore our sins and shed His precious blood on the Cross of Calvary for our sins. Christ's resurrection from the grave is proof of His full payment for our sins.
Just as a co-signer to a defaulted loan takes the full legal liability and blame for paying the loan on someone else's behalf, so too Jesus Christ took the full liability and blame for our sins when He died on the Cross, and through genuine faith in Christ we have full forgiveness of sins and can look forward to immortality and eternal joy with God in heaven. Because of Christ's death and resurrection God can forgive your sin and mine without violating His own justice.
Through this understanding, let us all help to keep the symbolism of the Cross sacred. The Bible says "For God so loved the world, that He gave His only begotten Son, that whosoever believeth in Him should not perish, but have everlasting life" (John 3:16 KJV).