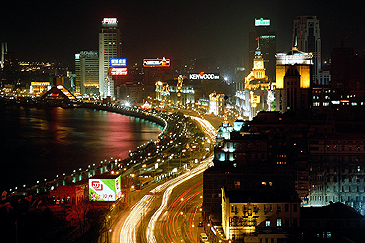 Nightly view of Shanghai. Shanghai is one of China's biggest and busiest port, most important industrial and commercial center.
Majorities around the world believe that China will catch up with the United States economically. It's a prospect that leaves most of those polled—even Americans—unperturbed. In no country do most people think that this would be mostly negative, finds a multinational poll by The Chicago Council on Global Affairs and WorldPublicOpinion.org. Majorities in every country polled believe this would be either equally positive and negative or mostly positive. "What is particularly striking is that despite the tectonic significance of China catching up with the US, overall the world public's response is low key—almost philosophical," said Steven Kull, editor of WorldPublicOpinion.org. This sanguine reaction is not because China is widely trusted to act responsibly in the world. World Publics do not trust China any more than they trust the United States and distinctly less than they trust Japan. This is the fifth in a series of releases from a wide-ranging international survey, which was conducted in countries that represent 56 percent of the world population. Not all questions were asked in all countries. Among the 15 countries asked about China's future economic prospects in 13 the most common answer is that China will eventually catch up with the United States. This includes 60 percent of Americans as well as large numbers in Peru (76%), Israel (75%), France (69%), Iran (64%), and Russia (62%). Across all countries poll, on average 54 percent had this belief. Interestingly, the Chinese themselves are somewhat skeptical about their country's economic potential. Only 50 percent of Chinese respondents say China's economy will match the US economy. Asked how they would feel if China were to catch up with the United States, publics show little concern. In no country does even a plurality say that this would be mostly negative. The highest level of concern is in the United States, where one in three is worried. But a majority of Americans (54%) say instead that China's economic rise would be "neither positive nor negative" while another one in ten (9%) say it would be mostly positive. In just one country does a majority say that China catching up would be mostly positive—Iran (60%). In Russia—which may view China as both a rival and a counterweight to the United States—negative and positive views about China's rise are almost equally balanced. Overall, the most common response is that seeing China catch up with the United States would be equally positive and negative. On average this view is held by thirty-two percent while those who think it would be mostly positive (29%) outweigh those who think it would be negative (20%). The world's seemingly sanguine view of China's possible economic ascendance does not mean most publics think they can trust Chinese leaders. Ten out of 15 publics polled say they do not trust China "to act responsibly in the world." On average, those who say they cannot trust China "at all" or "very much" outnumber those who say they can trust it "somewhat: or a great deal" by 52 percent to 38 percent (10 percent do not answer). "Though people are not threatened by the rise of China, they do not appear to be assuming that it will be a new benign world leader," said Christopher Whitney, executive director for studies at The Chicago Council on Global Affairs. "They seem to have a clear-eyed view that China is largely acting on its own interests." Attitudes toward China in this respect are similar to attitudes toward the United States, which is also distrusted in 10 out of 15 publics polled. Those who distrust the United States outnumber those who trust it by 53 percent to 41 percent (6 percent do not answer). But this does not mean that people simply do not trust major powers. There is substantially more confidence in Japan, which is trusted to act responsibly in 10 out of 16 countries. On average the margin is slightly in favor of trusting Japan by 46 percent to 43 percent (11 percent do not answer).Contact, International Findings:
Steven Kull, 202-232-7500 or 301-254-7500
Christopher Whitney, 312-451-1040
The above article is from World Public Opinion.