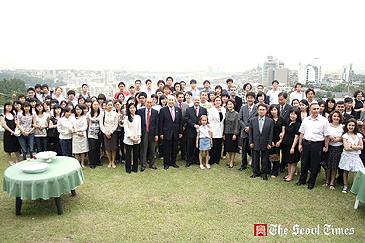 Turkish Ambassador to Seoul Deniz Ozmen poses with S. Korean students and other guests at his residence on May 28, 2007.
Turkish Ambassador to Seoul Deniz Ozmen hosted a party at his residence in Hannam-dong, Seoul, for a group of local college students majoring in Turkish language on May 28, 2007.The Turkish envoy said that he wanted to encourage the learners of Turkish language to study more and harder.The dinner party, which lasted from 6:30 p.m. to 9 p.m. on the day, drew about 100 guests including scores of college students attending the Turkish Studies Department of the Hankuk University of Foreign Studies (HUFS).Among the VIP participants were Mr. Ahmet Sahin, director of Turkish Airlines for Korea, Prof. Kim Dae-Sung, head of HUFS's Turkish Studies Department, Director Kim Young-Soo of Culture Department's International Cultural Cooperation Division.Amb. Deniz Ozmen arrived in Seoul from Turkey on Dec. 30, 2005 and started his mission on Jan. 13, 2006.
Amb. Deniz Ozmen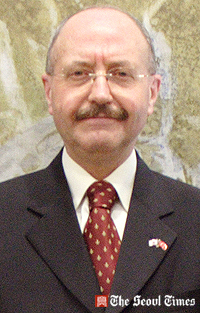 Turkish Ambassador to Seoul Deniz Ozmen
Amb. Deniz Ozmen was born in Istanbul on July 29, 1955. He graduated from Ankara University in 1976 with B.A. degree in political science. He went onto the graduate program at the university, earning M.A. degree in political science three years later.In 1993 Ozmen earned his Ph.D. from Ankara University's Institute of Social Sciences.Ozmen started his social career in 1979 as assistant reporter at Trade Ministry's Secretariat General for Foreign Trade. Two years later he joined the Ministry of Foreign Affairs as trainee diplomatic officer.In 1983 he served at the Turkish Embassy, Tripoli, Libya as third and second secretary.Tow years later he was promoted to vice consul, serving at the Turkish Consulate General in Los Angeles in the US. He stayed there until 1998.In 1988 he served as first secretary at Protocol Department of the Foreign Ministry. In 1990 he was sent to the Turkish Embassy, Dublin, Ireland. He worked there as counselor.In 1994 he returned to the Foreign Ministry to work as head of the Far East Department of the ministry for about a year. For two more years he served at the ministry this time as head of Personnel Department.In 1997 he became consul general and served in Melbourne, Australia for four years. In 2001 he took charge of Multilateral Cultural Affairs Department as its head.From 2002 to 2003 he moved to the Bilateral Economic Affairs Department and worked as the department head.In 2003 he became minister plenipotentiary, and served as deputy director general for multilateral economic affairs at the Foreign Ministry until 2005.Amb. Deniz Ozmen is married to Bilge Ozmen and they one child.For details or inquiries contact the Turkish Embassy in Seoul for Miss Jun Sun-Young at 794-0255.