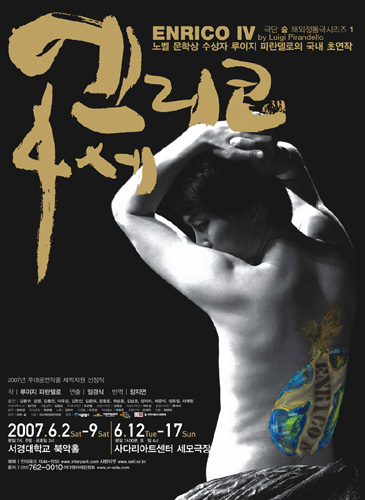 President Dan Schulte of Pieroth Wine Korea
"Enrico, the 4th" — the First performance of Novel Prize Winner, Luigi Pirandello
Luigi Pirandello, still fairly unfamiliar name to Korean audience is a established playwright who set the foundation of Theater of the Absurd with his Nobel prize.Celebrating his 140th birth year, 'Theater Sup- Forest' proudly presents his masterpiece in his last days, "Enrico, the 4th" for the first time in Korea in 2007.Bringing Pirandello's masterpiece into the stage , 'Theater-Sup' expect to bring back legitimate play to the theater and to the communicate with the audience delivering its true value and presence in our time.Pirandello's "Enrico the 4th" will provide the opportunity to look back to ourselves and self-examination of our life. It can give you a real sense of portrait of ourselves here and now in Korea even though it was set in different time and culture.
Depth and Fun of Legitimate Play: Theater Sup
Theater-Sup was founded in 2002 in the purse of introducing theater works which can lead us to find the true meaning of human and life itself. The reason why Theater-Sup chose "Enrico the 4th" is perfectly reflects its doctrine, "Seriousness and fun of legitimate play." The theater of our time which is losing the depth and seriousness only serves its frivolous fun. By presenting "Enrico the 4th," Theater-Sup dare to wish that the 'real' play can be fun and fresh with its touch of presence. Also introducing Luigi Pirandello's work to the Korean Audience is just a beginning of Theater-sup's passion to rediscover theater as a pure art form.
About the performance
Separation between fantasy and reality, He tells about suffering.
— the father of Modern Theater of the Absurd, Pirandello's masterpiece "Enrico the 4th"In his works, Pirandello deals with oppositional pair like reality and fantasy, self and false image. He also explores people's encounter and time/place woven into the this oppositional pair In "Enrico the 4th," mirror images which can reflect the reality of life play very important role. Using mask play, identical appearance/situation, mirror, and combination of time and place expresses conflict, antagonism and union of those oppositional pair. Pirandello borrowed real person's name in the history and expressed his will against the absurd of reality. The Enrico's reality which he didn't have any other choice but to continue his role as a mad man and its absurdity perfectly syncs with Pirandello's own suffering of life.
Who is Enrico the 4th?
"Enrico 4" is the Italian name of Heinrich 4, Emperor of Holy Roman Empire who was forced to kneel down to the Pope Gregorious 7 in the case of Avignonese Captivity. "Enrico the 4th" seems like it focuses on the complicated political situation with Heinrich 4 and Prinatus Romani Pontificis(Pope's right in Holy Roma Emperor's era), However the moment when you are ushered deeper into the play, you can enjoy the different ways of living and loving of 3 different men and women.
Who Is Playwright Luigi Pirandello (1867-1936)?
An Italian novelist, and playwright, Luigi Pirandello started his career as a pessimistic poet and published 7 novels and 246 short stories. He set himself an innovator of modern playwright by inserting 'play in play' scene in "Six Characters in Search of an Author "(1921) and eventually won the Novel Prize, which was very rare chance to a playwright(1934).Born in Sicily, Pirandello studied in Rome and went to Vienna to continue to study. After returning to Rome, he made his debut with the poem "Dissatisfaction"(1915). His pessimistic style of writing got deeper with his tragic personal life with his wife who ended up being a mental disorder because of their unstable life style. Up to the "Death"(1918), his suffering was shown through his works.
He got interested in playwright around 1910 and he marked his talent with "So It Is (If You Think So)"(1915). with the series of playwrights including "As Before, Better Than Before"(1920), "Six Characters in Search of an Author"(1921), "Henry IV"(1922), and "Clothe The Naked"(1923), he arrived at his meridian fame. He opened 'Art Theater' trying to revive the glory of Italian Theater after World War 1 but he couldn't make it financially ending up being in a international tour with his own directing project. He also wrote the critic "The Art and science" criticizing Croce.He is the pioneer of 'Anti-Theater' movement. From Jean Anouilh and Jean-Paul Sartre's existential pessimism to Samuel Beckette and Eugene Ionesco, his Pirandellism heavily influenced entire French playwright scenes. Also we can find his influence in religious verse-drama of T S Eliot.Even though he and his works were ahead of his time, Pirandello is the house name of European theater in early 20th century and a great playwright who understand human relationship as a fantasy or illusion and translate its tragedy into the social and psychological approach.La Segreteria
Istituto Italiano di Cultura
4Fl., ERA Bldg., 273-2 Hannam-dong,
Yongsan-gu, Seoul 140-884
Tel: 82 2 796 0634
Fax: 82 2 798 2664
www.iicseoul.esteri.it
segreteria.iicseoul@esteri.it