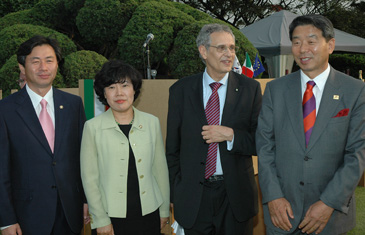 Italian Amb. Leggeri (2nd from right) poses with local lawmakers Lee Ke-Jin (right) and Kim Young-Choon (left) at a reception held at his residence in Seoul on June 4, 2007 on the occasion of the Italian National Day.
Italian Ambassador to Seoul Massimo Andrea Leggeri hosted an official reception at his residence in UN Village in Seoul on June 4 (Monday), 2007 on the occasion of the Italian National Day or Republic Day.A total of about 700 local and international guests from nearly all walks of life were invited to the dinner reception hosted by the Italian envoy in celebration of Italy's most important holiday.The dinner reception, which started at 6 p.m. on the day, lasted about three hours.Scores of foreign envoys serving in Seoul attended the gathering. Among the VIP guests were lawmaker Lee Ke-Jin of Grand National Party (GNP), lawmaker Kim Young-Choon of the ruling Uri Party, and Mr. Samuel Koo, ambassador for cultural cooperation of South Korea's Ministry of Foreign Affairs and Trade.Amb. Leggeri delivered a speech emphasizing bilateral relations between Italy and South Korea.In his address Amb. Leggeri mentioned Italy's growing ties with Asian countries, with South Korea in particular. He stressed Italy's increasing export to South Korea. For the last several years Italy's wine export to the South Korea increased by 400 percent.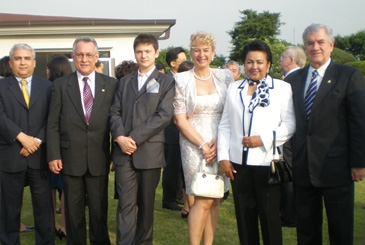 Ms. Bozena Giacchini, president of recently formed Korean-Polish Chamber of Commerce (KPCC) in Seoul (3rd from right) poses with his son (3rd from left) and other top foreign envoys.
What is "Italian National Day"?
Italian National Day, which falls officially on June,
represents the birth of the Italian Republic on 2nd of June 1946.The birth of the Italian Republic is a key event of Italian contemporary history. Until 1946, Italy was officially a monarchy ruled by the House of Savoy, kings of Italy since the Risorgimento (and previously of Sardinia).
However, Benito Mussolini imposed fascism after the Oct. 28, 1922 March on Rome, eventually engaging Italy in World War II alongside Nazi Germany. In 1946, Italy became a republic after the results of a popular referendum.The following is the full text of the Italian envoy's speech.On the Italian National Day, we celebrate the institution of the Italian Republic which inaugurated a new phase of our history. I am keen to underline that 2007 marks also the 50th anniversary of the signature of the "Rome Treaty"which was the starting point of the process towards the present European Union. Italy is building an ever deeper relation with Asian countries and Korea is a priority partner. Our Countries established bilateral relations 123 years ago. We enjoy a fruitful and lively partnership, political, economic, scientific and cultural. We share the vision of a world where paramount tasks are promoting peace and security, defending human rights, ensuring a sustainable development to people, while taking fully into account safeguard of the environment.There are currently approximately 9,000 Italian men and women abroad making an important contribution to reconstruction, stability and peacekeeping efforts invarious operations being conducted or authorized by the United Nations. There are areas where we cooperate with armed forces of the Republic of Korea. This year is of a special importance in the relations among Korea and Italy . In the first quarter of this year we had the visit to Korea of the Italian Deputy Prime Minister and Minister for Foreign Affairs, Massimo D'Alema, two weeks later the visit to Rome of the President of the Republic of Korea, Roh Moo-Hyun and just after two months the visit of the Italian Prime Minister, Romano Prodi, the first ever of an Italian Prime Minister to Korea. In that same occasion also the Minister for International Trade, Emma Bonino, visited Seoul. All those visits were accompanied by important side events, in particular Business Meetings in Rome and Seoul and a Science and Technology Forum in Seoul. We could in that way concretely test trends in our trade and economic relations and potential in cooperation areas oriented towards future. Italian exports to Korea have increased +16,93%. Wine +125,47% (a total increase in the last 4 years of +400%). Looking around today, you will be able to travel across the 20 regions of Italy and their wines. I wish to thank the Italian Architects Macri and Musmeci and their staff for the design arrangement of the garden they imagined and built. The signature, last December, of the "8th Executive Protocol strengthened. I-K scientific and technological cooperation. We are now developing a rich bunch of Projects related to basic research and technological innovation in several areas, including Information and communication technology (ICT), Advanced Materials, Energy and Environment, Agriculture and Food Science, Aerospace, Health, Biotechnology, Chemistry. The way forward is even more challenging: we decided to have 2008 as the "Italian Year in Korea," which means that in 2008 Italy will be in Korea with a Major Event, celebrating highlights of Italian culture, of Italian economic skills, of Italian scientific excellences. There will also be a further development of knowledge about Korea and Korean culture in Italy. We count however on the engagement of people: partnerships based on the engagement of people. We praise Koreans showing attachment to our culture, to our traditions and who therefore engage in working with Italian partners, in studying and teaching Italian language, in presenting Italian art and music. We praise the unique contribution each one of them offers to the overall effort of Governments and Institutions for the continuous deepening of bilateral relations. I have today the great honor to decorate, on behalf of the President of the Republic of Italy, of the Order of the Star of the Italian Solidarity some distinguished personalities.
For details or inquiries please contact the Italian Embassy in Seoul at 796-0491/5.