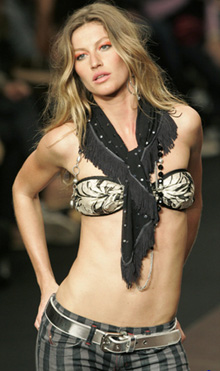 Gisele Bundchen
Gisele Bundchen is the biggest international star on the runway during Rio's Fashion Week, but she's also making headlines for criticizing the Roman Catholic church's opposition to condom use and abortion.Bundchen, who paraded Tuesday night for the Colcci label, told the Folha de S. Paulo newspaper that the church's take on contraception is hopelessly outdated because it was adopted when "the women were virgins, the guys were virgins.""Today, no one is a virgin when they get married," Bundchen said.She made the comments less than a month after Pope Benedict XVI criticized government-sanctioned abortion laws and birth control during a five-day visit to Brazil, the world's most populous Roman Catholic nation.While most abortions are banned in Brazil, the government hands out more than 300 million free condoms each year to prevent AIDS and unwanted pregnancies."To prohibit condoms is ridiculous, just think of all the diseases transmitted without them," the 26-year-old supermodel told the newspaper.She added: "How is it possible to not want people to use condoms and also not have abortions? It's impossible, I'm sorry."Bundchen isn't the first Brazilian celebrity to clash with the Roman Catholic church over contraception.Popular singer Daniela Mercury was pulled from a 2005 Vatican Christmas concert over her participation in an anti-AIDS campaign promoting condom use.
Who Is Gisele Bunchen?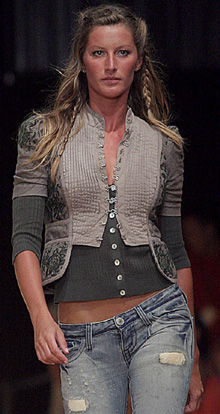 Gisele Bundchen
Gisele Caroline Nonnenmacher Bündchen (born July 20, 1980) is a Brazilian supermodel who is constantly acclaimed as the most famous and the highest-paid model in the world.Since her introduction into the fashion scene in the '90s she appeared in countless billboards and magazine covers, as well as numerous TV and print ads.Gisele is currently the face of more than 20 brands from different countries such as United States, Russia, Brazil, Italy, France, Mexico, Spain, Turkey, Korea, Germany and Switzerland.According to Forbes, Gisele made $30 million between June of 2005 and June of 2006. She also appears in the Guinness World Records as the "world's richest supermodel," with a net worth of $150 million.