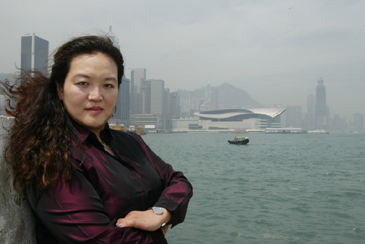 Ms. Yang Liu
Atlantis Investment Management Limited ("Atlantis") has appointed Ms. Yang Liu and Mr. Tony Jordan as Co-Chairmen of the London Company. Yang is fund advisor to the Atlantis China Fund and the Atlantis China Fortune Fund and joined Atlantis in 2002. Tony is fund manager of the Atlantis Asian Recovery Fund and the Atlantis Asian Opportunities Fund, and joined Atlantis in 1996. Both will retain their existing fund management responsibilities.
These appointments reflect the natural transition in the structure of the business over the past year and come just over a year since Peter Irving, founder and Chief Executive of Atlantis, died. Peter's vision was to establish a firm where the focus was on long term performance and where the fund managers could develop a business in their specialist area with a large degree of freedom.
The firm has continued grow with assets under management now at US$4.2bn.
Tony Jordan said: "As founder of Atlantis, it was Peter's drive and vision which helped make the business so successful. Yang and I are delighted to have been asked to take on the roles of Co-Chairmen and look forward to helping to grow the business further."
Yang Liu said: "Peter is still deeply missed within Atlantis but we are proud to have continued to grow and strengthen the business. The business model that Peter established has proved to be very successful and the future looks very bright for the firm."
For further information, please contact:
Ben Curson
020 7786 4870/07977 468890
Penrose Financial
About Atlantis Investment Management
Atlantis Investment Management is an independent Asian equity asset management firm with over US$4.2bn under management. Established in 1994, the company is 100% owner managed and has offices in London, Hong Kong, Seoul, Mumbai, Tokyo and Shanghai.
Atlantis has a distinct investment style, favouring a bottom up fundamental approach, targeting undervalued growth companies with a mid to small cap bias. For all the managers, company visits and primary research are the key source of stock ideas. Each fund manager may limit maximum assets under management in order not to compromise performance. Atlantis Investment Management Limited ("AIML") is authorised & regulated by the United Kingdom Financial Services Authority (the "FSA"). Atlantis is entirely independent and has no ownership ties with any financial institution or marketing group. Investment in offshore funds is open to institutional and other sophisticated investors and is not available to the general public in the UK. AIML does not manage money for private clients; it provides instead a bespoke segregated account service for institutional sized accounts. Investors can access AIML's expertise through a UCITS fund, a UCITS III Umbrella Unit Trust, both established in Dublin and an Investment Trust listed on the London Stock Exchange. Eligible investors may also do so through the Atlantis range of unregulated offshore funds.
Investments may fall as well as rise and investors may not get back the amount invested. In addition, changes in rates of exchange may be one of the causes of the value of the investments to go up and down. The description of the investment management services and process is a general one. The terms and conditions applicable to individual investors will be set out in the applicable contract or offering documents. All risk controls mentioned define a company axiom and consensus. They stand as investment guidelines and not as investment rules. Occasional deviation from the parameters given may result. Opinions and data without an attributable source are opinions expressed by AIML.
Matthew Battersby
direct line: +44 (0) 20 7786 4869
mailto:matthewb@penrose.co.uk