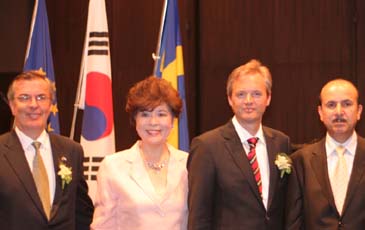 From left to right: Swedish Amb. Vargö, Daesung Vice Chairman Kim Young-Joo, Swedish Trade Minister Tolgfors, and UAE Amb. Al-Ma'ainah
Swedish Ambassador to Seoul Lars Vargö held a reception on the occasion of its National Day and for the visiting Minister for Foreign Trade Sten Tolgfors at Shilla Hotel's Dynasty Hall in Seoul on June 11, 2007.A number of both local and international personalities attended the buffet dinner reception on the day. Among the guests were many local businessmen and scores of foreign ambassadors serving in Seoul.They included UAE Amb. Abdulla Mohammed Al-Ma'ainah, El Salvador Amb. Alfredo Francisco Ungo, Egyptian Amb. Reda El-Taify, and Daesung Business Group Vice Chairman Kim Young-Joo.Local lawmakers also attended the reception. They were Mr. Kim Sung-Gon, Mr. Hong Chang-Sun, Ms. Kim Myung-Ja, Mr. Chung Eui-Yong, Mr. Kim, Boo-Kyun, and Mr. Lee Seok-Hyun.Minister Tolgfors and the Swedish business delegation are visiting South Korea from June 10 to June 13, 2007.He met Welfare Minister Byun Jae-Jin and Deputy Trade Minister Kim Han-Soo. Kim is South Korea's chief negotiator for the recently initiated negotiations on the free trade agreement with the EU.The business delegation represents a number of Swedish companies in the health and medical care sector.Minister Tolgfors took part in a seminar for the medical technology sector. The seminar was organized by the Swedish Trade Council and Swecare.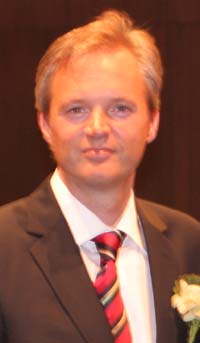 Swedish Minister for Foreign Trade Sten Tolgfors
He also visited a South Korean motor company on a inspection tour for the vehicle industry. He also gave a lecture at Konkuk University in Seoul.As part of his activities in Seoul Minister Tolgfors made a visit to the Swedish Neutral Nations Supervisory Commission (NNSC) delegation in the DMZ (demilitarized zone) area on the border between North and South Korea."South Korea is a significant cooperation partner for Sweden and an increasingly important global actor," said the minister. "Trade between our two countries has great potential.""There are many Swedish companies with a leading position in South Korea, and an increasing number of South Korean companies are establishing themselves in Sweden," he added.He said South Korea has great interest in Swedish welfare issues including health and medical care and the care of the elderly in particular. He emphasized that Sweden has population structures that are somewhat similar to those of South Korea.The minister also stressed that Sweden is well-known as a competitive IT nation. "The South Korean market for medical technology and e-health is particularly interesting for our Swedish companies," he said.Minister Tolgfors led the Sweden-South Korea group "Swecare" at the Swedish Riksdag for many years.
Swecare is a foundation with its task of promoting the export of Swedish biomedicine, medical technology, pharmaceuticals, and health and medical care.
What Is Swedish National Day?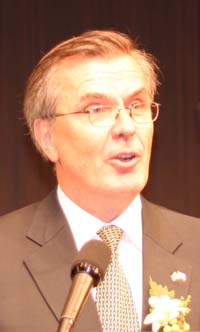 Swedish Ambassador to Seoul Lars Vargö
The National Day of Sweden is celebrated in Sweden on June 6 every year. The day was made into a national day by the Riksdag (Swedish parliament) in 1983, before which it was just revered as the Swedish Flag Day or Day of the Swedish Flag. The tradition of celebrating this date began in the 1920s, in honor of the election of King Gustav Vasa in 1523, as this was considered the foundation of modern Sweden. Some question the validity of this as a national holiday, as it was not observed as a holiday until centuries later. However this event does signify the end of the Danish-ruled Kalmar Union, so in a sense it is a marking of Swedish independence, though the event occurred so long ago that it does not have as strong of a presence in the social consciousness as does, for example, Norway's Syttende Mai. In 2005 it became an official Swedish public holiday, taking that honour from Whit Monday. This change led to fewer days off from work (more working-days) as the 6th of June will periodically fall on the weekend, unlike Whit Monday, which was always celebrated on a Monday. This has in turn led to complaints from some Swedish unions.
For details or inquiries please contact the Swedish Embassy in Seoul at 738-0846 / 1149.