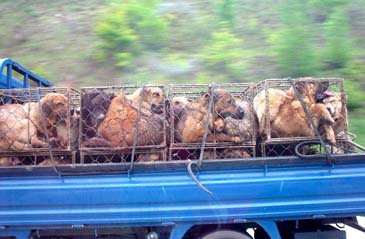 A group of dogs piled in the case are being transported in a truck in South Korea but where? They are ending up as a meat or soup at restaurants. Between 1,600,000 dogs and 2,000,000 dogs are consumed every year for meat or soup in South Korea. An average person eats 1.38 kg of dog meat per year, making it one of the most popular dishes in South Korea.
Ask anyone in the "Western world" what they know about South Korea and they will be able to list the 1988 Olympics, the 2002 World Cup and the fact that people eat dog meat.While the first two still bring immense pride to Koreans and is still evident of taking place even today, the third is a lot less evident and talked about.The younger generations seems to be moving away from the tradition of eating dog meat soup and it's far more common to find people who haven't eaten dog meat than who have.What is also less known with regards to dogs and cats in this country is the ill-treatment and abuse of those kept as pets. Walk around many neighbourhoods in cities and rural towns and it doesn't take long until a stray cat crosses your path. Or an unwanted dog is seen tied up by a chain to a post or a trash can.In 2006 14,075 animals were abandoned in Seoul, 79 percent were dogs and 20 percent were cats.Much is said world wide about the dog meat trade here. So much so that when the World Cup came to the country many dog soup restaurants were encouraged to cover up the fact that they sold the meat in dishes and take them off the menu altogether so as not to upset visitors from other countries. But the problem with chained dogs and the treatment of pets no longer wanted in homes or by people who simply cannot look after them is not as widely known.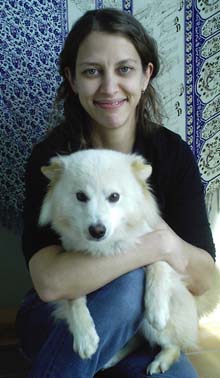 For one Canadian ex-pat living in South Korea the abandonment and ill-treatment of pets is an all too familiar story.For Karen Busch the sight of seeing dogs tied up outside apartment buildings or living out of dirty unsanitary trash cans has given her a cause to help other dogs and cats who meet a similar fate.In a bid to unite the unwanted pooches with new loving families in the country, the 32-year-old is spreading the message of chained dogs in South Korea through the universal world of cyber-space.Earlier this year Karen, who lives in Daejeon with husband Eric, set up an animal welfare website www.lonelylifetime.comInspired from the lyrics of The Beatles song "I will' the site serves as an English resource centre for people wanting to find out about adopting cats and dogs in South Korea and acts as a chance for like minded animal lovers to help the chained, caged and abandoned pets they find in the streets here." "I just wanted to make it easier for people to help these dogs," says Karen, a Canadian from a small town two hours north of Toronto who has lived in South Korea for six years.It was just over three and a half years ago that Karen's quest to help the dogs and cats in South Korea began when due to having some spare time and hours to herself while her husband was rock climbing she decided to look for a pet dog. Trips to animal rescue shelters proved unsuccessful but through much searching she was eventually united with her dog Sage who lives with the couple in their apartment. Having not had much to do with dogs before this time it was only after she welcomed Sage into her family that she started to notice the plight of unwanted dogs left on the streets."I hadn't noticed before how many were being chained up until I got a dog. If you just take a walk around the streets here you can see them everywhere," she explains.Shortly after finding Sage fate took Karen into the path of Chin Chin. Found chained to a trash can when she was on her way to celebrate her birthday at a restaurant of the same name, Karen, with the help of some Korean friends eventually managed to find the owner and ask if she could take the dog.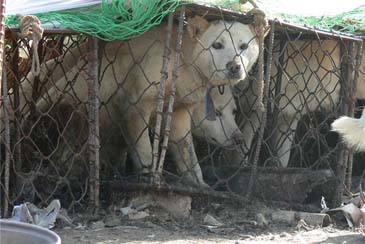 Dogs are raised in the filthy cage for consumption as meat or soup in South Korea. There are some 6,500 restaurants dealing with dog meat or dog soup in South Korea and they consume an average of 25 tons of dog meat per day. More dogs are used to make a stamina dog elixir or dog soju.
This began what is now turning into a scheme to help other dogs in Chin Chin's situation."I never had any other intention than to just show the facts. I just wanted to tell Chin Chin's story and I thought if all of these stories could be collected in one place as I heard more and more similar stories like mine then we could find homes for them. With the website I wanted to build a community for people who can communicate with each other without having to go through me."For many of the dogs found chained up or in puppy farms or cats roaming the streets the stories can be as harrowing as a family deciding they don't want to keep them anymore, or a woman becoming pregnant and believing the myth that a dog can hinder a pregnancy, that people move and just leave the pet in the apartment, to elderly people no longer able to care for them. But before these pets are rescued off the streets and united with loving families, foster parents are needed to care for them and give them shelter and food and help with any medical care needed to bring them back to a healthy standard."We are desperate for foster families. Some people may have already taken an animal off the street and may not realize they are fostering and can get more help from us or a permanent home for the animal," she explains.There are many ways people can get involved with helping these animals. This can be through donating for the medical treatment to signing up as foster homes or even just taking food to animals found chained up until a temporary home can be found through the website.Korean culture does advocate that cats are dirty and evil animals who spread disease and that good dogs are pedigree and small and so those not fitting the bill are sometimes disgarded. But issues with chained dogs is not one exclusive to South Korea."People think it's barbaric here because of the dog meat trade. But that's no different to a veal farm in Canada," says Karen.Laws have been put into place in South Korea which require people to tag their dogs and gives local governments the power to appoint an Animal Protection Officer who can take animals away from abusers and hand them over to rescue organizations and vets. But there is a grace period before these are installed in 2008.So far upto 25 animals whose stories were posted on the site have found new loving homes, but what is upsetting to Karen is that there are so many more dogs and cats out there who have stories to tell and need new homes.Holding back the tears as she recalls stories of some of some of the dogs she has helped and seen including one year old Jindo puppy King (pictured with Karen) who was found chained to a metal shed near some greenhouses, she says once people open their eyes to the abuse of the animals they will soon see how big it is."Once people start looking, they will soon start seeing them everywhere," she adds.As the lyrics say in The Beatles song I Will 'And when at last I find you, Your song will fill the air. Sing it load so I can hear you, Make it easier to be near you so Karen is asking people to help find these unwanted animals and tell their stories and shout it loud through the website so it gives people willing to provide a loving home for the animals the chance to do just that. To make it not such a lonely lifetime for the pets.
To donate, find out more about being foster parents or simply tell the story of a dog or cat you know visit www.lonelylifetime.com