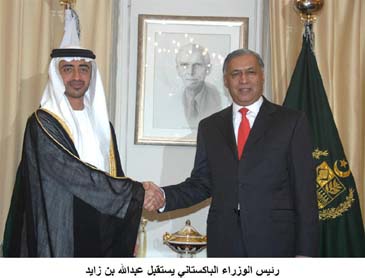 Sheikh Abdullah bin Zayed Al Nahyan, left, foreign minister of the United Arab Emirates with Pakistani Prime Minister Shaukat Aziz.
The United Arab Emirates (UAE) and Pakistan are entering into new dimension as the two Arab countries continue to step up efforts to promote bilateral exchanges in various areas, notably in the economic sector. Approximately eight percent of Pakistan's exports come to the UAE. On the other hand, Pakistan relies overwhelmingly on the UAE in its imports of oil and other petrochemical products. Two-way trade is estimated to be $5billion during the financial year ending in June 2007, with $2.8 billion in the UAE's exports to Pakistan and $2.27 billion in its imports from Pakistan. Against the backdrop, the two countries held a meeting of the bilateral joint ministerial commission, which started in Islamabad, the capital of Pakistan, on June 11. "We have the opportunity to make great steps forward in the strengthening of the already close and warm relationship. Let us hope that we are able to make the best of this opportunity," UAE Foreign Minister Sheikh Abdullah bin Zayed Al Nahyan said in a speech he made to the inaugural session of the UAE-Pakistan Joint Ministerial Commission. "I hope that our meeting will inaugurate a new phase in the relationship between our two countries. That relationship is deep-rooted in our shared history of commercial and cultural links that go back over 4,000 years, to the era when UAE copper was exported to your great civilizations of Mohenjodaro and Harappa. Since the establishment of the UAE, the ties have become steadily closer," Sheikh Abdullah said. Sheikh Abdullah led the UAE delegation to the meeting, while Khurshid Mahmood Kasuri was his Pakistani counterpart. As Sheikh Abdullah pointed out in his speech before the joint meetings, the warm bilateral relationship is deep-rooted in two countries' shared history of commercial and cultural links that go back over 4,000 years, to the time when copper from the UAE was being exported to Pakistan's great civilizations of Mohenjodaro and Harappa. Since the establishment of the UAE, the ties have become steadily closer. The two countries have increasingly close economic ties and share concerns on a wide range of issues, including, in particular, the security of the two and of the region as a whole.
These issues, and much more, were discussed during the meeting, which produced results that will be of enormous benefit in strengthening bilateral relationship, for the mutual benefit of two peoples. Middle East experts in Seoul said that the UAE is embarking on a new and massive phase of its development, while Pakistan, too, is witnessing two economies become substantially closer together, to make it possible for businessmen on both sides to work together in terms of inward investment and trade. "For that to be successful, we also need to lay down the necessary organizational and legal framework, and I hope that this meeting will help to speed up the process of negotiations on the various new agreements being discussed between our two countries, on topics like the promotion and protection of investment and on judicial matters," Emirates News Agency(WAM) quoted Sheikh Abdullah as having said. He went on to say, "We also have political and security issues to discuss. The situation in Afghanistan, the continued wave of terrorism that affects the region, the strife in Iraq and the lack of progress in the Middle East process — all these are issues that concern us both, and on which we should seek to work together more effectively, on bilateral, regional and international levels. Other issues of relevance to us both are Iran's nuclear program and security at sea in the maritime waterway that connects our two countries." The bilateral relations have been boosted by some high-profile exchange of visits by the leaders of the two countries. Pakistani President Pervez Musharraf visited the UAE in January 2007 during which he met and held talks with President H.H. Sheikh Khalifa bin Zayed Al Nahyan. In May 2006, Vice President, Prime Minister and Ruler of Dubai, H.H. Sheikh Mohammed bin Rashid Al Maktoum, visited Pakistan. His visit was followed later by another high-profile visit to Pakistan by Abu Dhabi Crown Prince and Deputy Supreme Commander of the UAE Armed Forces, General Sheikh Mohammed bin Zayed Al Nahyan, in January 2007.During the UAE Vice President Sheikh Mohammed's visit to Pakistan, the two countries signed four agreements, including those on development of infrastructure, commercial buildings, industrial installations, establishment of a free zone, a modern port to be run by Dubai World, the building of about 17,000 housing units, shopping malls and tourist facilities on the beach of Karachi, while another agreement calls for the opening of branches of the Dubai Islamic Bank in Pakistani towns and cities. The two countries have also signed in September 2006 a cooperation pactt on customs related issues. They signed a memorandum of understanding on labor issues in December 2006, agreements on extradition and other judiciary related cooperation in February 2006. In 1974, the UAE and Pakistan signed two agreements on cultural and economic cooperation which cover areas of oil, cement and some light industries. The two countries are also bound by a 1992 joint protocol to organize joint cooperation in the area of petroleum and industry, and by a 1993 agreement on protection of investors from both sides and avoidance of double taxation on income. Major UAE export items to Pakistan include oil, iron ore, gold, plastic and other petrochemical products, while key import items from Pakistan are rice, silk, synthetic textiles, bed sheets, ready-made garment, knitwear, cotton yarn, surgical instruments and marble. Statistics show that bilateral non-oil trade has witnessed a sharp rise in recent years, with the figure nearly doubling AED2.713 billion in 2002 to AED5.297 billion 2005. UAE's non-oil export and re-export to Pakistan, during the period, increased from AED1.429 billion to AED3.386 billion, while its import from Pakistan during the cited period also rose slightly from AED1.284 billion to AED1.911 billion. As a result of the two countries' commitment to further boost bilateral ties, in 1974, they set up a joint committee to activate the existing economic cooperation between them and to seek other avenues of cooperation, while expanding the existing areas, including oil, trade, telecom, health, education, culture, agriculture and environmental protection. The UAE-Pakistan Joint Ministerial Commission has held eight sessions since it was established. The 9th session was held in Islamabad from June 10-12, 2007, to implement recommendations of the previous one which was hosted in Abu Dhabi, capital of the UAE, from October 18-19, 1997. Pakistan is looking at signing free trade pacts with the GCC countries, which are expected to take place in the coming months. Pakistan is in the stage of restructuring its economy and it is looking at attracting Gulf investors to develop the oil, gas and energy sectors and to participate in the constant privatization of major government projects. UAE ranked 4th among foreign direct investments (FDI) in Pakistan this year, and that has come as a result of UAE private and public sectors' contributions to the investment in the economic and services sectors. Records show that UAE investments in Pakistan from 1990 to 2005 stand at about $12 billion. During the first nine months of the current financial year (from July 2006 to March 2007), UAE investments in Pakistan reached $343 million, accounting for 8.9 percent of the total FDI that exceeded $3.859 billion, according to statistics available from Pakistan. Examples of these investments are the agreements inked recently by Emirates Telecommunications Corporation (Etisalat) in regard to the acquisition of a 26 percent stake in Pakistan Telecommunications Corporation Limited (PTCL), and between Habor Resources Ltd and Blochistan government to build an industrial city in Gwadar and its port on the Arab Sea at a cost of $3.2 billion. In regards to the UAE public sector investments, they are exemplified by the joint venture between the government of Abu Dhabi, represented by International Petroleum Investments Company (IPIC) and the government of Pakistan, represented by Pak-Arab Refinery Company Ltd. (PARCO), with Abu Dhabi acquiring 40 percent stake. The joint venture built a refinery near Multan in the Binjab Region at the cost of $ 886 million. IPIC's investments have exceeded $1.7 billion, and it carried out a 518-kilometer pipeline project between Karachi in the Sindh and Multan in the Binjab, in addition to another pipeline that extends to Shekhupura near Lahore at a cost of $500 million. IPIC and Parco, according to Pakistani Minister of Commerce Humayun Akhtar Khan, are also planning to build a new refinery in Khalifa Point in Blochistan, the biggest of its kind in Pakistan, at an approximate cost of $4 billion with an annual capacity of 13 million tons. IPIC and Parco are also planning to set up another oil refinery with an output of between 200,000 and 300,000 bpd at a total cost ranging from $5 billion to $6 billion. Emaar Properties, Nakheel Properties and other companies have announced investments of about $43 billion in the real estate sector in Pakistan. Emaar said it has got the approval of the Pakistani government to embark upon a model city in Bandal and Bodu, near Karachi totaling to that amount. Pakistan hosts a number of UAE companies working in a variety of fields like Abu Dhabi Group, Bank al Falah Limited, United Bank Limited, Falah Insurance, Emirates Telecommunication Corporation (Etisalat), Emaar Properties, Al Habour Group, Dubai Islamic Bank, Etihad Airways, Emirates Airline, Harbour Resources, DP World, Nakheel Property, AL Futtaim Group, Bu Khater for the construction of a sport complex and property development in Lahore. Financial transfers to Pakistan by Pakistani expatriates in the GCC countries hit $2.1 billion from July 2006 to April 2007, up 30 percent from the last financial year. Transfers from the UAE alone reached $674 million during the same period.
This report was filed by Min Byung-il, freelance writer.