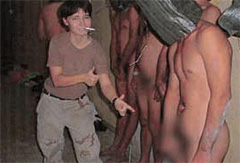 A soldier identified in press reports as Spc. Lynndie England, 21, points to a hooded and naked prisoner lined up with others at Abu Ghraib. England has not been charged in the abuse scandal, but she is being detained at Fort Bragg, N.C. Courtesy CBS
WASHINGTON — The 21-year-old female private at the centre of the Iraqi prison abuse scandal yesterday maintains she only posed in the infamous pictures of naked detainees because she was told to do so by her superiors, as a means of softening them up for interrogation.In a television interview yesterday, Lynndie England said she was given specific instructions on how to pose in the photos. Asked who gave those instructions, she replied "persons in my chain of command," refusing to be more specific. Her claim echoes those of her six other low ranking colleagues, facing court-martials for their part in the abuse scandal. It will intensify suspicions that responsibility for the abuse is not confined to them, or even to six more senior, but nonetheless only middle-ranking officers, who have been reprimanded and face probable dismissal from the armed forces.In an interview with the Washington Post yesterday, Brig. General Janis Karpinski, who was in charge of running US military prisons in Iraq, claimed she had tried to block decisions by more senior officials to put military intelligence in effective charge of the prisons and authorising the use of lethal force to keep order.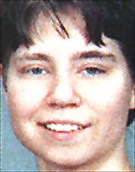 Lynndie England
She pointed the finger at Lt. General Ricardo Sanchez, the top American commander in Iraq, and Major General Geoffrey Miller, the former commander at Guantanamo Bay prison in Cuba who was sent to Iraq in 2003 to 'improve' the interrogation of prisoners there. Both generals have denied they gave any such orders.Private England — now notorious for the photos showing her holding a leash around the neck of a naked Iraqi detainee, and another of her grinning and pointing at the genitals of a prisoner — said she was "instructed by persons in higher rank to 'stand there, hold the leash, look at the camera.'" "They then took pictures for PsyOps (psychological operations). I didn't really want to be in any pictures, she told the station, adding she thought the events were "rather weird."England's lawyer added in a separate TV interview that those who have the orders were "from MI (Military Intelligence) and OGA ('Other Government Agencies' — a widely used reference to the CIA)." After the pictures were taken, England said she and her colleagues were praised by her superiors, who told them, "Hey, you're doing great, just keep it up."Most ominously, perhaps, she said that things had happened at the prison even worse than those depicted in the pictures already made public — which include, apart from the humiliating sexual photos, ones of a detainee being threatened, and then apparently bitten, by German shepherd dogs held by soldiers in full combat gear.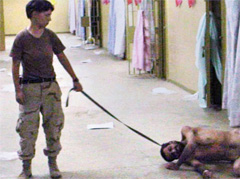 A U.S. female private humilating an Iraqi prisoner of war in a leather leash
Courtesy Reuters
As she spoke, selected members of Congress, from both the Senate and the House, were being shown some of the "hundreds" of further photos and dozens of video clips showing prisoner abuse and in some cases rape and torture, in the possession of the Pentagon.On the Pentagon's insistence, the viewings were taking place in secret, in specially protected rooms on Capitol Hill. Sharp divisions have emerged about whether they should be released to the public, with some arguing that the sooner everything was out in the open the better.Other Senators and Congressmen though, say that after the airing of the video showing the beheading of the US businessman Nicholas Berg by Islamic militants, the release of more prison abuse photos would only inflame the situation further.However this dispute is resolved, intense pressure remains on the embattled Defence Secretary Donald Rumsfeld, despite his continuing refusal to resign and strong public support from President Bush.Yesterday, at a Senate hearing on the White House request for $25b of supplementary funds for the Iraq operation, Mr Rumsfeld dismissed complaints that the interrogation techniques used in Iraq violated the Geneva Conventions. He told Richard Durbin, an Illinois Democrat, that Pentagon lawyers had approved sleep deprivation, dietary changes and other methods. Mr Rumsfeld flatly dismissed Mr Durbin's charge that these techniques went "far beyond the Geneva Conventions."
Prostesters
Demonstrators chant "Bomb London, bomb New York" and "We are terrorists" outside Downing Street, London, Tuesday May 4, 2004, on the day that the British government announced that it will make a statement concerning the photographs which allegedly show British soldiers abusing Iraqi prisoners.
Courtesy AP Photo/John D McHugh
Even so military specialists and close Rumsfeld watchers believe he could yet be forced from office, possibly by the publication of the thus far secret material. Even Republican senators loyal to the administration maintain that junior officers and NCOs alone cannot be sole scapegoats for an episode that has battered the reputation of the US around the world, and severely set back hopes of restoring stability to Iraq.John Kerry, the Democratic Presidential candidate, yesterday meanwhile insisted that Mr Rumsfeld was anything but indispensable, and that "any number of people" could replace him. These included the Republican Senators John McCain and John Warner, their Democratic colleague Carl Levin of Michigan, and Bill Clinton's former Defence Secretary William Perry.
The above article is from The New Zealand Herald.