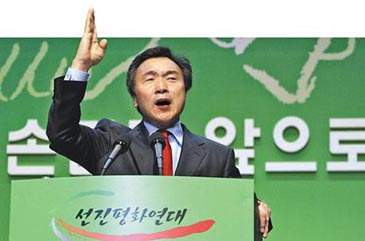 Dr. Sohn Hak-Kyu, a leading presidential candidate of the pro-government camp, makes his speech at the inaugural ceremony of his "Solidarity" in Seoul on June 17, 2007.
Dr. Sohn Hak-Kyu, former governor of Gyeonggi Province, officially launched his de-facto political party "Advanced Peace Solidarity" in a grand ceremony at the Olympic Hall of the Olympic Park in southeastern Seoul on June 17 (Sunday), 2007. Dr. Sohn is widely received as the most favored presidential candidate among the pro-government camp in most surveys.The official launching event of Dr. Sohn's supporters' group "Advanced Peace Solidarity" was attended by more than 10,000 supporters and Dr. Sohn's political allies including 65 lawmakers from the ruling Uri Party or other pro-government camps.Among the top politicians were Uri Party Chairman Chung Sye-Kyun, Rep. Kim Han-Gill, who bolted from Uri Party, Ex-Unification Minister Chung Dong-Young, and Ex-Justice Minister Chun Jung-Bae.Political analysts say that through the launch of his "Solidarity," Dr. Sohn is expected to garner support from the liberal-minded lawmakers from the the ruling Uri Party, Uri deserters' groups, and the minor opposition Democratic Party (DP).Dr. Sohn is also likely to form a grand coalition with all the political forces and parties opposed to the conservative Grand National Party (GNP), the main opposition and the largest party.The Olympic Hall was filled with Dr. Sohn's supporters from around the country. The hall was jam-packed with nearly 5,000 people and more people had to watch the inaugural ceremony of Dr. Soh's "Solidarity" on the big screen set up outside the hall. Some 60 buses were parked nearby on the day.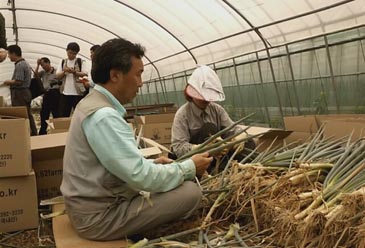 Dr. Sohn helps farmers on his tour to find out facts about real life of farmers. Dr. Sohn is now a leading presidential candidate.
The large-scale successful inaugural event was to showcase Dr. Sohn's political power to President Roh Moo-Hyun who openly objected to the idea of Dr. Sohn as the candidate representing pro-government camp, said a lawmaker who declined to give his name.The event was a warning for President Roh that Dr. Sohn is not someone to be disregarded, according to the lawmaker.Dr. Sohn's supporters' group "Advanced Peace Solidarity" is actually semi-political party for Dr. Sohn. After the inaugural event, all the regional chapters and organizations will be arranged.His "Solidarity" will serve as a main force even if other anti-GNP forces will join him later.In his inaugural speech Dr. Sohn commented on his experience within GNP party. "My efforts to become the face of GNP and to change the party were futile," said Dr. Sohn. "I feel sorry to all of my supporters for my lack of ability." Dr. Sohn bolted from GNP party on March 19, 2007.There is a growing demand for Dr. Sohn to become presidential candidate of all the pro-government camp and other political factions and groups opposed to the conservative GNP party, as he does not belong to any political faction."I don't mind doing any role or taking any position as long as I can serve as a seed for the grand coalition of the people," said Dr. Sohn. "I will do my utmost."Other top politicians, who attended the event, were all fully supportive of Dr. Sohn."With the launch of 'Solidarity,' the unified fleet is now ready to block Cold War-minded and retroactive forces from seizing power," opined Ex-Chairman Chung Dong-Young of the ruling Uri Party."Dr. Sohn will definitely succeed if he joins hands with other forces," said Uri Party Chairman Chung Sye-Kyun.Another liberal-minded politician Rep. Kim Han-Gill said "Dr. Sohn as representative of all the unified forces could beat ex-Mayor Lee Myung-Bak or ex-Chairwoman Park Geun-Hye even today."Kim, who played an important role in Uri Party as reform-minded politician, bolted from it, now is a leader of "New Middle of the Road Reform Party."Lee and Park are competing each other "excavating dirty facts of the other" to gain the ticket for presidential candidate of the conservative GNP party.