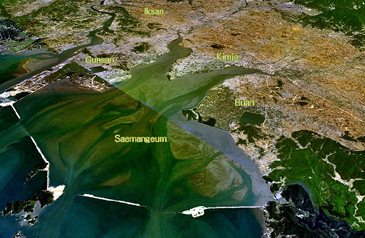 Saemangeum on the coast of the Yellow Sea in South Korea
Melbourne — Over a year had passed since the controversial Saemangeum reclamation project on the west coast of Korean peninsula was completed. Opponents to the project could have buried the issue into oblivion and moved on.However, conservationists have become more apprehensive than ever before to take a closer look at what used to be one of the world's most important mud flat areas which has been transformed into a "vast dry land." As the 33-mile dike has stopped the tidal flow, conservationists believe that life for thousands of migratory shorebirds that swoop down to look for food would never be the same again. Snapshots taken during the recent World Migratory Birds Day have shown macabre sights of lifeless birds lying on the devastated shore while abandoned sea shells are dried up and dead under the sun. At a distance are fishermen despondent over the loss of major source of livelihood, along with a stranded truck which will never carry tons of wetland catch again. The World Migratory Birds Day was observed by bird experts around the world this year at Saemanguem to monitor the aftermath of the project. In Melbourne, Ken Gosbell, chair of the Australian Wader Studies Group (AWSG) who came back from a trip to Saemangeum, gave a visual presentation at St. Michael's Uniting Church, one of the city's largest congregations to remind individuals of a fragile ecosystem: Saemangeum poses a threat not only to domestic birds but also to global migratory birds. The show summarizes that "birds, wetlands, and people are one" and destruction of one is destruction of all.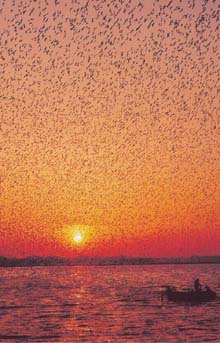 Migratory birds in South Korea
Major concern involves shorebirds from Australia and New Zealand in March and April in which they fly through Australasia Flyways—a route stretching several east Asian countries in the course of their migration northward. Flying over 800 miles from Australia, these enervated birds stop over on the Yellow Sea — between China and Korea— to recharge their energy and to fatten themselves before taking their second leg of flight further to the north — to Siberia and Alaska for breeding. An estimated number of 300,000 of the 2-3 million of Yellow Sea's migratory shorebirds are accounted for to stop by here. Sprawling about 40,000 hectares, Saemanguem is known to teem with one of the world's richest tidal flat food, including worms, shellfish, fish, and other marine life where birds and people depend on. The AWSG said Saemangeum was "the jewel in the crown of a globally important region," a key link in a long chain of sites used by these birds during their extraordinary migrations between the southern and northern hemispheres." ASWG noted that about 18 species of shorebird and 9 other species of water bird were supported by the Saemangeum estuarine system in internationally important concentrations. Most of these are "Australian" species, including migrant birds spending our summers on extensive tidal-flats and wetlands, before migrating north to Siberia and Alaska to breed. The group is concerned that without Saemangeum wetlands, it is extremely probable that many will not be able to complete their migrations. Species most affected will likely be the Great Knot, with 30% or more of the world population dependent on Saemangeum's tidal-flats during migration, and the globally Endangered Spoon-billed Sandpiper, and Nordmann's Greenshank. The AWSG has launched a monitoring project dubbed as Saemangeum Shorebirds Monitoring Program (SSMP) since last year to determine the fate of birds emigrating from the south. The SSMP is a three-year program (2006-2008), entailing fieldwork, dissemination of data gathered, and advocacy. Fieldwork focuses on counting of shorebirds, assessing habitat changes, and researching benthos during the northward shorebird migration period. Various measures have been experimented, including a hi-tech satellite system to follow-up the duration and distance of aviary flights. The satellite transmitters track the southward and northward migration of Far Eastern Bar-tailed Godwits. The visual clip delivers a strong message: Saemangeum's devastation is irretrievable. Yet no matter how bleak the reality is, what is done cannot be undone. The video warned that Saemanguem can only now serve as a lesson to any governments around the world to be wary on the impact of intrusive projects on global ecology with a specific reference to migratory shore birds and other marine species that inhabit the shores. Simply put, the show concluded that Saemanguem is not worth emulating. While nothing can be done to stop further damage, the AWSG, in a joint effort with Birds Korea, urged the Australian government and the world community to support Korean authorities to manage and maintain Saemangeum. The organizations have been calling for the Korean government to open sluice gates at the reclaimed site to allow the tide to flow in. Similarly, the AWSG and Birds Korea have spearheaded a letter-writing campaign to urge organizations and individuals to write the South Korean Embassy based in Canberra to oppose the another upcoming project at the Geum Estuary nearby. In a sample letter, the group reminds the embassy that South Korea is a signatory of the Ramsar Convention and so it cannot ignore its responsibility in the protection of wetlands and ecology.