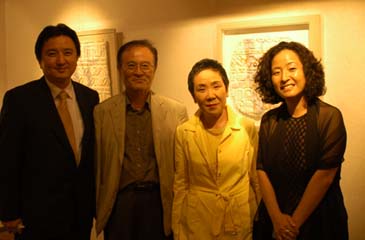 Ex-Science Minister Kim Young-Hwan (YH Kim: ÑÑç´üº) poses with his supporters at an art gallery in Seoul.
Former Science and Technology Minister Kim Young-Hwan (YH Kim: ÑÑç´üº) announced that he would run for the president in the presidential election slated for Dec. 19, 2007.In a press conference held at the National Assembly building on Yoido in central Seoul on June 18, 2007, Ex-Minister Kim said that if elected as president he would develop economy by merging traditional manufacturing business with advanced technology.He also said that he would make the nation stronger by promoting human resources in the science and technology area in particular.The student-activist-turned politician also argued that the presidential candidate should come from the Democratic Party, which is free from the mistakes of the current President Roh Moo-Hyun's regime.As a veteran dentist, Kim served as minister of science and technology under the government of President Kim Dae-Jung, who was laureate of the Nobel Peace Prize."We should avoid the stance that the Grand National Party (GNP) is evil and anti-GNP forces are good to wind the presidential election," Kim argued.He said that he would maintain the basic principles on the inter-Korea ties and political reforms but would adopt some GNP policies on economy and education.He also argued that the former President Kim Dae-Jung should not involve himself in the presidential election.Hundreds of the Democratic Party's officials from around the country attended Kim's press conference on the day.
Who Is YH Kim (ÑÑç´üº)?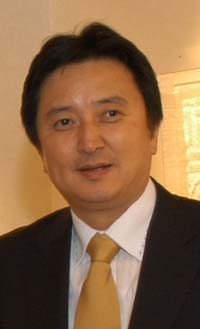 Former Science and Technology Minister Kim Young-Hwan (YH Kim: ÑÑç´üº)
YH Kim (ÑÑç´üº) is a unique reform-minded politician. Kim was hard-core student activist for more than a decade. He had to survive as a laborer and became a poet while he was sought after by police. He became a dentist after spending 15 years as a prisoner or fugitive or at best an unidentified laborer.As a successful two-term lawmaker, Kim became science and technology minister. Being ever energetic and industrious Kim now wants to take on bigger role as a presidential candidate of the Democratic Party.Born in 1955 in Goesan in North Chungcheong Province YH Kim (ÑÑç´üº) graduated from the Cheongju High School in 1973. At the time South Korea was under the dictatorship of Park Chung-Hee.Unlike his sophisticated urbane image, Kim had long been a student activist for pro-democracy movement.As soon as he attended the Dental School of the elite Yonsei Univeristy in Seoul, Kim started to involve himself in the student activism for the democratization of the nation.In 1977, Kim was incarcerated for his pro-democracy activism for as many as 20 months.In 1980 again Kim was on the police wanted list for one year for his pro-democracy movement in Gwangju in South Jeolla Province.It took 15 years for Kim to finish his university. During his ordeal period he was either sought after by police or put into prison for his pro-democracy activism. While he was fugitive he had to work as a laborer for five years.After spending his adolescent years interested in literature, Kim finally made his debut as a poet in 1986. Kim has so far authored seven books including five poems.In 1996 Kim was elected as lawmaker in the 15th National Assembly and the reform-minded politician served a couple of top posts under Kim Dae-Jung's leadership.In 2000, Kim became the official spokesman of the Democratic Party and in the same year he was elected as lawmaker in the 16th National Assembly.In 2001 under President Kim Dae-Jung's government, Kim served as the minister of science and technology. In the same year he earned his master's degree in economics from the Yonsei University.Kim was granted with five citations and awards for his role in the politics and social contributions.